---
Jessica Cejnar / Friday, Aug. 2 @ 4:57 p.m. / Community
Youngsters Become Ag Ambassadors at Fair
---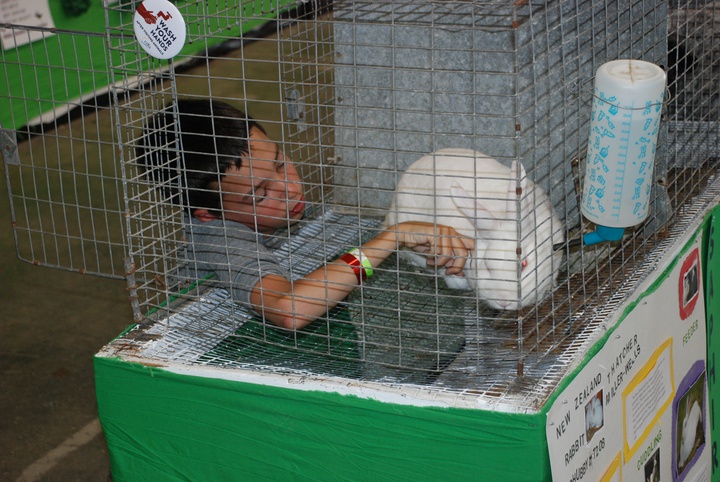 Though senior citizens received free admission to the Del Norte County Fair, there was still plenty to occupy youngsters on Friday.
For many, the object was to get in line for their favorite ride. For others, it was scoring a perfectly fried piece of funnel cake or getting a pink butterfly painted with the right amount of sparkle painted on their temple. Thatcher Miller-Wells focused on his New Zealand white rabbit, Chubby.
The 11-year-old, a participant with the Wild River 4H Club, raised Chubby for a year, said his mother Rachael Miller-Wells. He already made a good impression on judges Friday morning for his chicken project, though there aren't any poultry projects in the fair this year due to an outbreak of Newcastle Disease elsewhere in the state. Thatcher was hoping Chubby would make market weight so he could participate in the Junior Livestock Auction on Sunday, his mother said.
"The idea is to put him in the auction so somebody will buy him," Rachael Miller-Wells said, adding that her son had raised Chubby for a year and it's difficult to say goodbye to a beloved animal. "We are understanding of the facts of life: What we don't eat our animals eat. What our animals eat goes into the ground for the worms. Our chickens will eat the worms, which will go into the eggs, which is what we eat. It's the circle of life and we tell the children that."
Thatcher's chickens and his peers' ducks, geese and turkeys may not be at the fair this year, but there will still be plenty for buyers to bid on come Sunday.
Saying it's easier to count the number of animals being judged rather than the youngsters who raised them, Shari Smithson said there were seven beef cattle, 40 lambs and 70 pigs in the show ring this year. Youngsters are also showing rabbits, goats and dairy cattle, she said.
"There were about 120 (kids) in the bucket calf show," Smithson said, referring to a program started by Alexandre Dairy that gives youngsters a chance to raise one of their calves.
All seven beef will be up for bid at the auction, Smithson said. She estimated that roughly 60 pigs and 35 lambs will make the auction.
Citing Don Steinruck, an advisor for the Pig Irons 4H Swine Club, Smithson said kids raising hogs this year spent about $3 to $4 per pound on their animal.
"His kids paid an average of $250 to raise their pigs," Smithson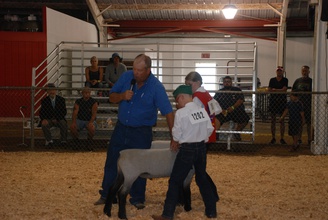 said.
Livestock Manager Jim Clark said though the number is about normal, the quality of the animal projects have increased from last year. This means last year's participants paid attention to the advice gave them about the selection of their animal and their feeding and management practices, Clark said.
During the year, 4H and Grange leaders will put on clinics to help kids with their animal projects, Clark said. They often graduate from raising an animal to starting a breeding project and then moving on to an agriculture-related field in college, he said.
Livestock judge Dana Van Lieu agreed with Clark, saying this year's beef and pigs are better than last year's. The quality of this year's sheep have improved as well, he said.
"They're well fed, well presented," Van Lieu said. "I'm happy with the majority of the animals in the show."
While their object may be to secure a ribbon and some cash for their animal, youngsters raising animals are also ambassadors, Clark said.
"You don't get out of bed without agriculture," he said. "Our heritage comes from agriculture."
The Del Norte County Fair continues this evening with "Mark McGrath's 90's Experience" at 6 p.m. Highlights Saturday include goat yoga at noon, the Challenge of the Champions Bulls & Barrels at 4 p.m. and the Rodeo Dance in the Beer Garden from 7 p.m.-11 p.m.
The Junior Livestock Auction will be held at 1 p.m. Sunday in the Ace Pavilion. Other highlights on Sunday include the Lucky 7 Demolition Derby & Tuff Truck Rally in the Tri-Counties Bank Arena at 2 p.m.
---
SHARE →
---