(UPDATE) 73-Year-Old Brookings Man Killed In Fatal Crash That Shut Down Northbound Lane of Highway 101 Near Wilson Creek Road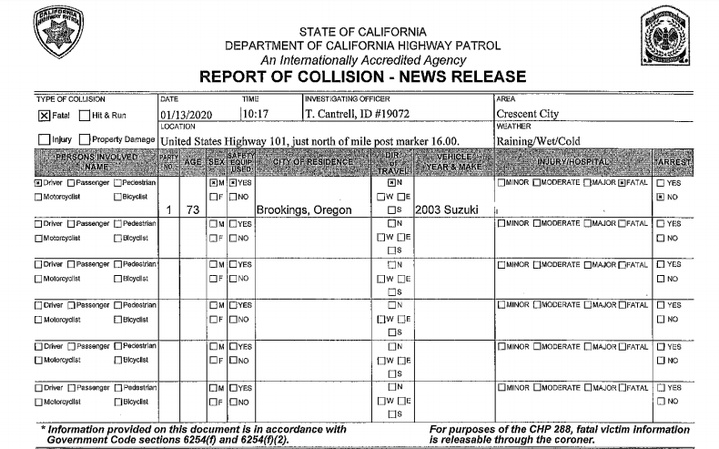 UPDATE, 3:40 p.m.:
The Califonria Highway Patrol's Crescent City Office reports that the driver killed in the single-vehicle crash on Highway 101 this morning was a 73-year-old man from Brookings.
For reasons still under investigation, the driver reportedly lost control of his vehicle along the rainy highway, causing the car to overturn and crash into a large redwood tree.
The driver was the only occupant of the vehicle. No other people were injured as a result of the crash.
###
A fatal crash occurred on the northbound side Highway 101 at approximately 10:19 a.m. today roughly halfway between Klamath and Crescent City, north of Wilson Creek Road.
According to the CHP incident report, the vehicle traveled 25 feet off the roadway before coming to rest on its side.
The driver of the vehicle was reported to be a man, but it's unclear if the driver was the victim killed in the crash.
The California Highway Patrol shut down the northbound side of the highway for more than an hour while emergency personnel attended to the scene.
The Outpost reached out to CHP Public Information Officer Brandy Gonzalez for more information but has not immediately heard back.
We will update when we know more.
---
10:20 a.m.
[14] [Appended, 10:22:16] [3] VEH WENT OFF THE RDWY
10:21 a.m.
[8] RP STATES SOMEONE IS IN THE VEH
10:37 a.m.
[27] 1185R FOR VEH 25 FT OVER SIDE ON SIDE - 03 SUZI GVT
10:38 a.m.
[28] [Rotation Request Comment] 1039 ROBERT TOWING 707-464-2422 ETA 20MINS
12:07 p.m.
[47] A95-005 RDWY COMPLETELY OPEN [Shared]