---
Jessica Cejnar Andrews / Monday, Sept. 11 @ 4:46 p.m.
Smith River Complex Update: Landslide Closed 199 Sunday Night; Pac Power Re-energizes Transmission Lines; Tri-Agency Releases 'Electric Redundancy Letter'
---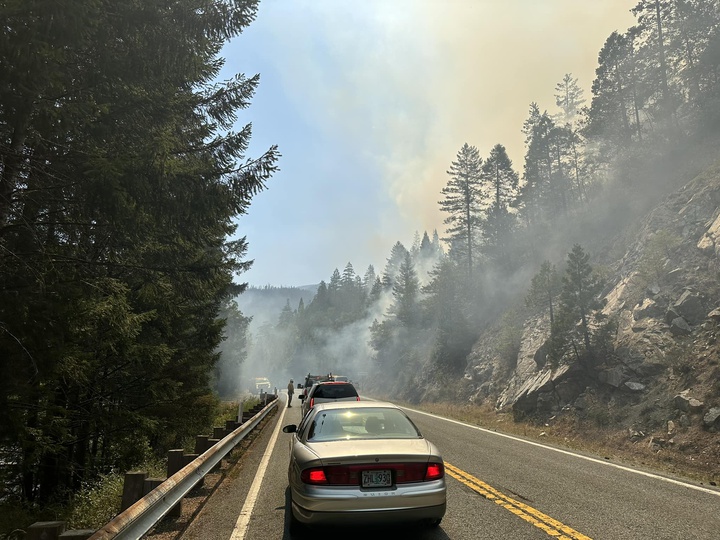 Previously:
• Local Officials Seek Electric Redundancy As Pacific Power Brings Del Norte's Substations Back Online
###
Del Norte is getting its electricity via Pacific Power's transmission lines corridor and motorists began negotiating their way along U.S. 199 at 7:30 a.m. Monday after a landslide brought them to a halt just before 2 p.m. Sunday
Caltrans and the California Highway Patrol were monitoring a burning operation crews battling the Smith River Complex had begun on Sunday and were able to close the road quickly, according to a Six Rivers National Forest news release. As a result, hotshot crews finished the 300-acre fire operation sooner than planned.
The closure occurred west of Patrick Creek near milepost marker 20.6 on U.S. 199 due to "fire activity and rock slides," Caltrans spokesman Manny Machado said via email Monday.
Meanwhile, the Tri-Agency Economic Development Authority released the letter it plans to send to local governing bodies urging them to advocate for additional avenues for electricity to serve both Del Norte and Curry counties.
The newly resurrected joint powers authority also released templates of letters it's urging the public to use to make their concerns known to officials with Pacific Power, Coos-Curry Electric Cooperative Inc. and the Bonneville Power Administration, which supplies electricity to Coos-Curry Electric.
"Time is of the essence, as both counties are at a critical juncture where another catastrophe could bring insurmountable consequences," Tri-Agency President Wes White wrote in his letter. "Historically, one of the most effective political tools has been a coordinated letter writing campaign."
Del Norte County was without electricity for about five days when Pacific Power was forced to de-energize its transmission corridor due to the wildfires. The utility plugged roughly 81 industrial-sized generators into the county's substations to restore electricity.
In his letter, White argued that Curry County could face a predicament similar to the one Del Norte found itself in without access to a redundant source of electricity.
"It is deeply concerning that the electrical lines in both counties, though located mere feet apart, lack an interconnection to provide power redundancy in times of crisis," White wrote. "The gravity of this issue cannot be overstated; it poses a substantial risk to the well-being of our communities, particularly given the financial vulnerabilities in our economically distressed regions."
The Tri-Agency is asking for Pacific Power and Coos-Curry Electric to prepare detailed studies that could lead to the construction of a new transmission line connecting the Rogue substation in Gold Beach to a substation near Fort Dick. According to White's letter, that transmission line would be about 55 miles long.
Governing agencies on both sides of the state line need to come to a consensus regarding the need and figure out how to deal with the regulating and permitting obstacles in Oregon and California, according to White's letter.
The incompatibility between Pacific Power's transmission lines and the lines belonging to Coos-Curry Electric must also be rectified as is securing the funding to build a new transmission line, White states.
"We are concerned that the involved parties, namely Pacific Power, Bonneville Power Administration and Coos Curry Electric Cooperative, may not prioritize these studies," he wrote. "It is imperative to apply political pressure to ensure that the necessary improvements, permitting, and other requisite tasks are accomplished by next summer."
On Monday, Pacific Power announced that it took the large substation generators offline and successfully returned Del Norte County customers to electric grid service as of Sunday. About 13,000 customers were getting their electricity through those generators, the utility stated in a news release.
The generators used an average of 47,000 gallons of fuel every 24 hours roughly, according to Pacific Power spokesman Simon Gutierrez. The company also supplied about 200 customers with residential generators due to medical needs.
The Smith River Complex, which started during a lightning storm on Aug. 15, is currently mapped at 86,347 acres and is 21 percent contained.
Moderate and low-intensity burning operations on Sunday produced smoke that may have been visible from a distance. The Hurdy Gurdy fire southeast of the Kelly Fire also produced visible smoke on Sunday, but wasn't a threat to any communities.
In Oregon, crews established a camp in Harbor near Brookings. A community meeting has been scheduled for Tuesday evening in Brookings.
About 10,276 acres have burned in Oregon, according to an update Monday.
Documents:
• Letter template to Coos-Curry Electric Cooperative
• Letter template to Pacific Power
• Letter template to Bonneville Power Administration
---
SHARE →