---
Jessica Cejnar Andrews / Tuesday, May 23 @ 6 a.m.
Engineer, Neighbors Oppose Proposed RV Park Near Oregon's Arizona Beach
---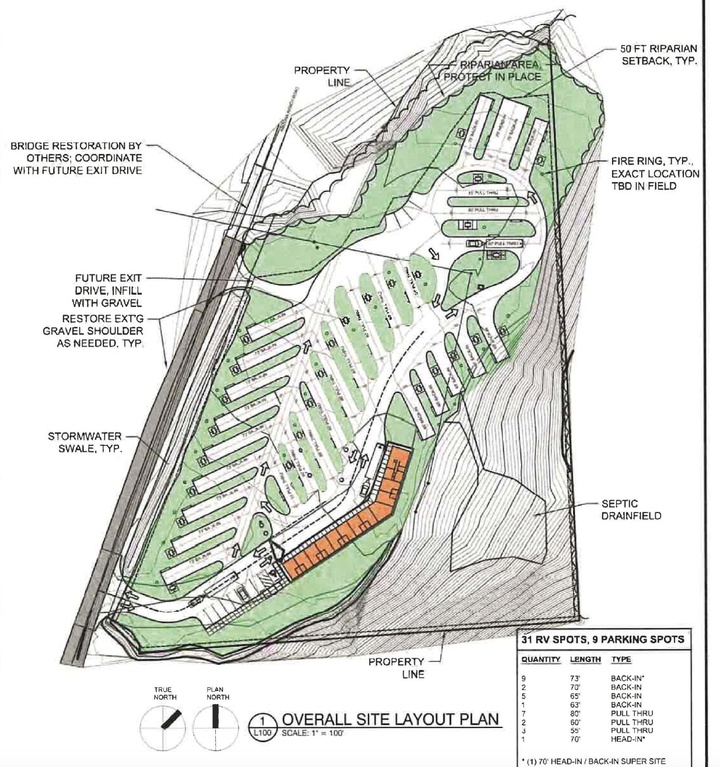 Document:
• Silver Butte RV Park Staff Report
###
An Oregon Department of Environmental Quality engineer and two homeowners asked Curry County commissioners last week to bar the development of a 31-space RV Park near Arizona Beach.
The Oregon Coast Alliance also submitted testimony opposing the Arizona Ranch RV Park on Wednesday, County Planning Director Becky Crockett told commissioners, asking that commissioners "leave the record open" for seven days.
"They're essentially playing a bit of a legal game, saying I want to go searching for reasons to appeal this on behalf of the appellant," Crockett said. "By law, you are required to leave the record open for seven days and in the duration of that time, they will search the record and try to see if they can come up with a legal argument good enough to appeal a decision to LUBA (the state Land-Use Board of Appeals)."
Bret and Dahlia O'Brien, of Silver Butte Investments LLC, received a conditional use permit for their RV park at 337015 Arizona Ranch Road on March 9. The 5.38-acre parcel is in an area zoned rural commercial use and had housed an 11-unit motel with a few RV spots.
According to the staff report, up until the O'Briens purchased the property in 2020, the motel was in use along with RV and tent camping.
"(Anecdotal) information of the use of the site in recent years indicate that it included nefarious activities with unpermitted RV and tent camping," the Feb. 16 staff report states.
In addition to 31 RV spaces, the proposed park will include a store, a recreation room with laundry and a manager's unit, Crockett said. Because the proposed RV park is in an area zoned for rural commercial use, it requires special review and approval from the Oregon Department of Environmental Quality.
Jonathan Giska, a Department of Environmental Quality air quality engineer, said he was appealed the Planning Commission's March 9 decision as a private individual.
The RV park doesn't make sense, Giska said, taking issue with allowing the project in an area zoned for rural commercial use.
"Rural commercial zones are essentially function to bring commercial operations and services to people living in rural areas so they don't have to travel large distances," he said. "In this instance, this use, if approved, would bring lots of people, vehicles and other things into an area that has very limited to no services for the surrounding community, and that's really not what this zoning is for."
The proposed park is near an "over-steepened slope" that could fail, Giska said. It's also in the tsunami inundation zone — the Planning Commission's conditional use permit didn't stipulate the installation of evacuation routes, he said.
The proposed park is also a fire hazard that the conditional use permit didn't address adequately, Giska said.
"Looking at the layout of the facility, if it's at full occupancy in the summer, it seems like it would be very challenging for any fire truck or water truck to be moving around in this area," he said. "When burn bans are going to be occurring, what is the enforcement or oversight here for campfires, barbecues, cigarettes, fireworks — are they going to be prohibited?"
Giska argued that the Planning Commission's report didn't include a detailed enough analysis of the proposed RV park's septic system. He referred county commissioners to archival documents with the state detailing a history of failed septic systems at the site
Giska said that Oregon requires a septic system at RV parks be able to handle 100 gallons per day per space.
"At a full hookup with 31 RVs, that's 3,100 gallons per day for design of the system," he told commissioners. "This isn't a normal septic system. That's not even including the motel, the laundromat and all of those facilities."
Giska said it was also probable that most of the proposed RV park lies within seasonal wetlands, which required the county to contact the Oregon Department of State Lands.
There's a pond on the site with otters, fish and birds, Giska said. He said he's seen kids fishing. Residents also have wells in that area
"That's the place to get the water. It's where everything drains," he said. "That's why it's most likely a wetland."
According to Crockett, Curry County Planning Commissioners required the O'Briens to comply with DEQ septic system requirements and to get that agency's final approval before operating the RV park.
Addressing fire concerns, the O'Briens are also required to install a 10,000 gallon elevated storage tank high enough for gravity feed as well as two fire hydrants that lead into the site. They're also required to install a tank with pumps, fixtures and piping.
As for wetlands, while the county zoning ordinance states it has to provide written notice to DSL of applications that involve potential wetlands, there are no wetlands involved at the proposed Arizona Ranch RV Park, Crockett said.

"The proposal made by the applicant clearly has a significant setback area from any wetland that was identified on that map," she said. "There are no wetlands that are involved or (would be) developed in regards to this project. Therefore, there's not a requirement that staff would contact DSL."
Craig Kellison, a homeowner on Arizona Ranch Road, disagreed with the Planning Department's assessment about wetlands, saying the meadow on that 5-acre parcel is a bog 50 percent out of the year.
He was more concerned about the elk herd that frequents the area.
"If you think about the importance of something that simple, people go to Prairie Creek to see elk. The people go to Reedsport to see the elk," Kellison said. "It's the only location anywhere in Curry County where on a given day you can drive and see an elk herd. The same with Coos County."
Kellison argued that while RV parks start out as nice places in teh summer for the tourists, they turn into a trailer park off season. He also argued that the motel on the property had never had more than two or three guests at any given time.
"It was a hovel and nobody used it," Kellison said.
Jeannette Peterson, another property owner, also spoke out against the proposed RV park, pointing out that the campground at nearby Arizona Beach State Recreation Site is "nowhere near full."
Peterson said she didn't feel a 31-RV park plus a store and laundromat was a good fit for the area.
"One thing that frightens me about this plan is there are fire rings for, I guess, campers that aren't in RVs. Or maybe it's overflow," she said. "And I tell you that's great if you have a 10,000 foot tank, but being a mile north of that, it terrifies me. There was a property that had a house fire across the street from ours and (it was) 25-30 minutes before anybody could get there."
Silver Butte Investments owner, Bret O'Brien, didn't rebut Giska's comments or speak to the concerns Kellison and Peterson raised on Wednesday except he'll try to "meet everybody's concerns if I can."
"I'll do the best I can on the project," he said. "I'd like to get this thing going and see what you think."
According to Crockett, Giska has seven days to submit new information and after that time period is up, the O'Briens have seven days to respond. The matter will then go back before the Board of Commissioners for a vote — probably some time in June, she said.
---
SHARE →