---
Jessica Cejnar Andrews / Tuesday, Jan. 3 @ 8:59 a.m.
U.S. 199 Between 197 and 101 Closed As Caltrans' Tree Work Continues
---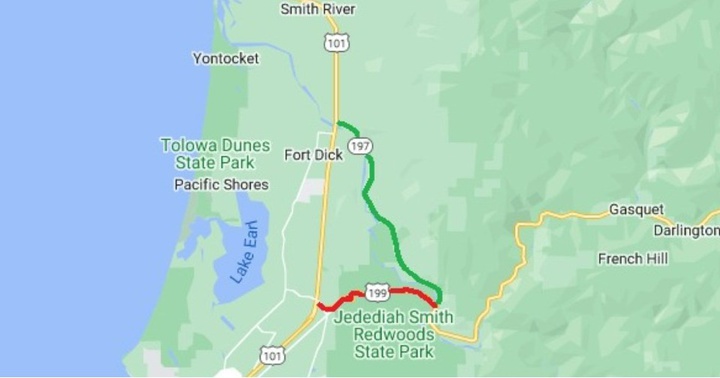 From Caltrans District 1:
Heads up to Del Norte County travelers: U.S. 199 near the 101 junction will be fully closed again on Tuesday, Jan. 3 and Wednesday, Jan 4 from 6 a.m. to 6 p.m.

Travelers should use Route 197 as a detour.

A contractor has been conducting inclement weather preparations in the area. The contractor will be removing one remaining hazardous branch. It is possible the work may be completed faster than planned, and if that's the case, we'll keep you updated on this page.

With concurrence from Caltrans arborists and California State Parks foresters, Caltrans has been conducting emergency work along U.S. 199 to remove or limb hazardous trees that were deemed safety hazards.

All hazardous trees have been dead, leaning, damaged by lightning or have dead tops, and the work has followed all relevant environmental laws and regulations including those set by the California Department of Fish and Wildlife. A biological monitor has been present for all project actions.

As a result of these operations more wood will remain in the forest to provide a habitat for wildlife, and a small portion of the wood has been given to local Native American tribes by California State Parks. No wood generated from this project belongs to Caltrans or is being sold in any way, and the work does not fit the business description of "logging." Caltrans' only goal for this work is to reduce collisions, injuries and fatalities on the roadway.
---
SHARE →