---
Jessica Cejnar Andrews / Friday, Jan. 20 @ 2:04 p.m.
Instead of Waiting for Grant Money, Crescent City's Mayor Pro Tem Says Firefighters Need New Radios Now
---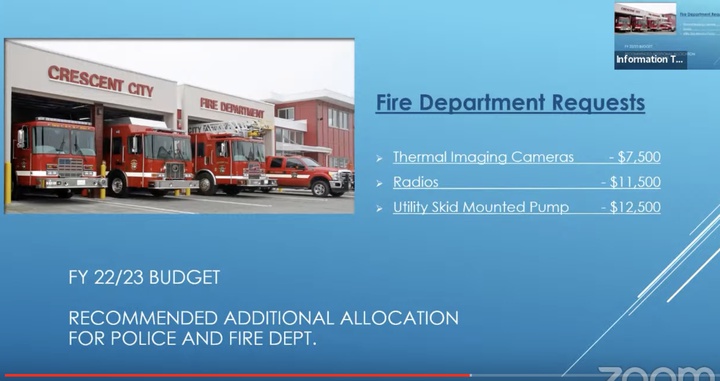 After hearing that local firefighters rely on hand-me-down radios from other agencies to communicate, Crescent City Mayor Pro Tem Blake Inscore said Tuesday the city needed to contribute more than half the cost of a match for a potential grant.
Crescent City Fire & Rescue's original ask was for $11,500 in Measure S tax dollars. The Crescent Fire Protection District would put in another $11,500 and Fire Chief Kevin Carey would begin preparing the application for the next round of Emergency Management Performance Grant money that will be released in about a year.
Inscore proposed contributing half the cost in Measure S dollars to purchase new radios and seeing if CFPD would contribute the other half. He argued that even if Measure S and the cost-sharing agreement between the city and fire district weren't in play, new radios for its firefighters is a necessary expense for the city.
"We ought to spend the money and outfit your firefighters to do their job and I think we should be leading the way and not trying to play catch-up," Inscore said. "I'm against hand-me-down radios anymore."
Inscore asked City Manager Eric Wier to come back to the Council with an "actionable item" to share the cost of new radios with the Crescent Fire Protection District. Since the radios Carey wants to purchase, Kenwood P25s, will increase in price by about 8-10 percent starting Feb. 1, Wier agreed to schedule a special meeting Jan. 30.
Carey estimated the cost for the new radios would be between $45,000 and $48,000 to outfit each of his firefighters.
On Dec. 21, the Measure S Oversight Committee received an update as well as a request for additional tax dollars to be allocated to Crescent City Fire & Rescue and the Crescent City Police Department.
During fiscal year 2021-22, the voter-approved sales tax measure from 2020 generated about $2.248 million in revenue, according to Wier, adding that these are the actual numbers. Roughly $2.175 million were spent, leaving an unallocated balance of $405,485 as of June 30, 2022, Wier said.
Of those funds, $185,796 was allocated to the fire department for training, volunteer programs and purchasing self-contained breathing apparatuses. CCPD received $223,293 during the 2021-22 fiscal year.
About $929,419 was allocated to street repair and $832,375 went toward the Fred Endert Municipal Pool to hire staff and purchase parts and supplies for an upcoming HVAC replacement project, Wier said.
For fiscal year 2022-23, Measure S is expected to bring in about $2 million in revenue, while the city is projecting a little over that for expenses. Wier said he expected an update from the city's sales tax consultant early next month.
In December, the Oversight Committee agreed to allocate $7,500 to Crescent City Fire & Rescue for half the cost of a dozen personal-sized personal imaging cameras. CFPD would contribute the other half. According to Carey, these cameras would be mounted onto the firefighters breathing packs and would enable his firefighters to locate hotspots without having to rip into walls or chimneys.
"The ones we have now, I want to say we have one working one and we might get 12 minutes out of it," Carey told the City Council. "The rest of them, I have a drawer full of batteries and we can't even turn them on most times."
The cost includes the hardware to mount the cameras onto the firefighters' self contained breathing apparatuses as well as to charge them.
Another requested expense was for $12,500 for a utility skid-mounted pump. CFPD already has one on a pickup truck at its Washington Boulevard station, Carey said. This pump would go on the back of a utility vehicle at the department's station on 5th and I streets.
"Basically it gives us the mobility to get to places where we don't have to deploy 1,000-2,000 feet of hose," Carey said. "We can get down to the beach — we can get to all kinds of places our engines can't get to without using enormous manpower and bits of hose."
Carey said he was looking at purchasing a 180-gallon pump, adding that he expects to use it daily during the summer and at least weekly throughout the year.
As for the radios Crescent Fire & Rescue currently has, some come from the Crescent City Police Department, others are from the merger of Crescent Fire & Rescue and Crescent City Fire back in 2015, Carey said.
"Right now we have four to five different models of radios we're using. We do our best," he said. "They're all hand-me-downs of one or two hand-me-down cycles from other departments."
Crescent City Police Chief Richard Griffin said the Measure S Oversight Committee last year approved his use of $17,500 for 22 new radios. But after receiving an EMPG grant, Griffin said CCPD would be able to give 20 used radios to Crescent City Fire & Rescue. Though the brand is no longer made, Griffin said it would give the fire department uniformity.
When Inscore and his colleague, City Councilor Jason Greenough, called for putting forward enough Measure S dollars to buy all new radios for the fire department, Griffin pointed out that will make a big difference to potential volunteers.
"Now you're recruiting people who are coming in and they're not seeing five or six different radios and going, 'OK, what is this rag-tag stuff?'" Griffin said. "Now you're saying, 'No we have the best equipment here and this is what you're going to get assigned to you.'"
As for Measure S allocations to CCPD, Griffin asked for was $17,000 for a forensic cell phone analyzer; $36,000 for a TrueNarc machine and $7,600 for a part-time police records specialist.
According to Griffin, CCPD would partner with the Del Norte County Sheriff's Office and the Del Norte County District Attorney's Office in sharing the expense for the forensic cell phone analyzer, which would allow the agencies to serve a search warrant on a cellphone. This includes recovering deleted text messages.
As for the TrueNarc machine, Griffin said this would allow his officers to test potential controlled substances at the scene without the risk of exposure.
"I want this first and foremost for officers based on the fentanyl thing that's going on," he said. "We don't know what we're seizing all the time and it's just dangerous to handle those drugs."
As for the part-time records specialist, Griffin said the previous records clerk wanted to return to the position. The $7,600 request would be for the six months or so that's left in the fiscal year. The position is expected to cost about $15,000 annually for Crescent City.
Inscore, pointing out that Crescent City has a budget for expenses associated with personnel — in addition to its Measure S fund — asked if the money needed for the position could come out of the city's coffers separate from Measure S.
He noted that the city's personnel budget already has the revenue to cover the $7,600 part-time records clerk position.
"If we have the budget available, it feels like it should be covered as a regular personnel cost, not an add-on," Inscore said. "If we have the personnel budget already to cover this, let's give you the authorization and position control and move forward with it and allocate Measure S for things that are not necessarily a personnel (cost) we can't cover in another way."
The Measure S Oversight Committee also recommended allocating an additional $20,000 for structural and geotechnical reports related to the renovation of the Crescent City Police Department building.
Dennis Dong, of Calpo Hom & Dong Architects, an additional 1,550 square feet will be added to the existing police station. The extra space will allow for proper locker rooms, break rooms and briefing rooms. The city's goal is also to bring the building into compliance with accessibility laws.
A separate training building is also being planned for, Dong said.
---
SHARE →