---
Jessica Cejnar Andrews / Friday, Feb. 24 @ 3:15 p.m. / Emergencies, Weather
Snow At Sea Level, Frigid Temps Prompt OES to Set Up Warming Shelter
---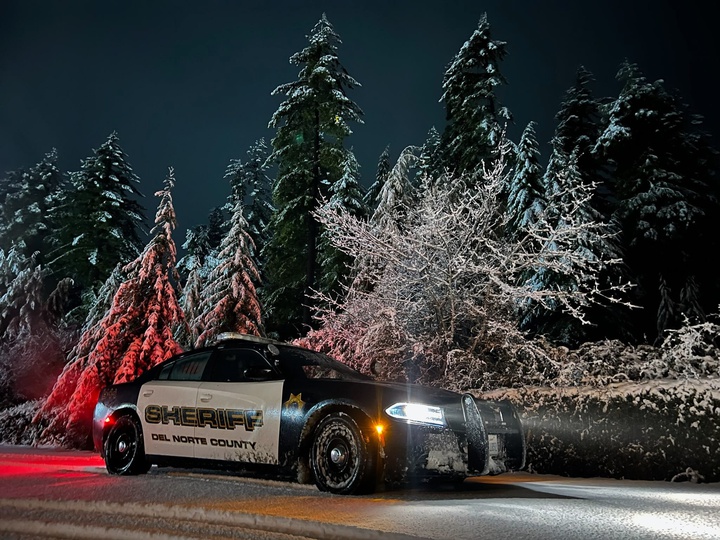 Twenty-eight to 30 people a day took advantage of a warming shelter Del Norte Mission Possible, Foursquare Church and several other partners pulled together at the last minute Thursday and Friday.
DNMP founder Daphne Cortese Lambert said Del Norte Emergency Services Coordinator Deborah Otenburg asked her and Foursquare Church pastor Roger Bodenstab on Wednesday to help organize the shelter.
In addition to offering warm showers, the shelter offered snacks, clean clothes and food, Cortese-Lambert said. The local American Red Cross chapter provided blankets and Open Door Community Health Center donated coats and gloves.
"What was wonderful was I was over here at the emergency warming shelter and the rest of my team was with the (Del Norte Mission Possible) bus doing outreach in all the different areas," Cortese-Lambert said. "We had a car following behind the bus that were able to take people over here to get warm."
On Tuesday, Otenburg sent out a National Weather Service briefing about the storm, which was expected to bring heavy snow at high elevations, several inches at sea level through today and frigid temperatures heading into the weekend.
The National Weather Service also predicted hail and strong wind for much of the North Coast, including Del Norte County.
According to Del Norte County Sheriff Garrett Scott, that snow sent several trees alongside U.S. 199 toppling onto the highway "roots and all."
As of 2:16 p.m. Friday, U.S. 199 between U.S. 101 and State Route 197 was still closed due to snow.
A fallen tree and a car accident had also prompted officials to close State Route 197, Scott said. However, as of 2:16 p.m. Friday, Caltrans reported that Route 197 near Ginny Lane was open to one-way traffic.
"It's just a lot of snow," Scott said. "People still aren't really very good at driving in this kind of weather. We're not used to it up here. There are a lot of car crashes. Lots of trees down."
Scott said his deputies responded to people sliding off the road or getting stuck. They also helped those trying to keep warm find their way out of the snow, Scott said.
This included letting one person stay in the lobby at the sheriff's office, he said.
"We were afraid he was going to get hypothermic," Scott said. "Another (person) was underneath the overhang at the courthouse. But, for the most part, most folks who are homeless, I think they found shelter. I checked around to see if I saw anybody."
Cold temperatures are expected to persist through Saturday morning, according to the National Weather Service.
Another round of snow is expected Sunday through Tuesday, though no snow is expected on the coastal plain, the NWS posted on Facebook. Those living inland can expect "difficult if not impossible driving conditions at times and more power outages."
---
SHARE →