---
Jessica Cejnar Andrews / Monday, Aug. 28 @ 10:03 a.m.
UC Cooperative Extension Seeks Answers on Wildfire Costs to Del Norte Residents
---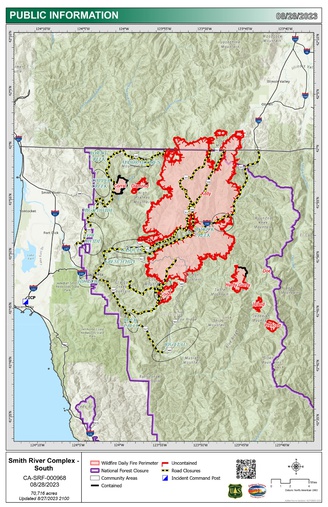 UC Cooperative Extension staff hope to get community feedback on a survey gauging the costs residents have incurred as a result of the Smith River Complex wildfires.
The survey asks residents about gas usage to attend community meetings or evacuate, loss of work hours because of the power outage and "any other financial effect of this fire," said Alec Dompka, economic development advisor for the U.C. Cooperative Extension's Del Norte office. Cooperative Extension staff are also collecting cost estimates for damages as a result of the wildfire, he told the Wild Rivers Outpost on Saturday.
"We will use the data from this survey, and one sent to local businesses through the Del Norte chamber of commerce as the starting point for understanding the costs of this fire," Dompka said. "Once we collect the data, we will put out a public report on our findings."
The data can be used at the local, state and federal level as government officials decide to declare states of emergency and to help determine the resources they need, Dompka said. It can also be useful to residents. Long-term cost data can also affect policies aiming to increase community resiliency and wildfire protection and mitigation, he said.
"This will not be the end of the data collection and reporting," Dompka said. "There will be more costs to account for. I am excited to keep working on this project to support Del Norte and everyone's understanding of the wildfires."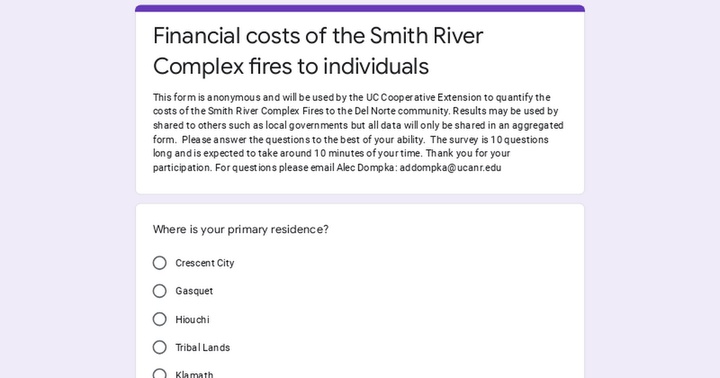 The Smith River Complex began as a result of a dry lightning storm on the Six Rivers National Forest on Aug. 15. It has been mapped at 70,716 acres as of Monday and is 6 percent contained. There are 2,661 firefighters battling the flames.
Residents living in communities along the U.S. 199 corridor between Slant Bridge Road and the state line were ordered to evacuate their homes. This includes Gasquet. Communities on Low Divide, High Divide and Rowdy Creek roads along with Big Flat, Rock Creek and parts of Hiouchi are also under evacuation notices.
U.S. 199 remains closed due to the fire.
Also, with flames encroaching on their equipment, Pacific Power de-energized the only transmission line bringing electricity to Del Norte County. While the utility used large commercial generators to supply Del Norters with power, it's still unsafe to re-energize the transmission line, Pacific Power stated Saturday.
According to Cindy Vosburg, executive director for the Crescent City-Del Norte County Chamber of Commerce, several businesses, particularly retail and restaurants, saw at least a 50 percent drop in customers once the highway closed.
"Once the power went out, as long as those businesses were out of power, it was a 100 percent loss," she said. "Even those who had generators, like Sea Quake, it still took them awhile to get up and running. Then you've got food loss for a lot of the restaurants."
Though the power is back on for most businesses, they're still seeing a 25 percent decrease in their customer base, Vosburg said.
Despite this, travelers are still coming into the chamber's visitor center and wanting to visit Redwood National and State Parks, she said. She pointed out that while Howland Hill Road is closed due to the fires, Walker Road was open and people can also go down south to Prairie Creek.
"We've been serving 100 to 200 people a day in the visitor center, which is fairly normal," she said. "During the first few days, we had folks that had flights out of Medford that were going up through Bandon and cutting over to I-5."
Vosburg said she's helping the U.C. Cooperative Extension with its survey, supplying them with transiency occupancy tax data for the last five years and where to find information on taxable sales from the State Board of Equalization website.
The survey consists of 10 questions and is expected to take about 10 minutes to complete. For more information, email Dompka at addompka@ucanr.edu.
---
SHARE →