---
WRO Staff / Saturday, Aug. 26 @ 7 a.m. / Obits
OBITUARY: Thomas Lee Gahart, 1958-2023
---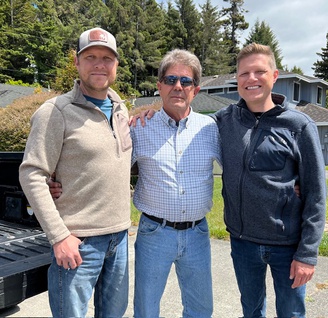 Thomas Lee Gahart -- son, brother, father, Papa -- passed away July 28 at the age of 65. In Tom's younger years he was a very accomplished motocross rider. He won many trophies and awards. His love for motocross eventually led him to opening G & G cycles in February of 1977 in Arcata. Tom was known for his flawless ATV and motorcycle engine work. For the last 13 years he worked at George's Auto in Crescent City.
Tom's proudest moments were when he welcomed his twin sons Dustin and Davin in December of 1981.
Tom took pride living in the family home where many family members have lived for generations past. Tom was known for his bone crushing hugs, his love for his family and making sure his granddaughters always had their "high fashion" It didn't matter if Tom had known you his whole life, or you were a new friend, you wouldn't be able to tell the difference. A friend was a friend and was always greeted with a huge smile. Some people might even go as far as calling him the Mayor of Crescent City. You couldn't go anywhere without having to stop and talk to somebody. Papa Tom was a softy for his granddaughters Madalynn and Scarlett. He could never tell them no. He was always spoiling them and every holiday he was always out tuning their bikes in the driveway.
Tom is preceded in death by his grandmother Rubye Trivette of Klamath; his grandparents Bud and Loiuse Gahart; his parents Cecil and Toots Gahart all of Fort Dick; aunts Hazel Pribble and Bettye White and his uncle Woody Mattingly.
Tom is survived by his brother Joe (Johnette) Gahart of Klamath; his twin sons Dustin Gahart (wife Amadna),granddaughters Madalynn and Scarlett (Tuffy); son Davin Gahart all of Eureka; cousins Terye (John) Parks and daughter Danielle Seidel of Medford. Dawnelle (Troy) Pribble-Haddow of South Jordan, Uah and her children Trent and Karlye Bryant; the mother of his sons, Susie Ferraro of Eureka.
The family would like to give a huge thank you to all his wonderful friends, neighbors and neighborhood watch who were always there for him.
Services are being planned at a later date.
###
The obituary above was submitted on behalf of Tom Gahart''s loved ones. The Wild Rivers Outpost runs obituaries of Del Norte County residents at no charge. See guidelines here. Email news@lostcoastoutpost.com.
---
SHARE →