---
Jessica Cejnar Andrews / Wednesday, Sept. 7 @ 5:05 p.m. / Community, Local Government
CCPD Holds Off on Lieutenant Promotion, Requests More Measure S Dollars for New Duty Weapons
---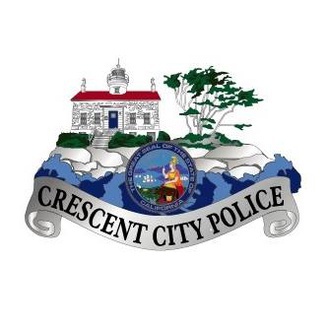 With the resignation of his department's only lieutenant, Crescent City Police Chief Richard Griffin proposed changing the position back to a sergeant in an effort to keep more officers patrolling the streets.
Griffin told Councilors on Tuesday that calls for service from the Crescent City Police Department were up. Though he doesn't have a records clerk or an evidence clerk, Griffin said he felt having another officer on the street was better than having a lieutenant that covers administrative duties.
"I just looked into it a week and a half ago and our officers are down 120 cases and we're down a few officers right now, so you can kind of do the math on 10 or 11 officers," he said. "I'll manage the office. I have no problem doing that for awhile."
The lieutenant position is currently vacant, Griffin told Councilors. That promotion is also no longer available to his current staff, he said.
Four Councilors on Tuesday approved Griffin's request along with other expenditure revisions to the Measure S tax dollars allocated to his department. Those revisions include the installation of a concrete slab underneath the kennel belonging to new K9 officer, Sgt. Kostya, along with new duty weapons for staff.
After Crescent City voters approved Measure S in 2020, CCPD was able to hire additional officers who are currently being sponsored through the police academy. Once the new recruits have completed their training, the department will have a sergeant and at least two officers on every shift, according to City Manager Eric Wier.
With the revisions, CCPD is now receiving an allocation of $513,027 in Measure S dollars. This is an increase from the previous allocation of $510,739, though it includes a salary savings of $14,312 for the current fiscal year as a result of changing the lieutenant position back to a sergeant position, according to Wier.
Griffin proposed purchasing 15 new 9 mm Glock model 17 Gen 5 Modular Optic System pistols outfitted with Leupold Red Dot sights to improve accuracy. These new duty weapons would replace the old .40 caliber pistols, mitigating recoil associated with the larger caliber ammunition, he said.
Griffin said his officers will be able to purchase their current duty weapon for personal use at the fair market price of $230. This is allowable under California government code, he said. The remaining pistols will be sold at the same price to a licensed firearms dealer.
According to the staff report, the sale of 22 pistols would generate $5,060, bringing CCPD's budget for duty weapons to $13,690 down from a previous cost of $18,750.
As for CCPD's K9 program, though it cost a total of $34,450, Griffin was able to purchase Sgt. Kostya through a $10,000 UKC Re-Unite K9 grant as well as a $12,000 donation from the Tamaki Foundation.
A Measure S allocation of $9,200 from fiscal year 2022-23 had also already been approved for CCPD's K9 program. The concrete pad, however, is expected to cost an additional $3,000.
During public comment, county resident Robert Derego, who owns Sticky Grove, a local cannabis dispensary, urged Councilors to be more critical of CCPD's expenditures. He said people voted on Measure S because of the potential repairs to the streets.
"There are still people saying we can't get a damn pothole paved," Derego said.
Derego also brought up a statement made by Griffin in April about replacing the department's Colt AR-15s with six new Daniel Defense AR-15s, which the chief himself carries.
"You do have to ask yourself if this is what the voters voted for," Derego said. "I understand you have to be safe, it's a dangerous job, but to be honest, lumberjacks, fishing these are the jobs the Bureau of Labor Statistics find quite dangerous. Driving in general. Before COVID, the most common way for an officer to lose his life was behind the wheel."
Crescent City Mayor Pro Tem Isaiah Wright, who presided over Tuesday's meeting due to the absence of Mayor Jason Greenough, referred to the breakdown in Measure S allocations.
These allocations include $366,000 for the Crescent City Fire Department; $513,000 for CCPD; $550,000 for street improvements and $511,000 for the Fred Endert Municipal Pool — numbers the city manager said were accurate as of Tuesday.
"We've spent the most on street repairs. I would just like to point that out," Wright said. "I've been driving and seeing signs all over the place that where we've had some crack sealing going on and a bunch of other things, so we are spending money on street improvements for sure."
A proposed repeal of Measure S will appear on the Nov. 8 ballot.
---
SHARE →