---
Jessica Cejnar Andrews / Friday, Sept. 30, 2022 @ 5:45 p.m.
Crescent City Council to Consider Second Request for Front Street Project Funding From Local Transportation Commission
---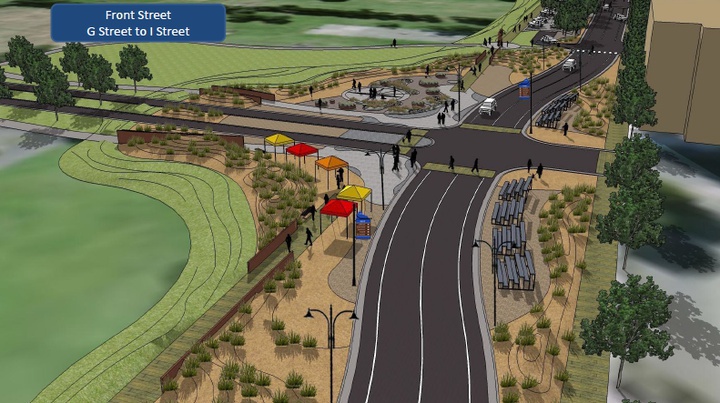 Crescent City Councilors on Monday will consider making a second request to the Del Norte Local Transportation Commission for funding to help reconstruct Front Street.
Councilors will discuss asking the DNLTC to kick in $515,063 in unallocated Coronavirus Response and Relief Supplemental Appropriations Act dollars.
The city's plan is to combine those dollars with $750,000 in Community Project Funding to extend the Front Street project from G Street to Play Street, City Manager Eric Wier told the Wild Rivers Outpost. However, though Congressman Jared Huffman submitted his proposal to partially fund the project to the House
Appropriations Committee for review in June, those dollars aren't yet guaranteed, according to Wier.
"It's shovel-ready and being designed right now and it'll be designed all the way down to the highway," Wier said, adding that the city's original request to Huffman was for $5 million to complete Front Street's reconstruction from G to K streets. "Hopefully the Huffman money gets approved in the next couple months and this money is approved this fall and we can bid it for a total of three blocks with the funds secured."
Crescent City completed the reconstruction of Front Street from B to G streets in 2021 using a Community Development Block Grant. This project replaced storm drains on C, D and F streets, reducing the flooding risk in residential areas. CDBG dollars weren't available for reconstructing the rest of Front Street, however.
In April, the Del Norte Local Transportation Commission agreed to contribute $400,000 to extend the Front Street project from G to I streets. The city is paying for that project with $2.2 million in American Rescue Plan Act, Measure S and general fund dollars, in addition to that first requested contribution from the Local Transportation Commission, according to its staff report.
The project includes reducing the road's width from four lanes to two as well as introducing traffic calming measures, handicap accessible crosswalks, sidewalks and curbs. The design will also be integrated into the new Beachfront Park entrance, according to the staff report.
According to Wier, the city is also in the process of purchasing materials for the project. He said he expected long wait times on items like water valves, pipes and manhole covers.
According to the project schedule, the city expects to receive materials through November and complete design on the project in December. Construction is expected to start in spring or summer 2023.
The Crescent City Council on Monday will also hold a public hearing on a rooftop solar permit ordinance and discuss a Highway Safety Improvement grant application for crosswalk improvements.
The City Council meets at 6 p.m. Monday in the Flynn Center, 981 H Street in Crescent City. Meetings are also available via Zoom by visiting the city's website.
---
SHARE →