---
Jessica Cejnar Andrews / Thursday, Sept. 29, 2022 @ 11:44 a.m. / Infrastructure
Hey, Del Norte! Prepare For A New Area Code Starting in February
---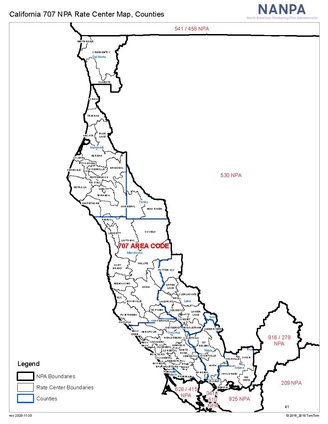 Del Norters receiving a new phone number may see area code 369 attached to it rather than 707 starting in February 2023.
The new area code will be added as an overlay since the number of available prefixes is expected to be exhausted by December 2023, according to a June 22 webcast featuring Heidi Wayman, data manager for the North American Numbering Plan Administrator.
The California Public Utilities Commission received permission from an administrative law judge in May 2022 to introduce the 369 area code to the 707 area code region via the overlay method.
Local rates will not change for customers as a result, Wayman said, and customers will retain their current phone number and existing area code. Calls to 911, 211, 311, 411 and other similar three-digit numbers won't be affected by the new area code.
"Existing customers in the 707 area code may need to change stationary, advertising and signage on billboards to show the correct area code if only the 707 area code number is shown, Wayman said. "For the 707 area code, an overlay option is the only option to ensure the availability of telephone numbers in a geographic area code."
This is due to a requirement starting about a year ago that customers in the 707 area code dial 1+ the area code and local phone number when making a call due to the establishment of the 988 National Suicide Prevention Lifeline code, Wayman said.
Other steps customers may want to take to prepare for the new area code include contacting security or alarm vendors to update their phone numbers to avoid a break in security routines; reprograming automatic dial, speed dialing and modems for Internet dial-up access; provide their area code and telephone number and remembering to ask for the area code when requesting a phone number.
There are currently 44 service providers in the 707 area code, which includes parts of Del Norte, Glenn, Humboldt, Lake, Marin, Mendocino, Napa, Solano, Sonoma, Tehama and Trinity counties, according to Wayman. Of the 792 usable prefixes, there are only 28 remaining available for assignment, she said in June.
Wayman also explained the difference between introducing a new area code through a geographic split verses an overlay. In a geographic split, area code relief is provided when an existing area code is divided.
According to Wayman, California hasn't introduced an area code using this method in 17 years, and there hasn't been an area code split nationwide in the last 14 years.
However, California has introduced 12 new area codes using the overlay method since 2006, Wayman said, adding that the overlay is the industry's preferred method of providing "area code relief."
The 707 area code was created when it split off of the 415 area code in 1959.
---
SHARE →