---
Jessica Cejnar Andrews / Wednesday, Sept. 28, 2022 @ 3:36 p.m. / Environment, Infrastructure, Local Government
Del Norte Accepts Invite to Klamath Watershed Governments Collaborative
---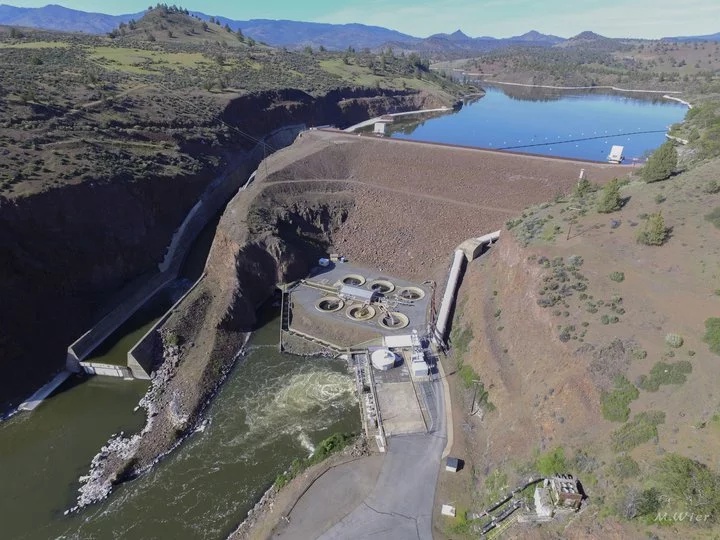 Document:
• Klamath Watershed Governments Advisory Committee invitation
###
Del Norte County supervisors accepted an invitation to participate in an advisory committee consisting of governments in the Klamath River watershed.
District 3 Supervisor Chris Howard volunteered to serve on the committee, which was created by elected officials in Siskiyou and Modoc counties in California and Klamath County in Oregon. Howard said Tuesday he'd been playing close attention to Klamath River issues for about two years, especially with the impact dam removal would have on Del Norte.
His colleague, Susan Masten, a former Yurok councilwoman whose district includes the mouth of the Klamath River, expressed reservations about the proposed committee. But, noting the invitation asked supervisors to respond by Oct. 7, she agreed to be an alternate member.
"We just got the letter," Masten told the Outpost on Wednesday. "I didn't get a chance — because yesterday was the first time I'd seen it — to contact anyone to see what this is."
The Del Norte County Board of Supervisors received the invitation to form the Klamath Watershed Governments Advisory Committee on Monday. That invitation was signed by Siskiyou County supervisors Brandon Criss and Michael Kobseff, Modoc County supervisors Geri Byrne and Ned Coe and Klamath County Commissioner Derrick DeGroot.
The three-county invitation comes to Del Norte about a month after the Federal Energy Regulatory Commission released its final environmental impact statement recommending license surrender, decommissioning and removal of four Klamath River dams — Copco No. 1, Copco. No. 2, J.C. Boyle and Iron Gate.
The letter also comes a month after the Klamath Irrigation District initially defied a U.S. Bureau of Reclamation order to shut off water to the Klamath Project, which irrigates 266 square miles of farmland at the drought-plagued Oregon-California border. The district reversed course after the federal agency threatened to withhold millions of dollars in drought assistance, the Capital Press reported.
The Klamath Watershed Governments Advisory Committee invitation was sent to the chairpersons of the Yurok, Karuk and Klamath tribes as well as the chairwoman of the Shasta Indian Nation and the Modoc Nation's chief. The Humboldt County Board of Supervisors chair, Virginia Bass, was also sent the invitation.
In their letter, the Siskiyou, Modoc and Klamath County representatives state they're concerned with the division among communities in the Klamath basin over its water and natural resources and call for "an atmosphere of collaboration and mutual support."
Its authors also refer to $162 million from the Bipartisan Infrastructure Law as well as other financial resources Congress made available for environmental restoration in the watershed.
"We are aware of no specific goals for the use of the available resources," the invitation states. "Unsurprisingly, then, there is no obvious plan, or plan for a plan that would make the best use of all available resources to the best end for the watershed's resources and communities."
In an Aug. 23 news release, California's U.S. senators, Dianne Feinstein and Alex Padilla, announced that the Bipartisan Infrastructure Law would allocate $162 million in regional ecological restoration projects to the Klamath Basin for the next five years. That funding includes $16 million toward ecosystem restoration projects and $10 million to expand the Klamath Falls National Fish Hatchery.
The Bureau of Reclamation and the National Fish and Wildlife Foundation is also offering a total of $3 million in grants for fish and wildlife habitat improvement projects.
In their invitation, the five elected officials state they would also encourage input from other interested organizations.
"We recognize the potential challenges in developing a process for joint recommendations that respect all interests," their letter states. "Those important details are less significant at this time than is the fundamental question of whether there is a willingness to engage in this effort."
Masten said she assumes a governing body has already been established to oversee how that federal infrastructure bill money will be spent, but she's not certain because she hasn't been given a chance to look into it.
Masten said several organizations are already making decisions for restoration and Klamath River dam removal.
"How many more bodies do you have working independently on the Klamath River?" Masten asked rhetorically. "I think that's when you get into trouble."
Dam removal is scheduled to begin in early 2023.
---
SHARE →