---
Jessica Cejnar Andrews / Monday, Sept. 19 @ 4:51 p.m. / Emergencies, Fire, Local Government
Del Norte Turns Over Rights in Potential Slater Fire-Related Lawsuits to CalOES
---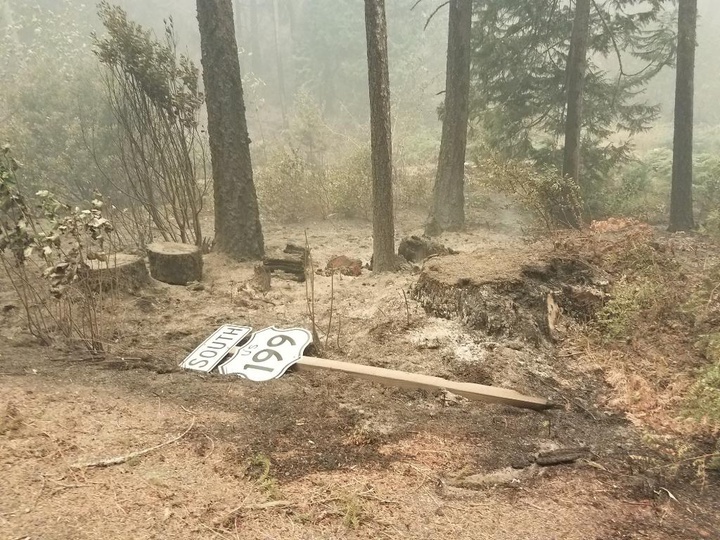 Del Norte County supervisors last week voted to assign its rights in litigation arising out of the Slater Fire to the California Office of Emergency Services.
County Counsel Joel Campbell-Blair on Thursday mentioned Pacific Power and the belief that its equipment allegedly caused the wildfire back in 2020.
However, a CalOES spokeswoman, Diana Crofts-Pelayo, told the Wild Rivers Outpost that agency officials weren't aware of any CalOES suit against the utility concerning the Slater Fire.
Three Del Norte County supervisors on Sept. 13 voted in favor of assigning its litigation rights to CalOES. District 2 Supervisor Valerie Starkey opposed and District 5 Supervisor Susan Masten abstained.
On Thursday, Starkey said she might have made a mistake opposing the proposal, but she had little information to go on.
"I had no idea we were given an opportunity in the past to consider litigation, so I didn't know enough about it," she told the Outpost. "I should have abstained like Supervisor Masten did."
The Slater Fire started near Happy Camp in Siskiyou County on Sept. 8, 2020 and grew to 157,229 acres. It's responsible for the deaths of two people and damaged or destroyed 700 properties.
From the Happy Camp area it spread into Del Norte and Josephine counties, sparking evacuation orders in Gasquet and shutting down U.S. 199 at Pioneer Road for about 11 days.
According to Campbell-Blair, because Cal-OES "believes Pacific Power caused the fire," Del Norte County has a duty to recover any funds the state agency allocates to the county as a result of the emergency.
If the emergency were the cause of a natural disaster such as a tsunami, he said, those dollars would be allocated to the county as aid money
"We have a duty to recover those funds and pay them back to CalOES," Campbell-Blair told the Wild Rivers Outpost. "But we don't really have the ability or desire to maintain (that) big litigation, so CalOES wants to have our right to recover on our behalf and then we don't have to pay back the money."
According to Del Norte's agreement with CalOES, those dollars were originally distributed by the Federal Emergency Management Agency to CalOES. It covered the cost of repairs to public infrastructures and buildings, debris and ash removal, search and rescue efforts as well as evacuation and shelter operations.
"Parties that receive emergency funds from FEMA, due to the negligence of a third party, are obligated to take 'all reasonable steps to recover all costs attributable to the negligence of the third party,'" the county's agreement states. "FEMA would then be entitled to reimbursement of any costs recovered from the culpable third party."
Campbell-Blair said he did not know how much emergency funding Del Norte County received since response to the Slater Fire included local fire districts and law enforcement.
Del Norte County received emergency funds for cleanup on Oregon Mountain Road, Community Development Director Heidi Kunstal told the Outpost. Several culverts were damaged on the county-maintained road, she said, and CalOES dollars paid a percentage of the cost to replace them.
The sheriff's office also received funding for evacuating Gasquet residents, Kunstal said. And a separate pot of money benefitted Del Norte County residents on Oregon Mountain Road and U.S. 199, whose structures were damaged by the fire.
"OES has worked with CalRecycle to do an environmental clearance in removing hazardous materials and to clean those properties," Kunstal said. "That is a direct benefit to the property owner where vegetation could fall on the road."
In February, the law firm Singleton Schrieber filed litigation against PacifiCorp on behalf of 42 plaintiffs. The lawsuit alleged that the utility failed to maintain proper vegetation management to protect their power lines. The lawsuit also alleged that the Slater Fire began when a tree made contact with the company's power lines, according to a Feb. 25 report from Jefferson Public Radio.
In August, Singleton Schrieber filed suit against PacifiCorp over the McKinney Fire, also in Siskiyou County.
---
SHARE →