---
Jessica Cejnar Andrews / Thursday, Oct. 6, 2022 @ 12:21 p.m. / Community, Our Culture
Classic Cars, Hot Rods Descend on Crescent City; Sea Cruise Expected to Fill Beachfront Park
---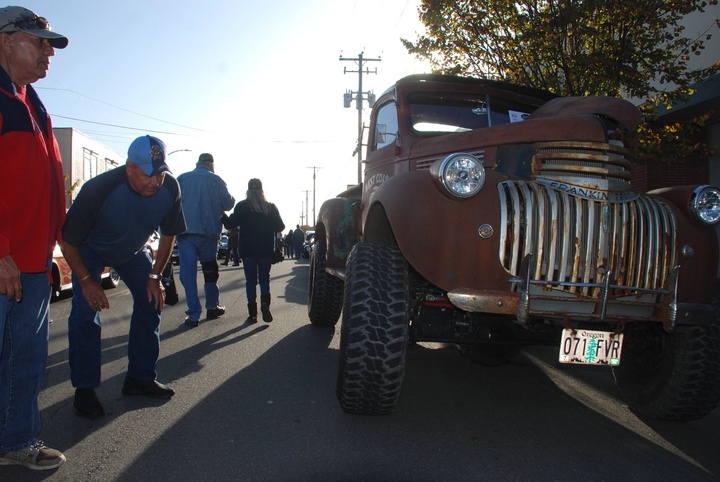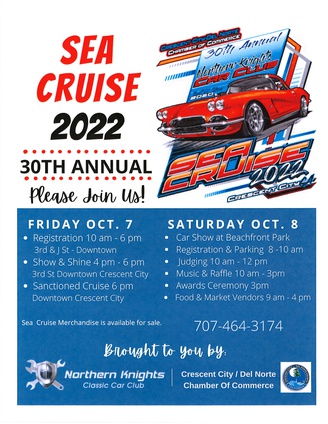 With 150 vehicles registered for Sea Cruise already, Jason Bartholomew says more than 350 Corvettes, Mustangs, low riders, rat rods and muscle cars could cover the grass at Beachfront Park on Saturday.
The president of the Northern Knights Car Club, the co-organizer for Crescent City's last big hurrah before winter sets in, said a new class will be added this year — semi trucks.
"To be 100 percent honest, I don't know what I'm going to get," Bartholomew told the Wild Rivers Outpost on Thursday. "We always try to give the community and participants what they want within reason and it was brought up multiple times, and, we'll see."
The 30th-Annual Sea Cruise Car Show is making a comeback after the Delta variant put community events on hold last year. The festivities kick off with the Show and Shine from 4-6 p.m. Friday followed by the classic car sanctioned cruise.
The main event comes early Saturday at from 8 a.m.-3 p.m. at Beachfront Park where spectators can inspect this year's entries, browse the marketplace, get some food and purchase raffle prizes. Trophies will be awarded at 3 p.m. Saturday.
"This year we'll be giving out 107 trophies," said Cindy Vosburg, executive director for the Crescent City-Del Norte County Chamber of Commerce. "We have a trophy for best of show (and) the top winner, and we're also having a Founders Trophy in honor of the people who founded the club."
Bartholomew said he's not yet sure how judging will work for the semi truck class. He said he'll add a class to the show if he can get 10 participants. This pays for the trophies and puts a "minimum amount" into the car club's coffers.
The latest addition to the show in previous years was the low rider class two years ago. Corvettes and Mustangs have their own classes. There are classes for Camaros and Firebirds as well as survivors — vehicles that, other than tires, oil and fuel, have the original paint and parts.
So far, three semi trucks have entered Sea Cruise. Bartholomew said they're putting them in a section of the park that doesn't have sprinklers and stays predominantly dry. The truck's size can also vary from an older Peterbilt with a sleeper to a small bobtail truck.
As for the judges, Bartholomew said he has a team of 10 who are mechanics, car salesmen, representatives of the local auto parts stores and car enthusiasts.
"I try not to get any too much of one (judge) so we get a good mixture of winners," he said, adding that some judges want authentic cars with wheels straight from the factor, while others want the showy candy apple red jobs.
Despite the often uncertain weather — sun and temperatures in the 60s is forecasted for the weekend — it's important that Sea Cruise is held in October, Vosburg said. The community could easily have moved the date to the middle of summer. But, she said, the chamber felt holding it in the shoulder season was a bigger benefit to local businesses.
It provides a late-season boost to the local economy, filling the restaurants, short-term rentals, hotels and motels and RV parks.
The number of visitors, in turn, keeps the community healthy, Vosburg noted.
"A lot of them are coming in today — the folks coming in from the valley and Nevada will arrive this afternoon and they'll stay here until Sunday most times, or even Monday morning," she told the Outpost. "It is the last big event that brings folks in to our community and those dollars with them. And it's a fun event."
Sea Cruise is also an opportunity for Del Norte County's other non-profit organizations to volunteer and raise funds. Del Norte Mission Possible volunteers will help with trash pickup, the Foursquare Church youth group is helping set out cones and Del Norte Search & Rescue mans the barricades for the sanctioned cruise on Friday.
The Jaycees will have a beer booth that will also serve bloody Marys and Irish coffee on Saturday morning. People can also grab breakfast at the Elks Lodge before they check out the cadre of cars at Beachfront.
Sea Cruise is a fundraiser for the Northern Knights Car Club as well.
"We have some overhead, but 99 percent of our money goes back into the youth and the community," Bartholomew said, adding that they've sent kids on their 8th grade trips and are donating to help a local family suffered a tragedy. "We've had scholarships at the high school. I think we're sponsoring two movie nights at Joe Hamilton. As we see a need, we try and fill it the best we can."
Registration for Sea Cruise will be held from 10 a.m.-6 p.m. Friday at the Daly's building, 964 Third Street in Crescent City. The Show & Shine will take place from 4-6 p.m. and the sanctioned cruise through Downtown Crescent City will be held at 6 p.m.
On Saturday, registration and parking will take place from 8 a.m.-10 a.m. at Beachfront Park. Judging will be held from 10 a.m.-noon with the awards ceremony at 3 p.m.
---
SHARE →