---
Jessica Cejnar Andrews / Monday, Nov. 7, 2022 @ 2:47 p.m. / Oregon
Curry County Roadmaster Intends to Seek Up To $10 Million in Federal Grants For Culvert Replacement, Fish Passage
---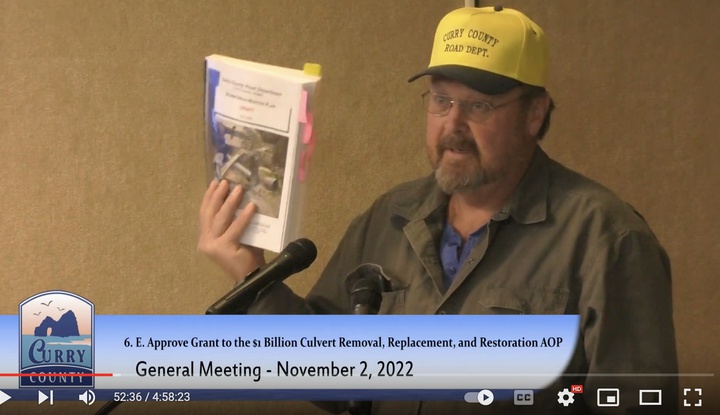 Last week Curry County commissioners gave their blessing to Roadmaster Richard Christensen, who intends to seek up to $10 million in federal grants to replace "deficient and defective" culverts that are blocking fish passage
Christensen said he plans to partner with Curry Watersheds Partnership and hopes to reach out to local tribes and other agencies to pursue funding through the new $1 billion National Culvert Removal, Replacement and Restoration Aquatic Organism Passage Program, established through the Bipartisan Infrastructure Law.
Christensen already has three projects in mind — North Bank Rogue River Road near Ranch Creek; Ferry Creek near Brookings; and Market Creek.
"These are all culverts that are deficient and defective and have to be replaced," he said. "They're about $5 million as stated in the master plan. If they end up being $5 million, we'd have to have $1 million of Road Reserves for our match."
The Board of Commissioners's approval for the Road Department to pursue those federal grant dollars came after Christensen and Summer Matteson, the county's director of economic development, informed them of the county's policy for pursuing grant applications.
Christensen had asked the Board of Commissioners to develop "standard operating procedures" for pursuing grant funding at its Oct. 5 meeting, saying Curry County nearly lost out on $12.7 million in Bridge Investment Program dollars.
Last Wednesday, Matteson pointed out that with increased inflation, it's urgent that county staff know what requirements have to be met before pursuing those grant dollars.
"We have a lot of money coming down so the more we can get our ducks in a row and be prepared for this next round of infrastructure funds, the more we will be successful with those grant applications," Matteson said.
According to Christensen, the county's policy is that the finance director should review grant applications before they're submitted electronically to the Board of Commissioners for their approval.
County Treasurer David Barnes said he's asked repeatedly for the county to consider hiring a grant manager. He pointed out that individual county heads "have been great" about getting grants to fund their projects, but no one knows "what our exposure to grants is or what is out there."
Barnes said there should also be information included with each grant application stating the amount of money Curry County has to contribute to be eligible for it. He used a grant for a community wildfire plan Emergency Manager Monica Ward was pursuing as an example, saying that if the county has to come up with a 20 percent contribution for a $100,000 grant, "we need $20,000 and we have to commit that money."
A grant manager would also be able to keep a running list of all of the grants county departments have applied for, Barnes said.
"Historically, it has been the finance department. It has been the finance director," Barnes said. "But if you remember, we're on our seventh or eighth finance director in the last six years so it's something I think that might have fallen through the cracks in all the turnover."
Frank Jerome, the county's new finance director, said he has already spoken with Christensen about reviewing his budget to identify grant opportunities. Jerome said he and Christensen plan to do a presentation about how much money is in the county's Road Fund before the next budgeting season.
As for taking advantage of the $1 billion National Culvert Removal, Replacement and Restoration Aquatic Organism Passage Program, a five-year $200 million grant opportunity would cover 80 percent of the project cost, Christensen said. He showed commissioners the county's new storm drain masterplan that identifies the aging infrastructure that needs replacing.
"The Road Department is asking for board approval so that we could move forward and start working on these grant applications," he said. "There's $1 billion available — $200 million for the next five years. I want to get a foot in the door so if we're denied, we can keep tweaking our application and we can keep coming to you to hopefully be awarded before the money runs out."
The program is being funded through the Federal Highway Administration, U.S. Fish and Wildlife Service and the National Oceanic and Atmospheric Administration and is open to tribes, state and local governments. According to Christensen, the grant deadline is Feb. 6, 2023.
The mention of Ferry Creek in Brookings prompted both commissioners John Herzog and Court Boice to bring up the possibility that Brookings will have to remove the dam holding back the Ferry Creek reservoir.
Herzog said he didn't like the idea of "taking out the Ferry Creek Reservoir."
Boice said removing a dam means lost water for firefighting and growth. He said he'd love to see the county get involved in the city's discussions over Ferry Creek dam removal.
Christensen, however, disagreed with commissioners, saying he wants to see the dam removed.
"There's critical salmon habitat past that reservoir, I believe," he said. "And so the thing is that Ferry Creek is an anadromous fish passage type project and I think the city could remove that more cost effectively than replacing it."
---
SHARE →