---
Jessica Cejnar Andrews / Tuesday, May 3, 2022 @ 2:47 p.m. / Elections, Local Government
Randy Waltz Enters Not Guilty Plea to Voter Fraud, Election Fraud, Perjury Charges
---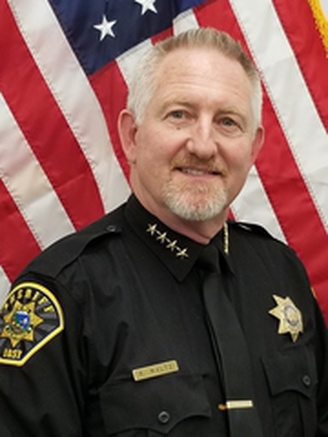 Previously:
• Randy Waltz Arraignment Rescheduled After Both Del Norte Judges Recuse Themselves
• Randy Waltz: 'The Vigorous Defense Of These Charges Will Necessarily Detract From My Ability to Perform My Duties'
• Del Norte Sheriff Charged With Election Fraud, Perjury; DA Alleges Randy Waltz Submitted a False Address On His Voter Registration Papers
###
Former appointed sheriff Randy Waltz pleaded not guilty in Del Norte County Superior Court on Tuesday to charges of perjury, voter fraud and election fraud.
Waltz appeared before visiting San Mateo County judge, Susan Greenberg, who presided over the arraignment via Zoom. A preliminary hearing has been set for 10 a.m. May 12 with a readiness hearing scheduled for 8:30 a.m. Monday.
Greenberg said she would participate in both the readiness hearing and the prelim via Zoom. Greenberg is hearing Waltz's case after Del Norte County judges Darren McElFresh and Bob Cochran disqualified themselves in March.
Del Norte County District Attorney Katherine Micks charged Waltz with perjury, voter fraud and election fraud on March 9, stating in her complaint that the former sheriff had listed a false address — 16855 U.S. 101 N #2 in Smith River — on his California Voter Registration Form.
According to Micks, Waltz used that addressed — which belonged to a vacation rental, according to the Sacramento Bee — when he declared his candidacy to run for Del Norte County sheriff on Feb. 14.
Though he took out papers to run for office, Waltz did not submit that paperwork to the Del Norte County Elections Office, therefore bowing out of the sheriff's race. He resigned as sheriff on March 14, stating that defending himself against the DA's charges would detract from his ability to perform his duties.
On Tuesday, Waltz's attorney, George Mavris, confirmed that his client had been booked and released into the Del Norte County Jail.
Following the arraignment, Waltz declined to comment except to say he "just wants justice."
Deputy District Attorney Todd Zocchi is the prosecutor in the case.
The Del Norte County Board of Supervisors appointed Waltz to the sheriff position in September 2021 after former sheriff, Erik Apperson, resigned.
Waltz came to Del Norte County from the Fresno area in 2020 after Apperson hired him to be undersheriff.
On Tuesday, the DNSO secretary Diana Stanley and former sheriff's Cmdr. Bill Steven observed Waltz's arraignment.
---
SHARE →