---
Jessica Cejnar Andrews / Wednesday, March 9, 2022 @ 2:02 p.m. / Elections
Del Norte Sheriff Charged With Election Fraud, Perjury; DA Alleges Randy Waltz Submitted a False Address On His Voter Registration Papers
---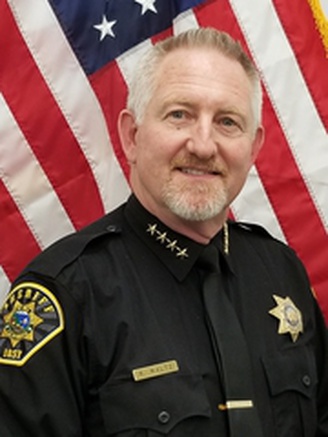 Randy Waltz, Del Norte County's appointed sheriff, is facing felony charges, including allegations of filing false voter registration and false nomination papers, in connection with his efforts to be elected sheriff in June.
In her complaint filed Wednesday in Del Norte County Superior Court, District Attorney Katherine Micks said Waltz knowingly committed perjury on or about Feb. 8 by listing a false address — 16855 U.S. 101 N #2 in Smith River — on his California Voter Registration form.
Waltz unlawfully registered to vote on Feb. 8 in Del Norte County "knowing he is not entitled to registration," Micks' complaint states, and submitted nomination papers or declared his candidacy for sheriff on Feb. 14, "falsely stating he met the residency requirements."
Micks told the Wild Rivers Outpost that she was unable to provide further detail as of Wednesday. Waltz is scheduled to be arraigned on March 29 at 1:30 p.m., she said.
Waltz came to Del Norte County as its undersheriff in 2020, roughly a year before his predecessor, Erik Apperson, announced his intent to resign.
Waltz became acting sheriff on Sept. 4, 2021 when Apperson left. The Del Norte County Board of Supervisors officially appointed Waltz as sheriff on Sept. 28, 2021.
Waltz announced his intention to run for Del Norte County sheriff in January, telling the Outpost that his staff needed stability and continuity and he felt "called to provide that."
Other potential candidates for sheriff include DNSO Sgt. Enrique Ortega and former Crescent City Police lieutenant, Garrett Scott, according to Del Norte County Clerk-Recorder Alissia Northrup.
Of the three, Scott is the only candidate to have submitted all of his election paperwork, Northrup told the Outpost on Wednesday.
Waltz could not be reached for comment.
Documents:
• DA's Complaint Against Waltz
---
SHARE →