---
Jessica Cejnar Andrews / Wednesday, March 23, 2022 @ 11:30 a.m. / Crime
Correctional Officer Charged With Arranging to Meet a 14-year-old For Sex; Arrest Was Part of Operation Targeting Child Predators Using Decoys
---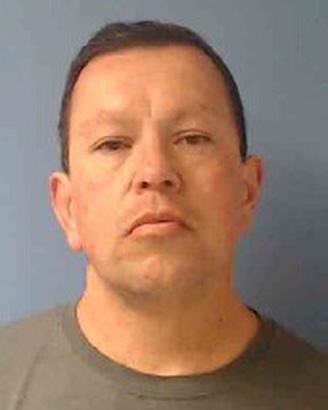 A 50-year-old correctional officer at Pelican Bay State Prison has been arrested in connection with allegations that he arranged to meet a 14-year-old girl for sex.
The teenager turned out to be a decoy with World Wide Predator Hunters, a nonprofit organization that has been working with the Del Norte County Sheriff's Office since September 2020, DNSO Deputy Sarah Asbury told the Wild Rivers Outpost on Wednesday.

Deputies arrested Angel Gilbert Olivarez at 9th and M streets in Crescent City at about 5:45 p.m. Sunday.
Olivarez was booked into the Del Norte County Jail on suspicion of committing lewd or lascivious crimes against children; lewd or lascivious acts with a child under 14 years; harmful matter sent with the intent of seducing a minor; attempted sodomy with a person under 14 years old; arranging a meeting with a minor for sex; annoying or molesting a child under 18; and contacting a minor with intent to commit a sex crime.
"His belief is that he was making an arrangement to meet with a 14-year-old female with the intention to engage in sexual acts," Asbury told the Outpost.

Olivarez was released on bail on Monday. He is scheduled to appear in Del Norte County Court on April 22, according to Del Norte County District Attorney Katherine Micks.
During Olivarez's arrest, deputies seized "items of evidence," but Asbury declined to state exactly what they were.
Asbury also declined to state the exact location Olivarez allegedly planned to meet the victim, saying that some predators have become savvy to the DNSO's efforts to apprehend them. They monitor social media and the news, she said, and the more information that's released to the public, the harder it is to catch them.
"You can generally tell when they've done this type of behavior before," Asbury said. "They'll be overly cautious and ask for specific things like, 'Can I get a photo with today's date on it?' In my training that's a classic predator move."
According to Asbury, World Wide Predator Hunters, based in Wisconsin, puts decoy profiles on dating websites, chats and social media apps. The suspect contacts the decoy, who is an adult volunteer, she said, and within the first dozen messages it's the decoy says they're 14 years old.
If the suspect continues speaking with them and the conversation turns sexual, the World Wide Predator Hunters reaches out to law enforcement, Asbury said.
"They are very careful to follow the laws because the ultimate goal is prosecution, so they avoid any form of entrapment," she said. "They never initiate any sexual conversation. The conversation is started by the suspect and there's no enticing, no requesting of sexual pictures. Those are always offered and provided by the suspects."
Since that partnership began in September 2020, deputies have made 10 arrests, including Olivarez's arrest, Asbury said. Three cases are currently going through the court process and seven people have been convicted. Sentences have arranged from six months to three years in prison, according to Asbury.
---
SHARE →