---
Jessica Cejnar Andrews / Wednesday, June 29 @ 1:39 p.m.
Del Norte Independence Day Activities Abound; Highlights Include Deck Party, Parade, Hot Air Balloon Rides, Fireworks
---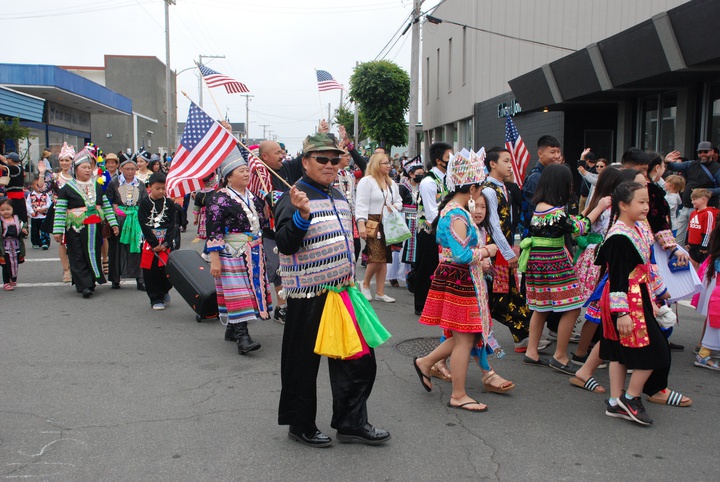 Anyone wanting to do their best impression of a skyrocket and get a firework's view of Downtown Crescent City should get to the end of Stamp's Way in Beachfront Park between 6:30 a.m. and 7 a.m. Monday.
One of RE/MAX's 220 hot air balloons will be in town for the Independence Day festivities, offering free rides to anyone who cares to sign a release of liability. But people have a narrow window for folks to go aloft, according to RE/MAX Coastal Redwoods owner Rose Peasley.
"If we even get 6 miles an hour wind we have to break it down," she told the Wild Rivers Outpost on Wednesday, adding that the balloon makes its way north from Sacramento, along with its pilot, David Wakefield.
RE/MAX has the largest fleet of hot air balloons in the world, Peasley said, and the corporation loans it to local branches for special events.
"It's great advertising and it's a beautiful thing," she said. "It's 80 feet tall. The balloon is tethered to four or five pickup trucks. They set us up there at Front Street park and it's a lot of fun. It's something kind of different and unique to offer to our area and we love doing it."
RE/MAX's hot air balloon rides are part of a series of events and activities commemorating Independence Day and celebrating Del Norte County's "Small Towns, Big Hearts."
Bookended by the start of the 43rd annual Jed Smith Mountain Men Tall Trees Rendezvous in Smith River and the fireworks show over Battery Point Lighthouse at 9:30 p.m. Monday, those events include Sand Castles by the Sea and Live From Downtown: It's First Friday on Friday.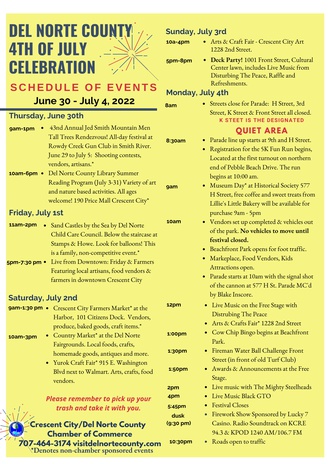 On Saturday, the Crescent City Farmers Market continues in the harbor, the Country Market will be held at the Del Norte Fairgrounds and the Yurok Craft Fair will take place at 915 E. Washington Boulevard near Walmart.
Folks can take in the Arts & Craft Fair on Sunday along with the Chamber of Commerce's annual Deck Party. The Deck Party will feature roughly $7,000 in raffle prizes, along with live entertainment from Disturbing the Peace. Prizes include a Vizio TV, a Master Built Digital Grill and Smoker, Stella's Adventures tickets and more.
There are also a plethora of new activities this year and a few tweaks to the old standbys, according to District 2 Supervisor Valerie Starkey, a member of the chamber's 4th of July committee.
"The fire department is doing water ball again, which is such a fun activity," she said, referring to Crescent City Fire and Rescue's annual competition in Beachfront Park on Monday. "They're also going to do a vehicle extraction with the Jaws of Life and have a place for kids to be able and there'll be a little house and kids can put on fire boots and put out a fake fire."
It wouldn't be a Crescent City 4th of July without the parade, which starts with a cannon blast at 10 a.m. Monday in front of the Del Norte County Historical Society on H Street and includes about 90 entries this year, said chamber director Cindy Vosburg.
"We're encouraging people to bring chairs and blankets to sit on," she told the Outpost. "Have some fun. The Emblem Club will have some very tasty breakfast burritos out in front of the Elk's Lodge again."
Though it's not doing its pie and ice cream social this year, the Historical Society will offer free coffee and pastries from Lillie's Little Bakery for purchase from 9 a.m.-5 p.m. Monday along the parade route.
This year's parade grand marshals are Nick and Lisa Rail, who have donated 350 musical instruments to Del Norte Unified School District, contributed $180,000 toward the refurbishing of the Crescent Elk Auditorium and is spearheading the construction of a performing arts center at Del Norte High School.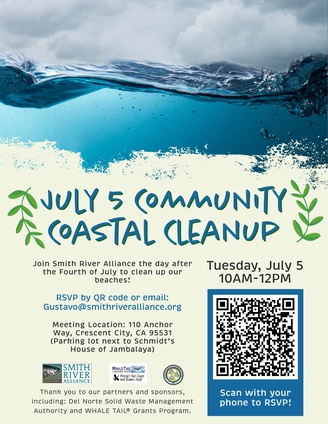 Other highlights for the Beachfront Park area on Monday include 23 vendors, more than ever, according to Vosburg, as well as a plethora of food vendors. They will be taking up the whole length of Stamp's Way, she said.
Folks can also try their luck at Cow Chip Bingo, a fundraiser for Soroptimist International of Crescent City, which starts at 1 p.m. Monday in Beachfront Park. Purchase a $5 deed and have a chance to win $250 for the first plop; $500 for the second and $750 for a third plop.
Starting at 11 p.m. Sunday, the entire length of Front Street will be closed from U.S. 101 to B Street, Vosburg said. The street will reopen after the fireworks at about 10:30 p.m. Monday.
Following the festivities, Smith River Alliance will hold a community coastal cleanup from 10 a.m.-noon Tuesday. Those wanting to help should meet at 110 Anchor Way near Schmidt's House of Jambalaya in the Crescent City Harbor and RSVP by emailing gustavo@smithriveralliance.org.
Vosburg also reminded folks to clean up their trash.
"Please pick up spent fireworks," she said. "Marine mammals ingest that stuff and it makes them really sick and kills them."
For more information about the 4th of July, click here.
---
SHARE →