---
Jessica Cejnar Andrews / Wednesday, July 13 @ 12:54 p.m. / Community
Del Norte Fights Back Against Cancer; Relay for Life Fundraiser This Weekend
---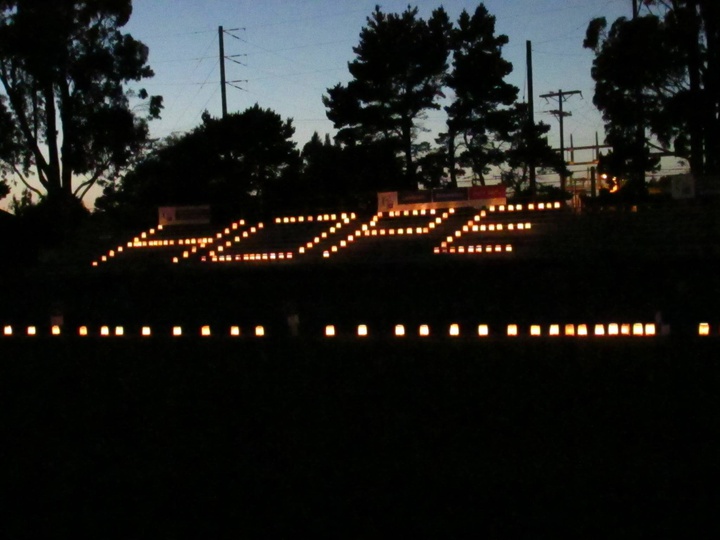 From Relay for Life of Crescent City:
Relay For Life is a community-based fundraising event for the American Cancer Society. Each year, more than 5,000 Relay For Life events take place in over twenty countries. Events are held in local communities, university campuses and in virtual campaigns.

As the American Cancer Society's most successful fundraiser and the organization's signature event, the mission of Relay For Life is to raise funds to improve cancer survival, decrease the incidence of cancer, and improve the quality of life for cancer patients and their caretakers.

Relay For Life of Crescent City will be held July 16th from 10 am to July 17th at 10 am at the Del Norte High School track. Opening Ceremony begins at 10 am.

Family, friends, survivors, caregivers, local sponsors, and hundreds of participants will gather at the Mike Whalen field to celebrate, remember, and fight back for a cure! Survivors are invited for a free dinner at 6 pm following the Survivor Ceremony, where local cancer Survivor's mom, Grace Perry and son, Cathan Perry will share their story and how the American Cancer Society helped them through their journey!

New to the Relay For Life stage, but not to the spotlight is Camryn Ciara taking the stage at 6 pm directly following the Survivor Ceremony.

Other entertainment includes the popular, Monogroove at 4pm and Cut It Like The Kings, taking the Relay For Life stage at 12 pm noon.

Come out to this FREE event, get some food from local vendors, and see all the great RAFFLE opportunities there are by stopping by various team booths. Rock painting, life size JENGA and live TRIVIA are among some of the activities to keep participants and survivors busy.

Kids camp will have crafts, a planting class by the Master Gardeners, a watermelon eating contest and more fun games to keep the kiddos busy!

Many participants will camp overnight to continue to fight for a cure for 24 hours, passing the torch to their teammates as they push through the pain and exhaustion, in support of cancer patients and their courageous battle!

Sunday, July 17th at 8 am there will be an opportunity for participants to get a "Cut It For The Cure." Donations will be made to Wigs for Kids and the funds raised for the haircuts will be donated to the cause. A pancake breakfast fundraiser will also be held on Sunday morning from 8 to 9:30 am. Closing ceremony is at 10 am on Sunday.

Sponsors include: New Dawn Support Services, Coast Central Credit Union, Sutter Coast Hospital, Elk Valley Rancheria, Del Norte County Fairgrounds, Rotary Club, Hemmingsen Contracting, King of The Grind Boxing, Coastal Cab, Darren McElfresh, Mimi Stevens/Bayside Realty, Cristina's Mexican Restaurant, Robin Hartwick, Realtor, Cal-Ore, Renner Petroleum.

In-kind sponsors include: Del Norte Unified School District, Recology Del Norte, Roto-Rooter of Curry & Del Norte Counties, Brookings Fred Meyer, Home Depot, The Dutch Gardner, Safeway, Walgreens, Grocery Outlet and Wal-Mart.
---
SHARE →