---
Jessica Cejnar Andrews / Thursday, Feb. 10, 2022 @ 4:18 p.m. / Fire
Crescent Fire & Rescue Knocks Out Possible Electrical Fire With Help From Pelican Bay State Prison Firefighters
---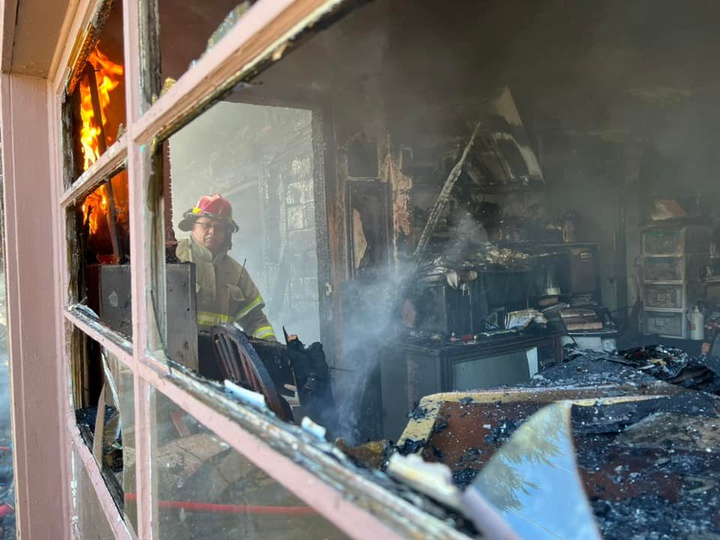 From a Crescent Fire and Rescue Facebook post Thursday:
At 11:46 AM Crescent City Fire & Rescue (CCFR) responded to a reported residential structure fire with a possible occupant still inside on the 2400 block of Quinlan Avenue. The home had significant fire showing from the front and arcing powerlines at the corner when firefighters arrived.

Neighbors reported that the occupant had made it out through the front door and through flames to escape. Del Norte Ambulance checked on the resident who had escaped and thankfully she only had very minor injuries. CCFR firefighters were assisted by firefighters from Pelican Bay State Prison Fire Department in controlling the blaze. Pacific Power & Light responded and cut electrical power to the residence allowing firefighters to finish extinguishing the fire. The fire caused an estimated $75,000 in damage to the residence.
The fire appears to be accidental in nature, originating from electrical cords in use on the front porch area. CCFR reminds residents to have working smoke alarms in all sleeping rooms and the common hall leading to the bedrooms. Practice a home escape plan and have a common meeting place, and don't ever go back in once you are out.
---
SHARE →