---
WRO Staff / Saturday, Sept. 4, 2021 @ 7 a.m. / Obits
OBITUARY: Davy Gene Dowd, 1967-2021
---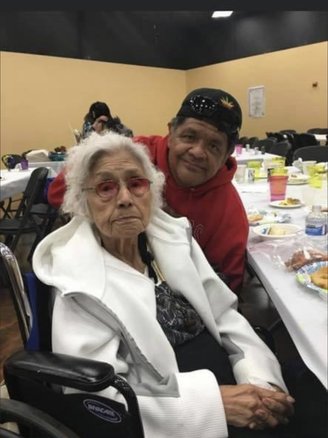 Davy Gene Dowd was born October 23, 1967 to Frank and Venola Dowd. He grew up in Crescent City and was the youngest of seven children.
Davy grew up in a big, tight-knit family and enjoyed spending time with them. Although he had no children of his own he was an uncle to a great many nieces and nephews and they all loved him. He had a close bond with them all and was a favorite uncle to many. Davy was always known to have a good sense of humor and could always make you laugh. His smile was contagious and he was rarely in a bad mood. He could always find the humor and had good energy he brought with him wherever he went. Over the years he had many close friends and would often be found lending someone a helping hand. Whether it was driving his sisters to and from bingo or running to the store for something, he'd always be willing to drop what he was doing if someone asked him to.
Davy enjoyed gambling at the casino, playing horseshoes, riding his bike, microwave popcorn and cold Coca-Cola. He always enjoyed driving around listening to classic rock 'n' roll. He loved going to CC's and getting a cherry coke for his sister Rhonda and himself. He knew that she'd pay if he ran down and got it for her. He especially loved that part. He also enjoyed doing anything outside, like mowing the lawn and washing the car, gathering seaweed, helping with acorns -- cracking and grinding etc. Davy was a free spirit and he lived life to the fullest. He was very young at heart and never lost his inner child in many ways. His sister would arrive home after playing bingo in Trinidad and the first thing she'd say "Davy, that brat he's still not home yet" if she didn't see his truck parked in the driveway, or "Oh, that brat Davy's home already. Good." His entire life he was spoiled by his sisters and his mom from his birth up until her last day in 2019. He never denied that he was still very much a mama's boy at heart. He will be forever missed by his family and close friends. Forever remembered as "The baby Davy." He is gone but will never be forgotten. 11:11 until we meet again. Back in his mama's arms.
He is survived by his long-time partner Tammy Prouty and their fur baby honey. His sisters Rhonda Dowd, Kathy Dowd, Susan Gordon and brothers Frank Dowd, Gary Dowd, and Rick Dowd Sr. His Nieces: Keshan, Moonchay (timber) Numikoy, Sah-sep (Matt), Chelsey (Johnny), Roxann, Nikki(Jeremiah) Madison (jake) Kesi (swampy), Janie, Anita. Great nieces: Myah, farah, Quespin, Autumn, Ceecee, Nateya, Sueveya, Addie, Johnnie, Tara grace, Estelle, Eliza, Nummie, Kalynn, kiaha, Josie, Aaliyah, London, Paris, Brylynn, Denise. Nephews: Israel (Kandis) Spaghe (Czarina), Rocky, Ch-mook, Thomas (Jessica), Ricky Jr. (Rachel), Jesse, Jake, Derek. Great nephews: Ryan, Justin, Vinnie, Kit-kah, Kagama Davy, Brody, Little Rocky, Dayton, Damian, Danner, Dreydon, Kaget, Range, Gerald, Phoenix, Alonzo. Great great nephew: Emil.
He is also survived by many many cousins -- far too many to name them all.
He is preceded in death by his parents, the late Frank and Venola Dowd. Grandparents on both sides -- his father's parents, William "Pop" and Eliza Dowd and his mother's parents, Lena Reed McCovey and William "Bill" McCovey Sr. Nieces Misty Dowd, Tara Sawn Gordon. Great niece Wau-kela Dowd. Nephews Kaghet Dowd, Tyler Dowd, Gerald Dowd.
###
The obituary above was submitted on behalf of Davy Dowd's loved ones. The Wild Rivers Outpost runs obituaries of Humboldt County residents at no charge. See guidelines here.
---
SHARE →