---
Jessica Cejnar Andrews / Friday, Sept. 3, 2021 @ 5:53 p.m.
One More Person Dies of COVID
---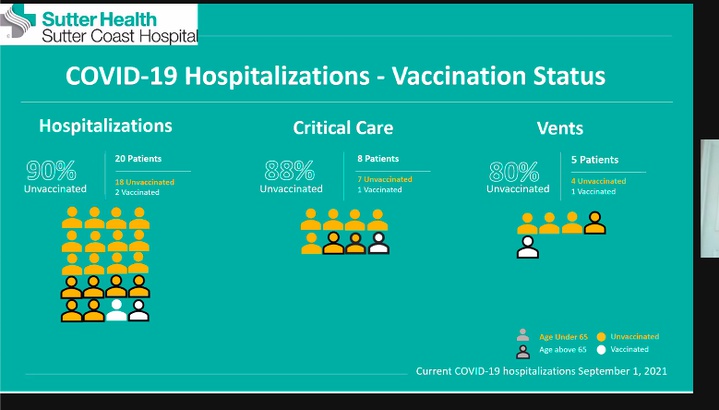 Another person has died from COVID-19 on Friday, bringing Del Norte County's death toll from the disease to 26, the Public Health Branch reported.
The fourth death this week comes alongside the discovery of 43 new cases in the county on Friday, according to the county's COVID-19 Information Hub. Seven of those new cases occurred within Del Norte's incarcerated population.
Del Norte County currently has 191 active novel coronavirus cases and 23 people at Sutter Coast Hospital with the disease, according to the Public Health Branch.
At a community briefing Thursday, Del Norte County's Public Health Officer, Dr. Aaron Stutz, reported that the county's vaccination rate had inched upwards to 43.6 percent of its population versus last week's 42 percent.
Partially vaccinated individuals increased a bit from 7.8 percent last week to 8.9 percent this week, Stutz said.
Between 60-70 percent of Del Norte County's seniors are vaccinated, Stutz said. He noted that younger people are being hospitalized at an increasing rate, pointing to an infographic from Sutter Coast Hospital showing that 13 out of 20 COVID patients at the hospital on Wednesday were younger than 65.
Of those 20 patients, two had been vaccinated, according to the hospital's infographic.
"This is definitely unusual seeing many younger patients," Stutz said. "To me that speaks to how effective the vaccine is."
For more information on testing and vaccines, visit Del Norte County's COVID-19 Information Hub.


---
SHARE →