---
Jessica Cejnar Andrews / Friday, Sept. 17, 2021 @ 11:32 a.m.
Capitol Christmas Tree Will Start Journey To D.C. From Crescent City
---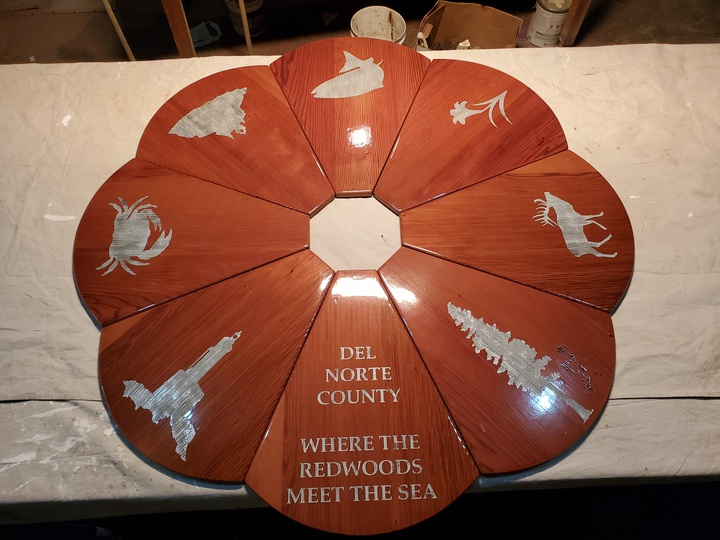 Though the U.S. Capitol Christmas Tree came from outside Del Norte County, it will begin its journey to Washington D.C. from Crescent City.
A community celebration is in the works to speed Sugar Bear on its way from the North Coast to the U.S. Capitol on Oct. 29, according to District 2 Supervisor Valerie Starkey.
The 84-foot white fir tree from the Six Rivers National Forest's Mad River District will embark on a 25-city tour of the United States with stops in Sacramento, Phoenix and Arkansas, to name a few places. According to Starkey, it's up to each community to figure out how it will celebrate.
"They're going to bring the guest, the party is our own," she said.
Starkey has led a campaign to create enough decorations and tree-skirts to adorn Sugar Bear and the other trees that will decorate the Capitol Building. On Tuesday, she said, volunteers reached their goal of 1,000 ornaments and 10 tree skirts.
One skirt, created by Alan Winogradov and Dave Thompson, of the Del Norte County Department of Parks and Recreation, is made of reclaimed redwood from a 1986 remodel of the county courthouse, Starkey said.
"They glued it together to make the shape of the skirt," she said, "and then they sanded it and varnished it and put in the inlays various things. It's just absolutely breathtaking."
Other ornaments include 100 wood "cookies" with a painted stencil of Del Norte County decorated with handprints from youngsters at the Del Norte Child Care Council's daycare centers, Starkey said.
Starkey said she and other community volunteers are just beginning to plan the celebration. Because it's the Friday before Halloween, she said she was envisioning a trick-or-treating event incorporating Santa Claus and Bigfoot.
Sugar Bear will be at the Crescent City-Del Norte County Chamber of Commerce visitor center on Front Street from 9 a.m.-noon on Oct. 29. From there, it will journey to Eureka, according to a Six Rivers National Forest news release.
From the news release:
Eureka, California, September 16, 2021 – Each year, a different national forest provides a tree to light up the West Lawn of the U.S. Capitol building for the holiday season. The Six Rivers National Forest in partnership with nonprofit partner Choose Outdoors will bring this special gift from the North Coast to Washington, D.C. for the 2021 holiday season with a series of special events in communities along the way.

Festivities will be hosted by local communities at parks and plazas, schools, memorials and monuments, stadiums, main streets and even a parade. Well-wishers will have a chance to sign the banners on the sides of the truck, learn more about the Six Rivers National Forest, purchase U.S. Capitol Christmas Tree merchandise and more.

Beginning Oct.29, the tree's journey can be tracked in real time online at www.capitoltreetracker.com/ hosted by Spireon, Inc.

Festivities are free and open to the public for all to enjoy. The schedule of events includes:

Friday, Oct. 29

9:00 a.m. – 12:00 p.m. Del Norte Visitor Center (1001 Front Street, Crescent City, CA 95531)
4:00 – 6:00 p.m. Eureka Waterfront (Madaket Square Boardwalk, D Street, Eureka, CA 95501)

Saturday, Oct. 30

10:00 a.m. – 12:00 p.m. Willow Creek Mainstreet (CA Hwy-299, Willow Creek, CA 95573)
4:00 – 6:00 p.m. Fortuna River Lodge (1800 Riverwalk Drive, Fortuna, CA 955340)

Sunday, Oct. 31

12:00 – 3:00 p.m. Pear Tree Shopping Center (504 East Perkins St., Ukiah, CA, 95540)

Monday, Nov. 1

10:00 a.m. – 11:30 a.m. Golden Gate National Recreation Area (435 Murray Circle, Sausalito, CA 94965)
3:00 – 5:00 p.m. Vallejo Waterfront Ferry Stop (289 Mare Island Way, Vallejo, CA 94590)

Tuesday, Nov. 2
3:00 – 6:00 p.m. Dixon May Fair (655 South 1st Street, Dixon, CA 95620)

Wednesday, Nov. 3
10:00 a.m. – 12:00 p.m. California State Capitol (1010 L Street, Sacramento, CA 95814)
5:00 – 7:00 p.m. Mother Lode Fairgrounds (220 Southgate Rd, Sonora, CA 95370)

Thursday, Nov. 4
12:00 p.m. – 2:00 p.m. Downtown Mariposa (Hwy 140 between 9th and 10th Street, Mariposa, CA 95338)

Saturday, Nov. 6
8:30 – 10:30 a.m. Rose Bowl Stadium (1001 Rose Bowl Drive, Pasadena, CA 91103)

3:00 – 5:00 p.m. Redlands West Pearl Avenue (between Eureka and Orange Streets, Redlands, CA 92374)

Monday, Nov. 8
3:30 p.m. Holbrook Parade (escort through Holbrook, AZ 86025)

Tuesday, Nov. 9
10:00 - 11:00 a.m. Petrified Forest National Park (1 Park Road, Phoenix, AZ 86028)

Thursday, Nov. 11
9:00 a.m. – 12:00 p.m. New Mexico Veteran's Memorial (1100 Louisiana Blvd SE #5009, Albuquerque, NM 87108)

Saturday, Nov. 13
11:00 a.m. – 1:00 p.m. Downtown Fayetteville (Northwest Avenue & West Dickson Street, Fayetteville, AR 72701)
6:00 p.m. – 8:00 p.m. Bass Pro Shops National Headquarters (1935 S Campbell Ave., Springfield, MO 65807)

Tuesday, Nov. 16

6:00 – 8:00 p.m. Williamsport Town Hall (2 N Conococheague St., Williamsport, MD 21795)

Friday, Nov. 19
Delivery to West Lawn, U.S. Capitol Building

*Subject to change. Monitor website at www.uscapitolchristmastree.com/calendar for the latest updates.

Safety of tour staff, event attendees and the tree are the top priority. Face coverings are required for all events and social distancing will be maintained. Along the way, we ask the public to be aware of the large truck's huge blind spots, wide turns, and longer stopping distances on our roads so we can all arrive safely to our destinations.

Follow along online at www.uscapitolchristmastree.com and @uscapitolchristmastree on Facebook and Instagram.
---
SHARE →