---
Jessica Cejnar Andrews / Wednesday, Sept. 1, 2021 @ 5:04 p.m.
Del Norte COVID Report: Hospitalizations Up, Community Briefing Set for Thursday
---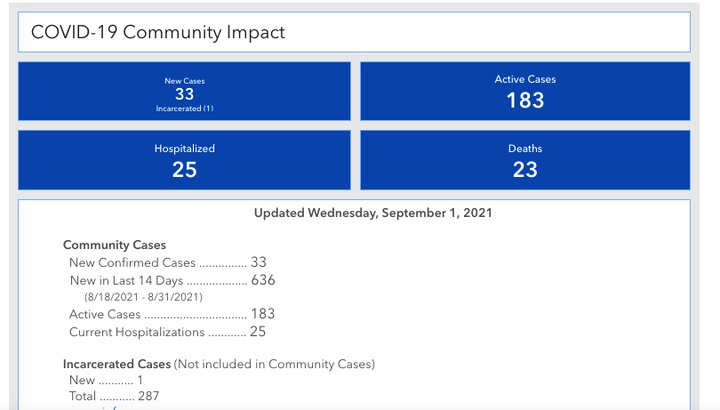 Hospitalizations rose on Wednesday with the Del Norte Public Health Branch reporting that 25 patients were admitted with COVID-19.
Thirty-four new cases were confirmed, including a single new case among the county's incarcerated population, according to the Del Norte Public Health Branch.
There are currently 183 active cases in Del Norte County. There have been no new deaths reported Wednesday.
At Pelican Bay State Prison, 14 inmates are positive for the novel coronavirus as of Wednesday, according to the California Department of Corrections and Rehabilitation's Population COVID Tracking web page. Last Friday, 48 prison staff tested positive for COVID-19, according to CDCR's employee status web page.
Meanwhile, another community COVID-19 briefing is scheduled for 6 p.m. Thursday.
Hosted by the City of Crescent City, this briefing will include reports from Del Norte County Unified School District Superintendent Jeff Harris, Sutter Coast Hospital CEO Mitch Hanna and Del Norte County Public Health Officer, Dr. Aaron Stutz.
The meeting will be held via Zoom.
---
SHARE →