---
Jessica Cejnar Andrews / Friday, Oct. 8 @ midnight / Arts
DNACA Issues Call for Artists; Other Arts Doings
---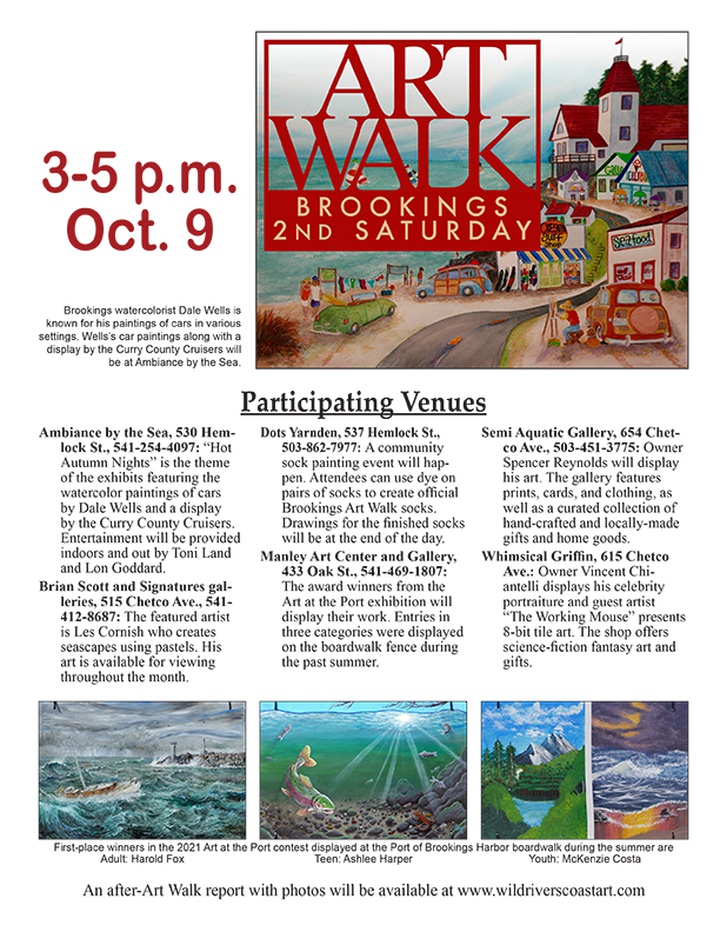 Here's what's going on in the Del Norte, Curry County art world, courtesy of the Del Norte Association for Cultural Awareness:
2nd Saturday Art Walk
The Second Saturday Art Walk will be held from 3 - 5 p.m., Saturday October 9th, at six venues in downtown Brookings. Ambiance by the Sea will present "Hot Autumn Nights" featuring the watercolor paintings of cars by Dale Wells and an exhibit by the Curry County Cruisers. Entertainment will be provided by Toni Land and Lon Goddard. Ambiance by the Sea is at the corner of Willow and Hemlock streets. For more information, call 541-254-4097.

Across Hemlock Street, Art Walkers will find Dots Yarnden with a community sock painting event. Attendees can dye pairs of socks to create official Brookings Art Walk socks. Drawings for the finished socks will be at the end of the Art Walk. For more information, visit www.dotsyarnden.com or call 503-862-7977. Brian Scott Gallery will feature artist Les Cornish who creates seascapes using pastels.

The Gallery, at 515 Chetco Ave., offers three floors of art displays. For information visit brianscottgallery.com or call 541-412-8687. At Manley Art Center winners from the Art at the Port exhibition will display their work. Manley Art Center, at 433 Oak St., is home to the Pelican Bay Arts Association. For information about the association and activities at the center, visit www.manleyartcenter.com or call 541-469-1807.

At Semi Aquatic Gallery, 654 Chetco Ave, owner Spencer Reynolds will display his art. The gallery features prints, cards, and clothing. For more information visit artandsurf.com or call 503-451-3775. This month Whimsical Griffin owner Vincent Chiantelli will display his celebrity portraiture and guest artist "The Working Mouse" presents 8-bit tile art. Whimsical Griffin is located at 615 Chetco Ave. and more information is at whimsicalgriffin.com.

DNACA's 30th Annual Juried Art Exhibition - Call for Artists
Del Norte Association for Cultural Awareness (DNACA) is seeking artists from Del Norte County and Curry County for their 30th Annual Juried Art Exhibition. Intake is at the Del Norte County Courthouse November 18, 5 - 6 p.m. Entry fee is $10 per artwork, and artists may submit up to two (2) pieces, wired for hanging. Artwork that is juried into the show will remain on display at the Del Norte Courthouse through January 13, 2022. For more information or to obtain a prospectus, email office@dnaca.net, or call 707-464-1336.

DNACA's 40th Anniversary Performance Series Season Tickets
Del Norte Association for Cultural Awareness (DNACA) is happy to present their 40th Anniversary Performance Series. The season includes five live concerts from a wide variety of artists including blues and soul, world music/dance/storytelling, vintage jazz and comedy, hypnotic tango and dance, and a "sit down" comedian on piano. Tickets and information on each concert are available at dnaca.eventbrite.com, or in person at Del Norte Office Supply in Crescent City, and Wright's Custom Framing in Brookings.

Last Chance to See "Come Walk with Me" Exhibit
This is the last chance for the public to view the work of artist DéDé Nicholls as part of DNACA's Art in Public Places program. Her exhibit titled "Come Walk with Me," reflects her tendency to paint paths, as if on a journey. The exhibit is on display through October 13th, at the 2nd floor mezzanine of the CEC Airport at 1650 Dale Rupert Rd, Crescent City. The exhibit can be viewed during the airport terminal's hours: 6 a.m. - 8 p.m. weekdays, 6 a.m. - 10 a.m. and 5 p.m. - 8 p.m. Saturdays, and 6 a.m. - 2 p.m. and 5 p.m. - 8 p.m. Sundays. For more information, contact DNACA at 707-464-1336 or office@dnaca.net.

Crescent City Art
Crescent City Art at 1228 2nd St., Crescent City, is open to the public Wednesday - Saturday from 12 p.m. - 5 p.m. The Gallery's Artist of the Month is Rodney Reid. Member art exhibits include spray paint artist Spencer Bishop at the Del Norte County Library, watercolor artist Pauline Lodolini at the Smith River Library, and an exhibit of various artists at the Sutter Coast Hospital Infusion Center and in the Main Hall at Sutter Coast Hospital. For more information, call 707-460-1414.

Crescent Harbor Art Gallery
Crescent Harbor Art Gallery's Artist of the Month is Arlene Krogstad, with her exhibit "Scenes of Del Norte," featuring new oil paintings completed during the past year. Arlene moved to our area from Denver eight years ago, and is constantly inspired by the scenic views here. Her new works include paintings of two lighthouses, seascapes, children playing on the beach, and the redwoods. The Gallery is located at 140 Marine Way and is open Tuesday through Sunday from 10 a.m. – 2 p.m. and closed Monday. Face coverings are required. For more information, call 707-464-9133.

The Gallery of Arts & Culture
The Gallery of Arts & Culture at 175 H Street, is featuring the oil paintings of award-winning artist Daniel Desmond. While Dan and his artist wife Marianne Strehler moved to Crescent City several years ago, he has been painting with oils for over 60 years, and concentrates mostly on landscapes and seascapes. The Gallery is open 11 a.m. - 6 p.m. Tuesday - Saturday, and masks will be required inside the Gallery at all times.

Brian Scott Gallery
Brian Scott Gallery, located at 515 Chetco Ave. in Brookings, is open and ready to showcase all of its 32 artists. The Gallery will be open during the 2nd Saturday Art Walk from 3 - 5 p.m. with featured artist Les Cornish. Widely known for his work with pastels, Les will also be featuring his oil paintings. You may also view his work in the Gallery beyond October, as Les's art is featured in the Gallery on an ongoing basis. The Gallery also features fine jewelry, pastels, oils, acrylics, and watercolors, as well as hand painted pottery, ceramics, weavings, and more. The Gallery's summer hours are Thursday - Saturday, 11 a.m. - 3 p.m. For information call 541-412-8687.

Fog and Fine Art Gallery
Located in Wright's Custom Framing and Art Supply, 810 Chetco Ave. Brookings, the Gallery features 36 local artists in a variety of mediums and a classroom to inspire new and seasoned artists with workshops. Stop by and enjoy all that's new in the Gallery, open from 10 a.m.- 5 p.m. Monday - Friday, 10 a.m. - 3 p.m. on Saturday. For more information on class offerings, painting demonstrations, and artists call 541-469-7900 or visit them on Facebook @WrightsCustomFraming.

Manley Art Center and Gallery
Manley Art Center and Gallery is located at 433 Oak St. in Brookings. The award winners from this summer's Art at the Port Exhibition will be displayed in the Gallery from October 3 - October 30. There were 64 entries in three categories (adults, teens, and youth) were displayed on the boardwalk fence from May through mid-September, reflecting the theme Wild about the Oregon Coast. The Gallery will also be hosting a Second Saturday Art Walk on October 9, from 3 - 5 p.m. Gallery Hours for September are Wednesdays 11 a.m. - 4 p.m., and Thursday - Saturday 11 a.m. - 3 p.m. For more information, call 541-469-1807 or visit www.manleyartcenter.com.
---
SHARE →