---
Jessica Cejnar Andrews / Thursday, Oct. 7 @ 3:05 p.m. / Local Government
Unwilling to Give Up Three Parking Spaces on Front Street, Crescent City Council Directs Staff to Continue Negotiations Over Electric Vehicle Charging Stations
---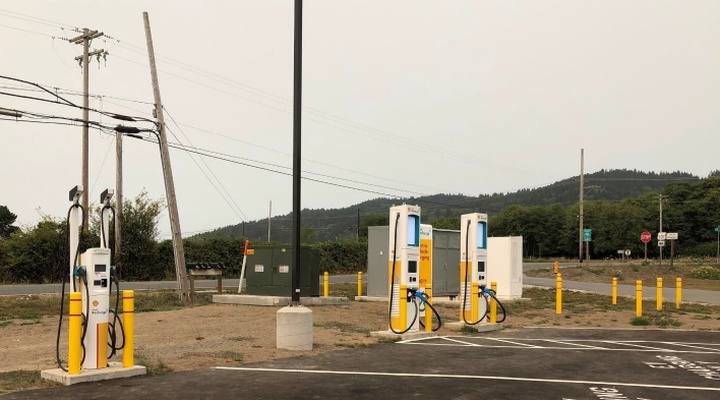 Previously:
• Versitile EV Charging Stations Proposed for Front Street, Beachfront Park Area
###
Banking on the likelihood that electric cars are here to stay, the Crescent City Council directed the city manager to continue negotiating with a Shell Oil Company subsidiary seeking to install charging stations on Front Street.
Equilon Enterprises LLC wants to install electric vehicle charging stations in three parking spaces on Front Street east of E Street. However, instead of agreeing to allow Equilon to use three existing spaces, the City Council is proposing the company build new parking spaces.
This decision followed a comment from Del Norte County District 1 Supervisor Darrin Short, who lives near the area and pointed out that parking is at a premium on Saturdays during soccer season.
"The idea of removing three spaces from there seems kind of — I don't know what the right word is — shortsighted," he said. "Coupled with the observation that I've had with the Tesla charging stations that are between J and K Street, relatively close to my home, in my observations I see one car there being charged at those four stations maybe once every two-three weeks, I'm questioning the validity of the idea that these charging stations would even be used."
In April, the City Council approved a preliminary site plan for three electric vehicle charging stations to be installed by Recargo and Cleantek. The plan was to put the stations in the parking lot across from D Street, but the proposal needed Planning Commission and Public Works Department approval before Councilors approved the final licensing agreement.
On Monday, City Manager Eric Wier said Recargo had changed hands, becoming Equilon Enterprises, which is affiliated with Shell Oil Company.
The new proposal places the charging stations just east of E Street and installs the switch gear and utility transformer associated with them in Beachfront Park rather than on a median between the parking lot and Front Street, Wier said.
Under the proposed agreement, Equilon would build the charging stations and supporting equipment, including the underground components.
The city would lease the land to Equilon for $100 per space per month, or $3,600 annually, according to Wier. Equilon would make a one-time payment to the city of $1,000 during the first year.
After the fifth year, Equilon is proposing to increase its lease payments to the city by 10 percent, which would generate about $3,960 annually, Wier said.
"This is a 10-year term on this agreement," he said. "The total revenue over 10 years would be $38,800. It does continue in five-year increments unless the city gives a year (notice) in advance saying we want to terminate."
If the city terminates its agreement with Equilon, Equilon would remove the equipment, according to Wier.
In addition to making lease payments to the city, Equilon's project could make Crescent City an attractive place for those driving electric vehicles to stop, Wier said. He said visitors could shop while charging their cars, contributing to the local economy.
Unlike the existing Tesla charging stations near the Del Norte County Library, the proposed new stations would serve all electric vehicles, Wier said, though the spaces will likely be a challenge for electric buses.
The charging location site was changed to account for the high demand in parking near Crescent City's dog park as well as the soccer fields, Wier said. He noted that while there likely wouldn't be a city ordinance against non-electric vehicles parking in those spaces, there will likely be signs telling motorists that it is a charging area.
City Attorney Martha Rice said she didn't think the city had received complaints of someone parking near the Tesla charging stations at the library who shouldn't be. But, she said, the parking areas near the soccer fields might be in higher demand.
Crescent City Police Chief Richard Griffin informed the Council that under California Vehicle Code 22511, local authorities are able to set aside parking spaces for the "exclusive purpose of charging or parking a vehicle connected for electric charging purposes."
However, Griffin echoed Short's concerns about the demand for parking during soccer games on Saturday.
Though he acknowledged the importance of providing an amenity to visitors, which is a priority in a tourism-based economy, Mayor Pro Tem Blake Inscore said the City Council has an obligation to its residents.
"The money we make over 10 years, the $39,000, this isn't about that money, it's about providing that amenity," he said. "But we have another responsibility, and that is providing safe access and parking for our community and our children. That was part of the whole Front Street Master Plan and the Beachfront Park Master Plan."
Inscore's colleague, Councilor Beau Smith, agreed, mentioning electric vehicle charging stations at Walmart.
"I haven't seen anybody arguing or fist fighting over getting their car into a charging spot," he said. "I'm not seeing where it's going to be a big need. I would rather keep those three spots."
It was Wier who came up with the idea of asking Equilon to build three additional parking spaces instead of taking over existing ones. That was the city's first choice, he said, but the company pushed back, saying they didn't think that was an option.
With their colleague, Councilor Isaiah Wright noting that electric cars are only going to get more efficient in the future, the City Council urged Wier to return to negotiations with Equilon.
"We have a dual responsibility both to those people who come here and visit our community (and) spend money and we appreciate them," Inscore said, "but we still have to take care of our community."
In other matters, Crescent City received a $31,870 Homeland Security grant that will be used for equipment for the police, fire and public works departments.
According to Crescent City Police Chief Richard Griffin, his department will use $6,984 for gas masks and respirators, tactical medical kits for mass casualty events and a portable radio.
Receiving $19,086, Crescent City Fire and Rescue plans to purchase 45 radio pagers, which will notify firefighters when they're toned out rather than having their radio on 24 hours a day, according to Chief Bill Gillespie.
The Public Works Department received about $5,800 in grant money, which will be used for interlocking and A-frame barricades and reflective cones to assist in blocking off city streets during community events, according to Griffin.
---
SHARE →