---
Jessica Cejnar Andrews / Friday, Oct. 29 @ 12:33 p.m. / Celebrity, Community
Sugar Bear Roadshow Stops In Crescent City
---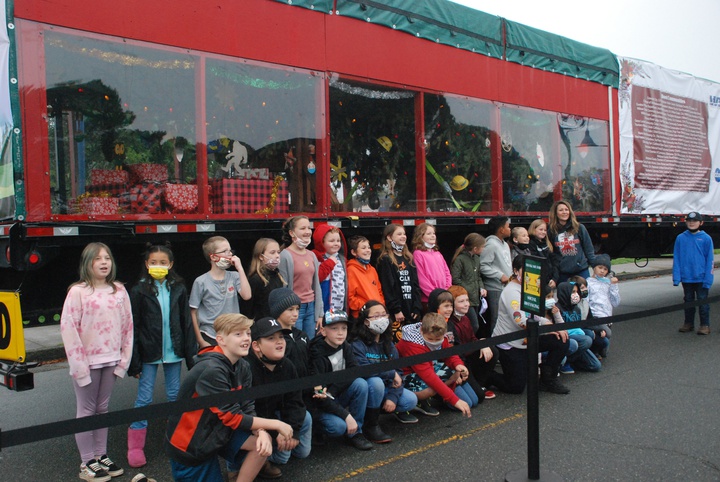 Nearly 900 Del Norte school kids paid their respects to Sugar Bear, the now 82-foot white fir tree that stopped in Crescent City on its procession to Washington D.C. on Friday.
Youngsters passed through an interpretive interactive forest telling the story behind the slogan for this year's U.S. Capital Christmas Tree — "Six Rivers, Many People, One Tree."
They learned about the 16 indigenous cultures that call the area encompassed by the Six Rivers National Forest home, viewing the baskets and staples of their diet. The kids learned the importance of taking out what you pack in courtesy of Woodsy the Owl.
There was a "tree cookie" — the students could count the rings on Sugar Bear. The experience culminated in a photo opportunity in front of the guest of honor lying in state inside an 80-foot refrigerated trailer.
According to U.S. Capital Tree spokeswoman Samantha Reho, U.S. Forest Service staff will bring this interactive forest to every community on Sugar Bear's itinerary.
"What a great way to share this part of California," she said, adding that the last time Northern California contributed a tree was in 1986. It came from the Klamath National Forest. "There's so much more to California than what people normally see."
Sugar Bear was 84 feet tall when National Forest staff harvested it from the Mad River Ranger District on Saturday and 20 feet in diameter. Staff had about two and a half days to fit the tree onto an 80-foot long, 8-foot wide trailer, Reho said.
Six drivers from Spokane, Washington-based System Transport will ferry the tree to the U.S. Capitol, Reho said.
"That coming from through Last Chance Grade was pretty fun," she said.
Once it gets to Washington D.C. on Nov. 19, if the tree is missing a few branches, the Architect of the Capitol will ensure Sugar Bear looks its best.
Michael Mavris, the Mary Peacock 5th-grader who won a regional essay contest, will light the Christmas tree some time in December, sharing the stage with Speaker of the House Nancy Pelosi and, hopefully, Vice President Kamala Harris, according to Reho.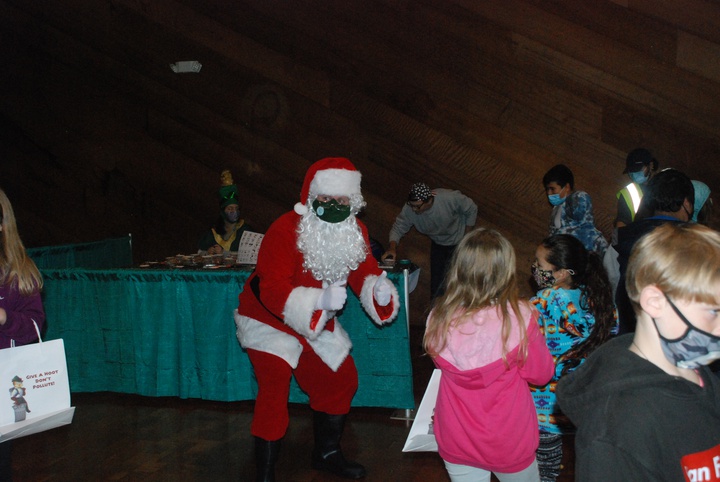 In addition to providing Washington D.C.'s Christmas tree this year, Californians created more than 15,000 ornaments. They will adorn the big tree as well as 60 others that will be in delegate offices at the Capitol Building as well as at the U.S. Forest Service and U.S. Department of Agriculture buildings, Reho said.
One of those decorations, a Christmas tree skirt made from reclaimed redwood from a Del Norte County Courthouse remodel in the 1980s and crafted by Del Norte County employees, will decorate a tree inside Harris's U.S. Senate office.
District 2 Supervisor Valerie Starkey pointed out that Sugar Bear's send-off was truly a community event. Inside the Cultural Center, nonprofits including Friends of the Library, the Family Resource Center of the Redwoods and CASA played games, made cookies and decorated ornaments with youngsters.
This, Starkey noted, is rare for Del Norte.
"Everybody stepped up," she said. "This is a community that came together. There's so many good things coming from us."
Sugar Bear will make an appearance in Eureka before heading to Willow Creek via State Route 299.
---
SHARE →