---
Jessica Cejnar Andrews / Thursday, Oct. 28 @ 11:38 a.m. / Environment, Local Government
Del Norte Supervisors Air Concerns About Potential Wilderness Area Expansion In Federal Public Lands Bill
---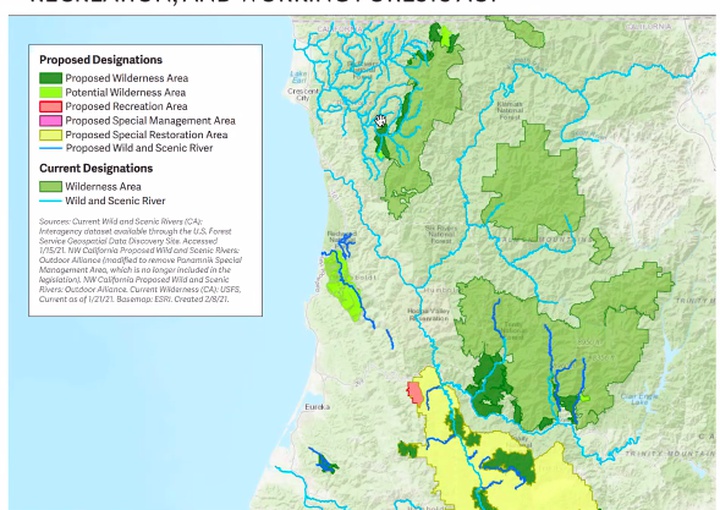 Del Norte County supervisors took issue with a U.S. Senate bill that would potentially increase the number of wilderness areas in Del Norte County, stating it was "putting restrictions on top of restrictions."
Supervisors felt putting more public lands into wilderness adds another layer of regulation that is unnecessary. They worried that the "hands-off approach" to land management associated with wilderness areas would hinder response to wildfires in Del Norte's interior.
They also called provisions in the 2021 PUBLIC Lands Act bill authorizing the construction of a visitors center and mountain bike trails as well as the development of a trail study for motorized and non-motorized vehicles hollow.
"This is not an appropriations bill," District 4 Supervisor Gerry Hemmingsen said Tuesday, adding that he and his colleagues had spoken with Congressman Jared Huffman, who had sponsored the Northwest California Wilderness, Recreation and Working Forests Act. "We had hounded him on that, make it an appropriations bill, and it kept coming back, 'If we do that, it won't pass.' There's good reason it won't pass, there's no money to do what it should be doing."
Sponsored by U.S. Sen. Alex Padilla, the PUBLIC Lands Act is a legislative package that includes Huffman's bill and two others — the Central Coast Heritage Protection Act, authored by Rep. Salud Carbajal, and the San Gabriel Mountains Foothills and Rivers Protection Act, spearheaded by Rep. Judy Chu.
Padilla introduced the proposed PUBLIC Lands Act in the U.S. Senate in May. His bill is co-sponsored by U.S. Sen. Dianne Feinstein. Though the bill was heard in committee last week, there's no immediate plan for it to move forward, said Greg Burns, of Thorn Run Partners, the county's advocate in Washington D.C.
Del Norte County supervisors had expected to speak with Padilla's staff on Tuesday. The senator's office denied that request at the last minute due to an internal policy of not participating in public meetings that are recorded, Burns said
"Since June 1 I have been communicating with Sen. Padilla's office both in Washington and Sacramento as recently as yesterday afternoon and thought I had secured participation in this meeting today," Burns said. "Unfortunately they indicated yesterday afternoon that they had an internal policy that if a meeting is recorded, they cannot participate. I was unclear, apparently, that the meeting was going to be recorded. I thought it was a known fact for a public Board of Supervisors meeting in California."
District 3 Supervisor Chris Howard suggested Padilla's staff speak to supervisors during a Natural Resources Committee meeting.
Huffman's Northwest California Wilderness, Recreation and Working Forests Act would designate 257,797 acres to new wilderness areas and designate an additional 49,692 acres as potential wilderness area.
This includes expanding the Siskiyou Wilderness area, most of which lies in Del Norte County, by up to 25,000 acres, according to a bill summary from the Smith River Alliance.
The Siskiyou Wilderness area straddles the Six Rivers, Rogue River-Siskiyou and Klamath national forests and contains the headwaters of the South Fork Smith River and the Illinois River's east fork as well as the Buck Creek watershed.
Huffman's bill would also study the possibility of establishing the Bigfoot National Recreation Trail stretching from southern Trinity County to Crescent City and authorize the construction of interagency visitor centers in Weaverville and Crescent City.
On Tuesday Burns said while the expansion of the Siskiyou Wilderness might have little significant impact to the county as a whole, county staff felt the designation would be redundant and would negatively impact response to wildfire due to access restrictions.
Hemmingsen, however, noted that there are roads in the area that's proposed to be incorporated into the expanded Siskiyou Wilderness. Those lands are also part of the Smith River National Recreation Area, Hemmingsen said, and often aren't accessible without motorized vehicles. Though he and his colleagues discussed their concerns with Huffman's staff, Hemmingsen said it felt like they were ignored.
Hemmingsen said he also had a concern with the potential wilderness areas Huffman and Padilla mention in their bills.
"Some of those areas, they don't even meet the criteria to become wilderness and when they designate them as potential wilderness they start managing them like they are wilderness until they get to that state," he told the Wild Rivers Outpost on Wednesday.
On Tuesday, Howard said Padilla's bill made him think of the Northwest Forest Plan of 1994, which focused on preservation — a methodology, Howard said "eliminates man and management from a forest." That philosophy, coupled with climate change, leads to catastrophic firestorms, he said.
Howard also noted that much of the U.S. Forest Service budget goes toward preventing and fighting wildfires annually. It's often up to nonprofit organizations to fund and pay for things like trail studies to enable people to better recreate on public lands, he said.
"We've had to go outside the box just to get the resources into our (Smith River) National Recreation Area, which makes up the largest portion of public lands in our county, and that should not happen," he said. "All of the resources from our feds are dumped into fire prevention annually. There's left over to spend here to utilize what this land was designated for."
Following Burns' presentation, District 5 Supervisor Bob Berkowitz, who has represented Del Norte County on the Public Lands Committee for the National Association of Counties for about three years, requested he be replaced citing the need to avoid large crowds and "persistent voice problems."
Berkowitz said he had been vocal about the Board of Supervisors' opposition to land being taken off a county's property tax roll and turned into tax-exempt public lands, but felt he couldn't attend NACO's legislative and annual conferences due to his health issues.
"Knowing who the players are and who controls the agenda and the purse strings is important," he said. "It's my suggestion we appoint one of our new members to this board to take my place so we don't lose out on the important things that affect us."
Berkowitz's replacement on NACO will be up for discussion at the Board of Supervisors' next meeting on Nov. 9.


Documents:
• Northwest California Wilderness, Recreation and Working Forests Act summary
---
SHARE →