---
John Ross Ferrara / Sunday, Oct. 10 @ 9:30 a.m. / Crime
Belligerent Man Allegedly Shouting Profanities, Wielding Rocks During Beachfront Park Soccer Game Held at Gunpoint By Off-Duty Officer, Arrested, Crescent City Police Say
---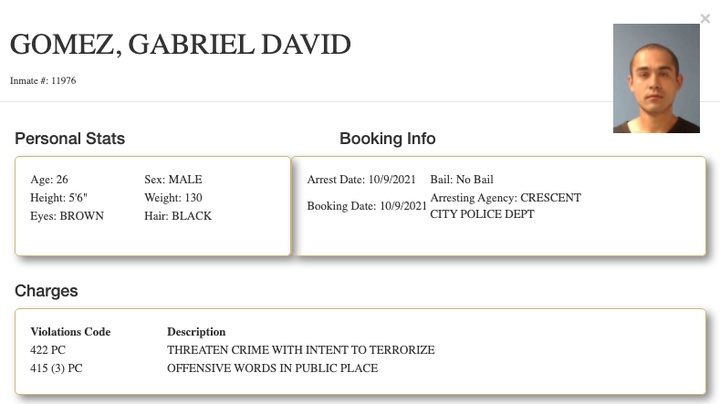 Crescent City Police Department:
Saturday morning, Crescent City Police Department Officers responded to Beachfront Park for a report of a male subject causing a disturbance, possibly armed with a weapon.

Upon arrival, Officers located an off-duty peace officer holding Gabriel Gomez (age 26) at gunpoint. Gomez was detained in handcuffs and officers conducted an investigation into the incident.

During our interviews, we learned that Gomez was being belligerent and aggressive towards people and was asked to leave by referees of the soccer games taking place.

After being requested to stop yelling profanities, Gomez became increasingly aggressive while yelling and cursing. After Gomez began cursing towards children, he was again instructed to leave.

Gomez reacted by picking up two large rocks and threatened an individual who then identified himself as a peace officer and placed Gomez at gunpoint.

Gomez then complied with orders given to him, but continued to directly threaten to hurt the peace officer.

Gomez was held at gunpoint until officers arrived. He was arrested for making criminal threats, 422 PC and booked into the Del Norte County Jail.
---
SHARE →