---
Jessica Cejnar Andrews / Monday, Nov. 15 @ 6 a.m. / Celebrity, Community, Education
'Here We Are, And It's Done'; Crescent Elk Auditorium Opens Doors on Friday
---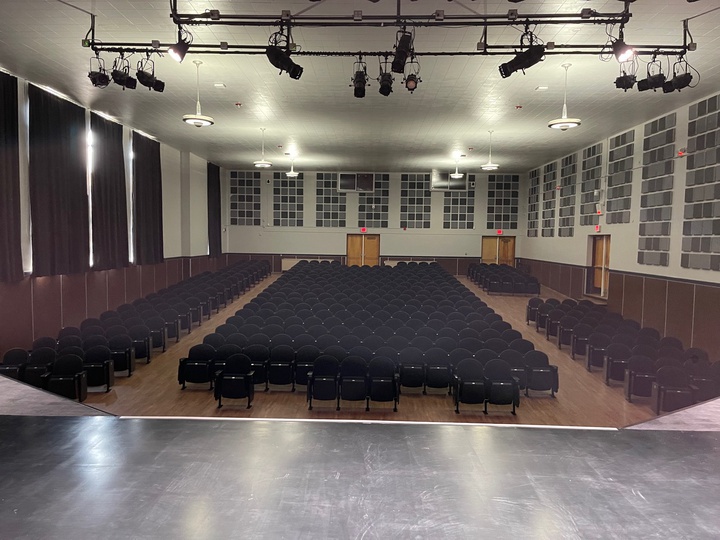 An unrecognizable Crescent Elk Auditorium will open its doors Friday for the first time in over a year.
The reopening ceremony for the 92-year-old venue will feature performances from the Del Norte High School jazz band, its dance troupe and from Jacob Scesney, a multi-instrumentalist who performs with Postmodern Jukebox, said Nick Rail.
The event will be held at 7 p.m. Friday. It will also be livestreamed in Crescent Elk Middle School's multipurpose room.
Rail, and his wife, Lisa, were part of a huge effort to restore the auditorium, donating the funding for new seats and a new stage lighting system.
Speaking in front of the Del Norte County Unified School District Board of Trustees on Oct. 28, Rail said the auditorium is unrecognizable.
"The ceiling looks different, the walls look different, the seats are just amazing, the stage looks different, the lighting looks different," he said. "You have to look pretty darn close to find something you recognize."
According to Marshall Jones, Del Norte Teachers Association president and Smith River School teacher, since seating may be limited, it's possible the ceremony will be streamed in the school's multi-purpose room.
"It'll be one of the major events for this year, so I'm looking forward to that," he said.
As for the special guest performer, Rail said he has known Scesney since he was 12 years old. Scesney began taking music lessons at about 3 or 4 years old, according to IMDB. He has also performed with Casey Abrams, Seth McFarlane, Rachel Platten, Seal and the Black Eyed Peas.
The refurbished Crescent Elk Auditorium features new stage lights, seats, stage floor and flooring in the audience seating area. The number of seats was reduced from 495 to 385, but they're 17 inches wide instead of the previous 11 inches, according to Rail.
They also include a folding desk enabling a spectator to take notes, eat or have a place to fold their hands.
On Oct. 28, DNUSD Superintendent Jeff Harris said when the district set out to refurbish the Crescent Elk Auditorium, they thought it would take five years, not 18 months.
"This all started in 2020 when he said, 'Let's do something,'" Harris said of Rail. "We were talking about a five year plan. Here we are, and it's done."
According to Harris, the lights were refurbished, the electrical system was rewired. He said DNUSD has the ability to livestream performances from three different perspectives in the auditorium.
"The auditorium itself is so big, one of the wires that runs from the front of the auditorium to the back of the auditorium that plugs into the sound system, on its own, is now picking up AM talk radio," Harris said.
He told trustees that the wire would be removed by the reopening ceremony.
Nick Rail grew up in Del Norte County and was introduced to music when he was a student at Redwood Union School. He grew up to found one of the largest musical instrument retailer in Southern California.
Rail reconnected with DNHS music director Dan Sedgwick, who grew up taking lessons at his Santa Barbara store.
In January 2020, the Rails donated 100 new musical instruments to DNUSD and founded the Nick and Lisa Rail Music Fund at the Wild Rivers Community Foundation. Their goal is to raise enough funding to build a performing arts center at Del Norte High.
In August, Rail introduced the nonprofit Partnership for the Performing Arts to the DNUSD Board.
On Oct. 28, Rail said the nonprofit hopes to have the performing arts center at Del Norte High school built by August 2027.
Rail said he and his wife are also getting ready to donate 175 more musical instruments to DNUSD in December.
"That'll bring our instrument donations up to about 250-275," he said. "Our eventual plans are to donate close to 800."
---
SHARE →