---
Jessica Cejnar / Wednesday, May 26 @ 2:33 p.m.
Del Norte's Public Health Officer Announces Retirement Amid Vaccine Hesitancy Concerns; DHHS is also Seeking Deputy Health Officer
---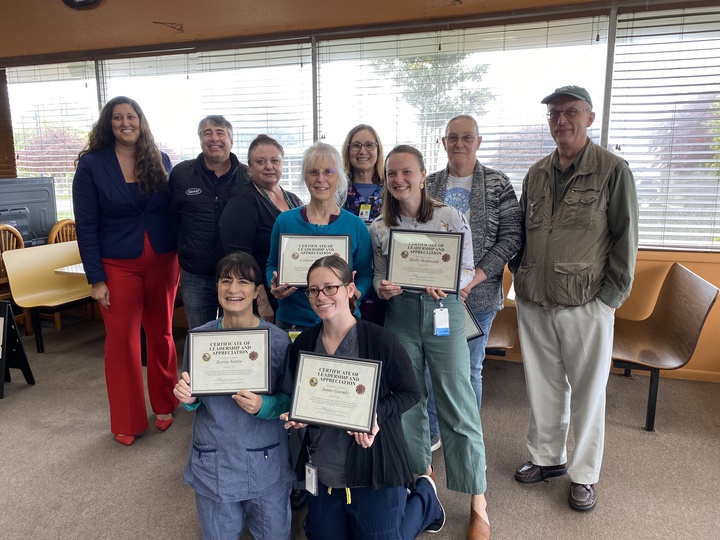 Del Norte County's public health officer is fulfilling a promise he made to his wife pre-pandemic — he's retiring.
Dr. Warren Rehwaldt filled county supervisors in on the Public Health Branch's vaccination efforts, challenges when it comes to urging Del Norters to get the COVID-19 shot and provided a snapshot of viral activity in the county as of Tuesday. Before signing off, Rehwaldt told supervisors that his last day will be June 30.
"I just want to make it official — officially let you know," he said, adding that he appreciated the Board's support. "I made a promise to myself and my wife that I would be getting out of public health. I made that promise a year and a half ago and I finally have to keep it, so it's time."
The Del Norte County Department of Health and Human Services will release a request for proposals to recruit for Rehwaldt's position on Wednesday or Thursday, Public Health Program Manager Melody Cannon-Cutts told the Wild Rivers Outpost.
DHHS will also release a request for proposals for the county's deputy public health officer, according to Cannon-Cutts. The agreement the current deputy health officer, Dr. Palak Patel, has with the county expires on June 30, she said.
"We're looking forward to receiving as many proposals as we can," Cannon-Cutts told the Outpost.
Rehwaldt served as Del Norte's public health officer for a total of about 13 years. His first stint came in 2001 and his second was in 2013. He said he also served as deputy public health officer to his predecessor, Dr. Thomas Martinelli.
In addition to serving as the face of public health in Del Norte, Rehwaldt is also a family physician working in community medicine. His first job was with United Indian Health Center. He is also a doctor at Open Door Clinic in Del Norte County.
Though most Del Norters became acquainted with Rehwaldt because of the COVID-19 pandemic, public health touches on more than responding to disease, he said. This includes promoting a healthy lifestyle by urging people to quit tobacco products or eat healthy.
The Public Health Branch also implements various state programs at the local level. As public health officer, Rehwaldt said he often acts as a director for those programs, which includes signing off on them and offering expertise at the local level how to implement them.
"I'm part administrator part advisor," he told the Outpost. "The purpose for having a physician in the role goes back a long way, at least to the middle of last century, where we needed someone local to do things like quarantine if there were infectious disease outbreaks."
In Del Norte, quarantining someone for disease was rare, but it did happen in local tuberculosis cases, Rehwaldt said.
According to the public health officer, the most concerning medical crisis his department dealt with prior to COVID-19 was the West African Ebola virus epidemic in 2014, Rehwaldt said. The virus wasn't in the United States, he said, but state and national health officials were concerned about people returning from West Africa and bringing the disease with them.
"That was kind of an interesting time because the state had (become) motivated to support local health departments in dealing with something like that," Rehwaldt said. "That was an extraordinary circumstance — a potentially lethal virus. It's difficult to transport people, difficult to management. That's the closest thing we had to COVID in terms of that kind of sweeping effect of the whole state."
When COVID-19 began to show itself the initial concern was whether non-pharmaceutical interventions — regular mask wearing, social distancing, hand washing — would be enough to slow the spread, Rehwaldt said. Another unknown was whether sheltering in place would be enough to prevent a surge in cases that would overwhelm hospitals, he said.
Public Health's second mission was to protect the highest risk from getting infected and dying, Rehwaldt said.
"We were confident if those measures took effect, if people were really diligent about them, we'd be able to slow the virus — shut it down enough to prevent a disastrous kind of surge," he said. "And it worked. We didn't really see that."
Slowing the spread and flattening the curve was meant to prevent a situation where hospitals were so overwhelmed there was nowhere else to transfer patients to, Rehwaldt said. The system came close, particularly in Southern California during the winter, he said, but it didn't collapse.
Del Norte County has done fairly well, Rehwaldt said. Enough people took the shelter in place message seriously that the number of COVID-19 cases and hospitalizations were manageable, even though seven people died of the disease in Del Norte, he said.
Rehwaldt noted that the pandemic still isn't done, and more people could die of COVID-19.
Though Rehwaldt had a favorable opinion of Del Norte County's response to the pandemic, vaccine hesitancy continues to be a challenge. Only 24.5 percent of Del Norte County's population have been fully vaccinated, according to the U.S. Centers for Disease Control and Prevention's Data Tracker web page.
Statewide, 49.4 percent of California's population has been fully vaccinated, according to the state department of public health.
In a public service announcement Wednesday, Rehwaldt said there have been a steady number of cases, new variants and people engaging in activities "without regard to COVID protection." He noted that 5 percent of Del Norte's population has recovered from COVID and about a one-third of the overall adult population is vaccinated.
"Our numbers are quite low compared to the state average, but they have been low for over a month now," Rehwaldt said. "Our regular vaccination clinics at Public Health have not been full for over six weeks and the numbers that have signed up in advance have been shrinking every week. Our local clinical partners and the local pharmacies have all reported similar trends. We expected that we would not get full vaccination, but the tapering off in the demand phase of the vaccine program happened earlier than was expected."
Rehwaldt said local vaccine hesitancy gives local Public Health representatives an inkling of what to expect when California's tier-based Blueprint for a Safer Economy "goes by the wayside" come June 15.
Rehwaldt noted that with 10-15 percent of the county infected and recovered — including those who may have been infected but whose illness wasn't confirmed to be COVID-19 — there may be a bump in cases over the summer.
Rehwaldt said he expects that to change, especially since, according to state data, the vast majority of patients hospitalized with COVID-19 are not vaccinated.
"Since the first of the year to mid-May, California has had almost 15 million persons fully vaccinated," he said. "Of those vaccinated persons, there have been 4,270 confirmed cases, 271 hospitalizations and 30 deaths related to COVID-19."
Among unvaccinated Californians during the same timeframe, Rehwaldt said, there have been roughly 1 million cases and a minimum of 50,000 hospitalizations from COVID-19 between Jan. 1 and mid-May. During that timeframe, there have been at least 28,000 confirmed deaths from the virus, Rehwaldt said.
"We expect some change over time as people understand that people getting vaccinated are not getting sick with it and are not ending up in the hospital," Rehwaldt told the Outpost.
Meanwhile, though he's stepping down from his position as of June 30, Rehwaldt said he may stay on to help as the county recruits a new public health officer.
---
SHARE →