---
Jessica Cejnar / Tuesday, March 30 @ 2:56 p.m.
Construction on ADA Accessibility Project in Crescent City Begins; Caltrans Work to Replace Dr. Fine Bridge Set to Start This Fall
---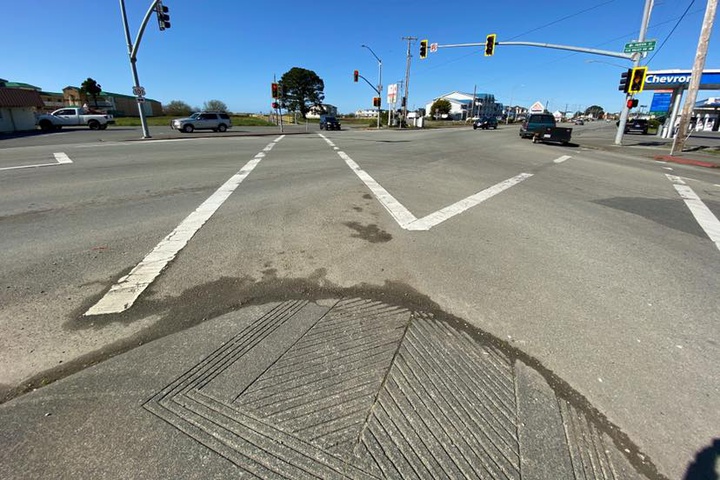 Construction on a project to make the greater Crescent City area more pedestrian and bicyclist friendly has begun.
But even though it's a Caltrans project, bringing it to fruition took years of collaboration between the state, county, city, harbor and the Del Norte Local Transportation Commission, DNTLC Executive Director Tamera Leighton told the Wild Rivers Outpost.
"By the time the public sees the project it's been in development for many years," she said. "There have been years of work done, even on a comparatively simple project like the Crescent City ADA project."
Caltrans began construction on the Crescent City ADA project Monday and is expected to be working on it through November.The project stretches from Citizens Dock Road to Burtschell Street on U.S. 101 and will include upgrades to ramps, driveways, crosswalks and sidewalks. It will also include a pedestrian crossing near the southern intersection of Sunset Circle, according to a Caltrans District 1 Facebook post on Friday.
"Down in Eureka (we've) been doing a lot of great ADA enhancements and we'd love to see that happen in Crescent City too," Caltrans District 1 spokesman Myles Cochrane said.
During the project, motorists will experience lane closures in both directions and minor traffic slowdowns, according to Caltrans.
The project is being paid for through State Highway Operations and Protection Program, or SHOPP, dollars, Leighton said.
Leighton noted that Caltrans has agreed to build a bridge across a deep ditch in front of the Crescent City Harbor with the Harbor District agreeing to maintain the bridge. That bridge will connect with the handicap accessible path along U.S. 101 to the trail into the harbor, she said.
A pedestrian crossing near the southern intersection of Sunset Circle, U.S. 101 and Elk VAlley Road will also be included.
This will allow people a safer crossing of the highway to get to the Crescent City Harbor, she said.
"The jurisdiction in that area is complicated with bits and pieces of harbor, City of Crescent City and County of Del Norte," Leighton said. "I think the connection is very important. ADA is a long-standing law and I appreciate that Caltrans has coordinated with the transportation commission and the city in developing the project."
According to Leighton, a future project would allow for an ADA compliant pathway U.S. 101 to Washington Boulevard near where the highway turns into a freeway.
"The community often sees people walking along the highway there, up and down the on-ramp, and there needs to be a pedestrian path, an ADA compliant pedestrian path," she said. "We know it's a need because we can see that people have already created a path of sorts."
Caltrans plans to begin construction on a replacement for the Dr. Fine Bridge on U.S. 101 over the Smith River. Construction is expected to begin in October and stretch through 2025, according to Caltrans.
"The traffic will stay as it is this fall, and then they'll start building a temporary bridge next to traffic as it moves," Cochrane said. "It's anticipated that next summer we'll move traffic over the temporary bridge. Traffic will see a speed limit reduction throughout the life of the project.
The bridge was constructed in 1940, and, according to Caltrans, is nearing the end of its useful life. During the summer, there will be no boat access, according to CAltrans.
The project is being built using more than $1 million from Senate Bill 1, the Road Repair and Accountability Act of 2017.
---
SHARE →