---
Jessica Cejnar / Monday, March 29, 2021 @ 2:17 p.m.
Huffman Brings Last Chance Grade to U.S. Transportation Secretary Buttigieg's Attention; 30-Minute to 2-Hour Delays Possible on 101 This Week, Caltrans Says
---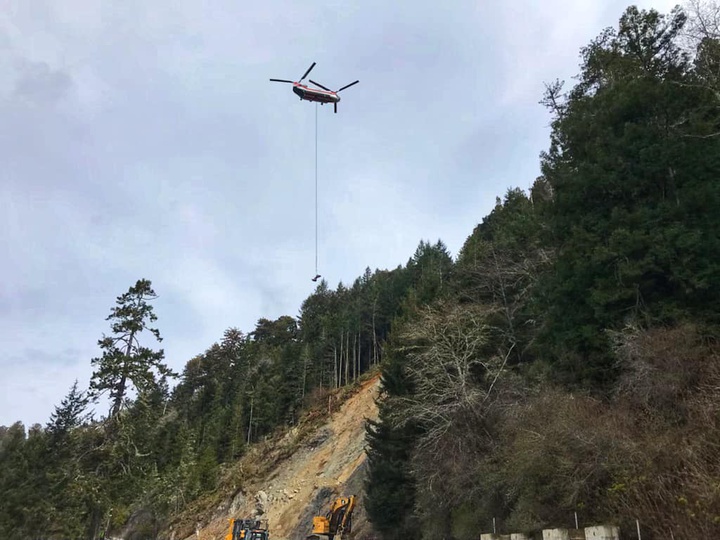 Del Norte County's Congressional representative mentioned Last Chance Grade to U.S. transportation secretary, Pete Buttigieg, Thursday, calling it the poster child of a problem that goes against commonsense.
"I believe if you're endlessly fixing a section of highway that keeps failing, you shouldn't use expensive bandaids forever, you should find a permanent fix," Congressman Jared Huffman said. "A poster child for this problem is on a rugged stretch of coastline in my district just south of Crescent City, where Highway 101 clings, sometimes, to a very steep crumbling cliff high above the ocean."
Speaking during a House Transportation and Infrastructure Committee hearing on the Biden Administration's priorities for transportation, Huffman mentioned a pre-disaster mitigation program the committee approved that would relocate or replace transportation infrastructure projects that repeatedly fail.
Huffman pointed out that Last Chance Grade is on the main north-south corridor for his district and often closes for "weeks or months" at a time because of the ongoing landslide. A closure disrupts the entire region, Huffman said. A massive failure would cost the region $130 million annually, he said.
The Congressman pointed to a stakeholder meeting he created to tackle find a viable route around the landslide. But because the region is remote, rural and economically challenged, a significant federal investment is needed to complete the project.
"Can you discuss what the Administration wants to do for projects like Last Chance Grade, where critical infrastructure keeps failing and really needs to be rerouted and replaced?" Huffman asked Buttigieg. "Do you agree that we need a dedicated program like what we passed out of the House last year?"
Buttigieg praised the pre-disaster mitigation program the House approved, calling it a great template and said that "forward-looking approach to resiliency" should be woven into "every part of the way we build our infrastructure spending."
"We recognize conditions are shifting, sometimes literally the ground is shifting beneath the infrastructure," Buttigieg said. "Sometimes the right answer will change if not within the lifetime of the authorization, certainly within the lifetime of the project. Shame on us if we're building roads or bridges that's expected to last into the 2070s without thinking about how that's going to look different than the 1970s."
Huffman also mentioned the Emergency Relief program, which helps communities get back on their feet after a disaster. But, he said, it's hard for communities to meet the program's two-year timeline to start construction.
"The last administration was completely unsympathetic to the problem and rejected a number of extension requests in my district and elsewhere," Huffman said. "This jeopardizes tens of millions of dollars in construction projects that we need to repair roads and get back on our feet, and this committee took action to fix it. We favorably reported changes to the ER program."
Buttigieg assured Huffman that the Biden Administration would consider the conditions of disaster-impacted communities and any requests for an extension to qualify for Emergency Relief dollars.
"We understand the impatience, of course, that's encoded into our programs to make sure they get done, but it can't be one-size-fits-all, especially for disaster-impacted communities like those you're describing," Buttigieg said.
This discussion in Congress about Last Chance Grade comes as Caltrans continues to reconstruct the slope following slide activity that shut the road down for roughly three days in February. It also comes after a Caltrans employee and two GR Sundberg staff members were injured due to falling trees.
On Wednesday, a helicopter delivered excavation equipment to the top of the slope. These excavators will perform will reconstruct the slope and install ground anchors for a cable net drapery system.
According to Caltrans District 1 spokesman Myles Cochrane, motorists could see 30 minute to two-hour delays on U.S. 101, though there's a chance for a longer delay later in the week.
"We're still telling people to check Caltrans District 1 on social media," he said. "The latest information posted there is what you should go with."
---
SHARE →