---
Jessica Cejnar / Thursday, March 25 @ 11:57 a.m.
Online Portal Available to Register for COVID-19 Vaccines in Del Norte; Rehwaldt Says Roughly 7,400 Doses Administered
---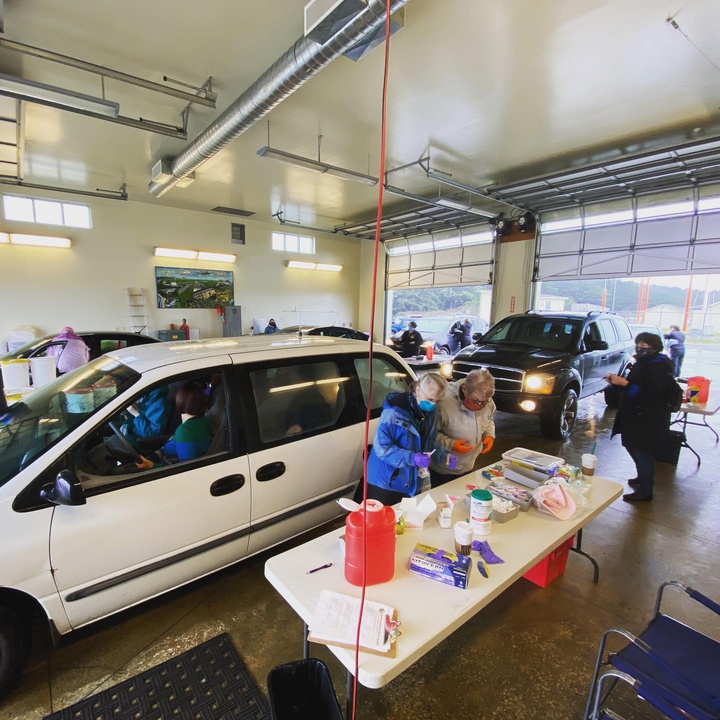 Along with dispelling a rumor that someone local died after receiving a COVID-19 vaccine, Del Norte County's public health officer reminded folks that inoculations are available "for a lot of people."
"A lot of people" will soon include those ages 50 and above, according to a letter Dr. Warren Rehwaldt sent to the community Thursday.
"This is in the next tier section anyway, and we have noticed that there is a drop off of vaccine requests this last week," he said. "We know a lot of people have been getting vaccinated with our local pharmacies, the majority at Rite-Aid, but we also think that most of the people in the first tiers are being reached or have been reached already with an offer of a vaccine."
Del Norte County created a new online portal that will go live Friday. This will allow people to make appointments at for vaccination clinics at the Del Norte County Fairgrounds.
Currently, those 18 and older with a medical condition are eligible for the vaccine, according to Rehwaldt's letter. He noted that proof of underlying health conditions aren't required — that everyone is on the honor system. No one will be turned away, Rehwaldt said.
Those eligible to receive the vaccine also include those working in the food industry, including retail restaurants, Rehwaldt said. However, a wide range of industries are also eligible to have workers vaccinated.
Those needing to be vaccinated also include people who have had COVID-19 in the past and are recovered, Rehwaldt said.
"We are conducting public clinics by scheduled appointment on Tuesdays and Wednesdays at the fairgrounds, and Sutter Clinic will be opening appointments to the public on Thursdays and Fridays," he said. "In addition to Rite-Aid, Safeway is now getting some vaccines from our department and hopefully soon from their parent company. Many of our local medical offices continue to vaccinate and we want to encourage that resource as long as we can."
More than 7,400 vaccine doses have been administered in Del Norte County, which Rehwaldt said is a bit low.
"Realistically, we would like to see about 30-50 percent of the population vaccinated," he said. "That, plus all those who have recovered and are likely to have some immunity, should be enough to get to some early version of immunity for the county. Of the non-incarcerated residents, 30 percent is about 8,000 and 50 percent is about 13,000. If you double those numbers for the required doses, then we are already over a quarter of the way there for that bare minimum needed."
Rehwaldt also mentioned COVID-19 testing in Del Norte County and the nature of the overall pandemic:
OptumServe is available five days a week, and the link and phone number, as well as the schedule are on our website. The North Coast Testing Partnership is about ready to go public, but this service has been ramping up focused testing for partners in the community and for our tribes. We still have local commercial testing with CVS and clinical testing at Sutter, both the hospital and the walk in site, and our local medical offices have the capacity to do testing by sending out as well. Some of our offices have opted to use the BinaxNOW antigen test, and we believe the school district will be using antigen testing in at least special circumstances for the next few months. With all these options, there is no reason to not get tested for COVID. We want to encourage everyone to keep getting tested, even if you have had the virus last year, or been vaccinated. We are very interested in breakthrough cases, especially with the new variants in the world.

Last, the pandemic;
We still see overall improvement in California and the nation, but there are some case numbers, especially in certain places that are trending up or have been active recently. We happen to be one of them; our weekly published case rate (per 100,000) has gone from 7 to 15 over the last month, while all the surrounding California counties have gone down. If this rate gets much higher (17-18 range) we will drop back to Purple Tier, not a good trend. Some of this may be related to where we live, as the counties across the border (Curry, Coos, Douglas and Josephine) have been pretty active as well, but some of it is people letting their guard down. We have been hearing more reports of people spending
time together with friends, sometimes an entire weekend, without regard for masks or social distance, or even vaccination status. Too many stories like that, actually, and more and more people are not heeding our advice about isolation and quarantine. And we get it, please believe us when we say that there is nobody in Del Norte more tired of COVID-19 than those of us at the Health Department. We know it's been a long haul for everyone.

So please don't let us backslide this close to the finish line. We don't need to be in Purple Tier for any part of what's left of the pandemic, but that is where we are headed. We ask everyone to keep doing their best to slow the virus, just a few more months. We all will be better for it.
---
SHARE →