---
Jessica Cejnar / Monday, March 22 @ 10:03 a.m.
Deputy Proves His Mettle at Early Morning Fire on Elk Valley Road
---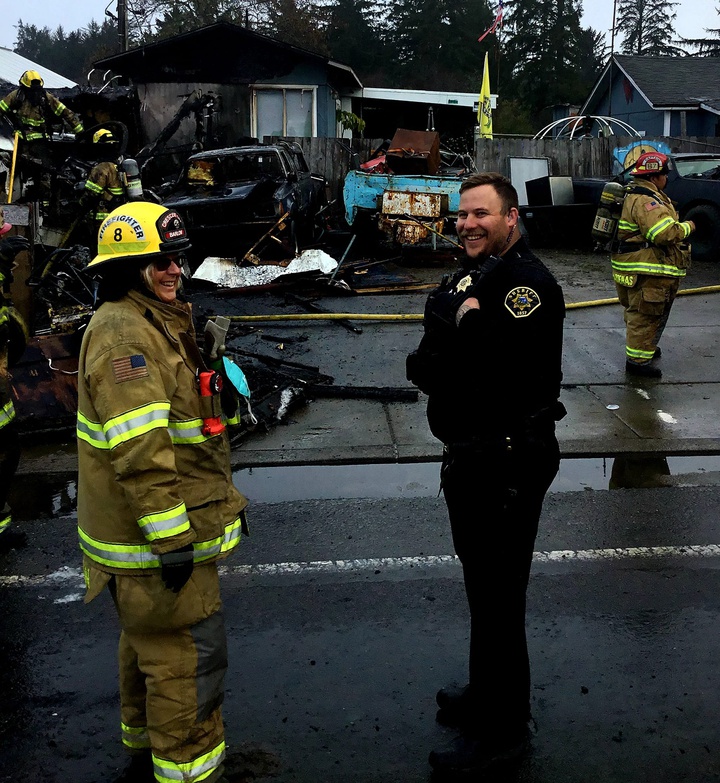 Multiple agencies responded to a travel trailer fire on the 300 block of Elk Valley Road that scorched a neighboring home and spread to a nearby vehicle Monday.
But it was Del Norte County Sheriff's Deputy Kenny Fahndrich who was the real hero, according to Darrin Short, a volunteer firefighter with Crescent Fire and Rescue.
"He was the one who went into the building that was beginning to catch fire, the home there, and evacuated those people out of there," Short told the Wild Rivers Outpost. "While he was in there, this youngster had a seizure and he carried that guy out of the house and then returned to get the lady that didn't want to leave because she was trying to find her dog. But he ushered her out of the building as well."
Eleven Crescent Fire and Rescue firefighters responded to the blaze at about 7 a.m. Monday, Short said. They were joined by two firefighters from CalFire and four from the Fort Dick Volunteer Fire Department. It took about two hours to extinguish the fire, Short said.
Along with the Del Norte County Sheriff's Office, the California Highway Patrol also responded to the scene. Pacific Power also showed up to cut power to the home.
"The whole trailer was a total loss," Short said. "The trailer's completely gone, but the house that was adjacent to the trailer just got scorched on the outside. There was minimal damage and that was a good save on the part of the firefighters that showed up there."
According to the Del Norte County Sheriff's Office, the dog made it out of the burning trailer safely.
---
SHARE →