---
Jessica Cejnar / Thursday, March 18 @ 2:27 p.m. / Local Government
Beach Fire Ban On Public Property Between Battery Point and Preston Island Adopted
---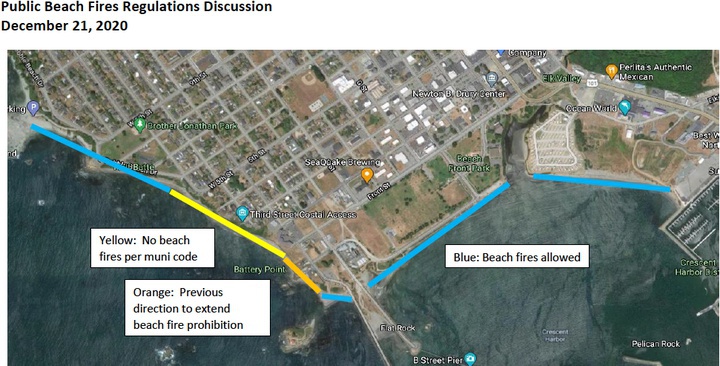 Previously:
• New City Council Agrees With Extending Beach Fire Ban To Preston Island, But Only On Public Property
• Crescent City Council Gets Heated Over Beach Fires, Calls For Revamping 40-year-old Ordinace
###
Beach fires are banned from Battery Point and Preston Island unless they're on private property and those who built the fire have written permission from the owner.
Crescent City Councilors on Monday voted 3-1 in favor of a final ordinance following several months of debate between those who wanted beach fires off limits entirely and those who argued that prohibiting them takes away a "quintessential California activity." Councilor Isaiah Wright dissented.
On Monday, the few residents that commented on the final ordinance expressed mixed feelings. Natalie Fahning and Michael Sayer said the area should be a no-fire zone due to the smoke they generate. Tamera Leighton, who also lives in the area, said she felt the ordinance was a good compromise.
"While I would prefer beach fires to be completely banned in the residential area, this ordinance is better than what we have now," Leighton told Councilors via email. "I view it as a compromise between the restrictions that I prefer and the chaos and confusion that we have now."
Crescent City staff in September recommended updating a 40-year-old law that had originally stated beach fires were only permissible between Front and 6th streets in city-owned fire rings, which didn't exist.
The new regulations would bring the Crescent City Municipal Code in line with the 2019 California Fire Code, allowing the fire and police departments to issue citations to those who violate the ordinance.
The updated ordinance allows fires up to 3 feet in diameter and 2 feet in height on private property with the owner's written permission. The fire must be 25 feet away from structures or vegetation, the fuel must be organic and they must be fully extinguished before being abandoned. The ordinance also prohibits burying coals.
The new law takes effect in 30 days, which allows city staff to install signs informing people of the new regulations, according to City Attorney Martha Rice.
According to Crescent City Manager Eric Wier, the signs will be placed at all access points, including the path that leads to the beach near Taylor and 6th streets.
Though two out of the three residents who spoke during public comment opposed the new ordinance, Mayor Pro Tem Blake Inscore pointed out that a future City Council could make changes.
"Obviously a decision was made in 1980 and it probably should have been updated," he said. "(This ordinance) puts something on the books that provides enforcement for our fire chief and also for our police chief. I do encourage residents to continue monitoring the situation."
Crescent City Mayor Jason Greenough, who in earlier discussions said he felt like the Council was trying to penalize private property, said he felt the final ordinance was a good compromise between banning fires "indiscriminately" and allowing property owners to use their property.
"Seems like this ordinance will tend to keep people from utilizing that stretch of beach on a regular basis," he said. "This ordinance will also place responsibility on the property owner when someone does utilize the beach.
---
SHARE →