---
Jessica Cejnar / Wednesday, June 16 @ 4:40 p.m. / Education
DNHS Principal Hopes New Schedule With Fewer Classes, More Time With Teachers, Will Help Students Get Back on Track After COVID
---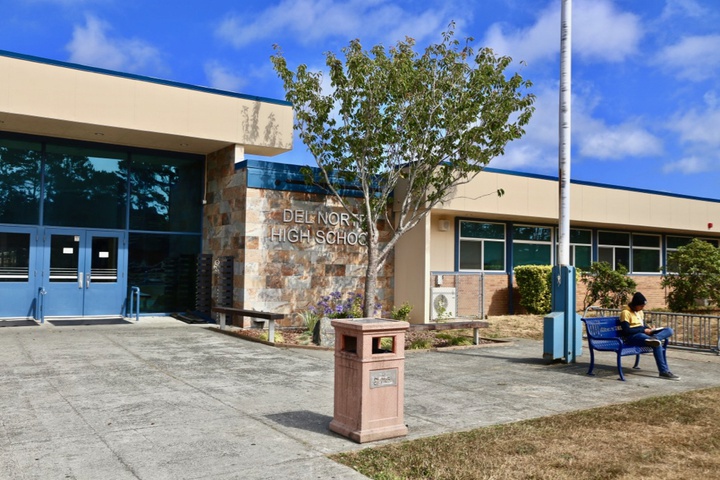 Citing an increase in students with failing grades or who are "off-track to graduate," Del Norte High School principal Alison Eckart unveiled a new schedule that will, hopefully, make up for what her students lost during the COVID-19 pandemic.
Starting this fall, DNHS is trading in the six-period schedule for four periods, each lasting 90 minutes, Eckart told the Del Norte County Unified School District Board of Trustees on Tuesday.
The new schedule will allow students to retrieve lost credits, spend more time collaborating with teachers and peers and receive tutoring if needed, Eckart said. Students will also have the opportunity to participate in more than one elective, she said.
These changes come after roughly 18 months of distance and hybrid learning brought on by the COVID-19 pandemic. Students were unable to participate in sports, clubs or music programs for much of the year, Eckart said. Access to the devices and internet necessary for distance learning was also challenging, she noted.
"We have a full class who's never really met our teachers in a standard schedule," Eckart told the Wild Rivers Outpost, speaking of DNHS's Class of 2024. "Our Class of 2023 got their sophomore year cut short as freshman, so they didn't have that rite of passage. We have some deficits socially, some deficits emotionally and some deficits academically, and when we think about student success we all know those are intertwined."
About 80 juniors and seniors received at least one failing grade in their classes this year, according to Eckart. Among sophomores and freshmen, roughly 280 got at least one F this year, she said.
Meanwhile, noting students must receive 220 credits to graduate — 60 at the end of their freshmen year, 120 at the end of their sophomore year and 180 at the end of their junior year — Eckart said some students received zero credits.
"That's a travesty," she said, adding that issues with attendance, social-emotional and family challenges are also a factor. "I take responsibility for that. I have 24 kids — they have barely earned anything their freshman year. What am I going to do? How do I get them accelerated so they can have a can-do attitude and mindset?"
Del Norte High's new schedule may provide the answer. Instead of earning 60 credits in a year, students will be able to obtain 80 credits, Eckart said. Noting that the high school as a "built-in cushion" of 20 credits and most seniors graduate with 240 instead of the required 220 credits, Eckart said that cushion would widen from 20 to 40 for everyone. During a student's second year in school, they will have earned 60 additional credits, she said.
"We're not increasing graduation requirements, we're adding more opportunity for kids to take more credits in a year," she said.
The new schedule will also allow for fewer passing periods, which Eckart said would mean fewer suspensions. It would also allow those with individual education plans, or IEPs, to receive more specialized academic instruction, she said.
"We're not giving up electives," Eckart told trustees. "A lot of the time, students with IEPs have to sacrifice an elective like choir, CTE or dance to take a study skills class. The schedule offers two more periods per year. Now, students with IEPs will not be limited by that."
During Tuesday's meeting, Trustee Area 5 representative, Jamie Forkner, asked Eckart about students' ability to retain what they learned, using math as an example.
Eckart said students enrolled in math or world language could start with one level the first semester of the year before moving on to the next level. She also said she plans to use COVID-19 relief dollars the district received to hire a full-time English and math tutor.
"I asked for extra math teachers and extra English teachers for my (English Language) learners," she said. "They need year-long support. My students with IEPs need year-long support. My Gen Ed kids need adults who care and believe they did not lose as much as they can gain."
Trustee Area 1 representative Don McArthur said he prefers a focus on fewer subjects more intensively rather than as many as six. While the loss of instructional minutes was a concern for his colleagues and teachers, McArthur said the limited transition period between classes may make up for that.
"There's tremendous friction on learning, and if we can get kids to get really in depth and develop relationships, I think it's a potential game changer," he said.
Eckart said she would be spending much of the year collecting data on how the new schedule impacts students academically and socially and emotionally.
On Wednesday, Eckart was preparing for the second of two graduation ceremonies held for the Class of 2021. One-hundred and seventy-five seniors are graduating this year, she said.
Eckart noted that Del Norte High didn't lose a lot of graduating seniors, adding that more students may meet their graduation requirements by June 30.
"I'm pretty stoked considering the year we had," Eckart told the Outpost. "Teaching was probably the most challenging I've ever seen it in my life ever and I've been a teacher for 25 years here. Props to the teachers and everyone who were the team support of all of our kids."
Documents:
---
SHARE →