---
Jessica Cejnar / Tuesday, July 27, 2021 @ 5:39 p.m.
Green Diamond Seeks to Open Timber Land Near Wonder Stump Road to Residential Development; Process Expected to Take 10 Years
---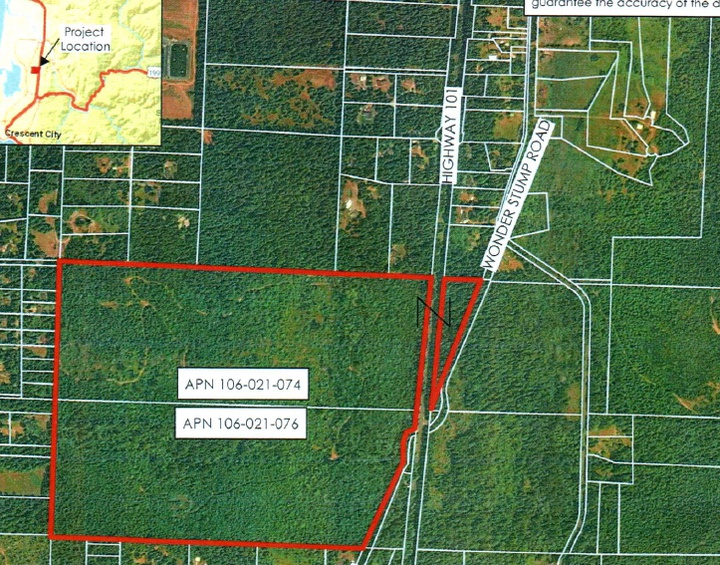 Four county supervisors signed off on Green Diamond Resource company's plan to transition timber lands on Wonder Stump Road north of Crescent City to allow for residential development.
According to the company's application to amend the county's general plan and rezone part of an area known as Fort Dick Flats, the site would allow for up to 55 residential parcels. But, though supervisors were supportive of both requests, they were dismayed at the potential 10 years it could take before the area could be subdivided for residential use.
"It seems like, at least demand right now for housing in the community, or even vacant land at this point in time has been quite steep," Board Chairman Chris Howard said Tuesday, adding that with more stringent fire safe regulations coming from the California Board of Forestry and the risk of sea level rise, developable land is limited in Del Norte County. "I'm wondering if Green Diamond would be willing to have a conversation, maybe outside this current approval process from the Board, about speeding up this process. My concern at this time is we do not have enough developers."
District 4 Supervisor Gerry Hemmingsen, who represents the Fort Dick area, recused himself, saying his daughter has a home nearby.
The two parcels, Green Diamond is calling Fort Dick Flats, consists of 212 acres on the north end of Wonder Stump Road west of U.S. 101, according to the county's staff report. Currently zoned timberland preserve, the two parcels are currently used for growth of commercial timber.
The area also houses seasonal wetlands as well as water courses on the north and southwestern portions of the property, said Mike Nelson, CEO of LACO Associates, Green Diamond's agent for the project. The two parcels house a developable area of 160 acres, Nelson told supervisors.
According to Nelson, when Green Diamond was conducting its initial environmental review study, CalFire representatives said they were opposed to the reduction of timberland, they wouldn't be against the rezoning of the area for residential use if no other land in the county was available.
CalFire stated Green Diamond may need to submit timber harvest plan and obtain a timberland conversion permit to prepare the two parcels for residential use, according to Nelson.
According to Del Norte County Community Development Director Heidi Kunstal, there are two methods for a property owner to have land removed from the timber reduction zone and re-zoned for residential use. The first method would require the property owner to pay a recruitment fee that is calculated by the county assessors office, which includes back taxes, and to bring the property up to the current standard tax, Kunstal told supervisors.
The second method is the 10-year rollout, which is the process Green Diamond has started with the Fort Dick Flats project, according to Kunstal. The last time a property owner used this method was in 2003, which became effective in 2013 in the Wonder Stump Area, she said.
Craig Compton, manager of land management for Green Diamond, said after speaking with the Del Norte County assessors office, the value of the land may be a "bit more" than it is currently at the end of the 10-year process for converting it from timberland preserve zoning to residential zoning.
"If there's an incremental increase every year until the 10th year, at that time we'll be paying the full assessed value with the new land use above," Compton told supervisors. "And what Green Diamond's reasoning for taking that approach is, instead of doing a more immediate process is strictly from a cost basis."
There was a question about access to community water and why that wasn't considered, according to Kunstal, who was speaking on behalf of residents who own property near the Fort Dick Flats area.
According to Nelson, the site isn't within Crescent City's municipal water service area, though a water tank and water line that services the system goes through the property. Nelson said his firm spoke with the Local Agency Formation Commission about potentially being served by the city's water system, but found that would require an annexation process to expand the service area's boundaries.
"It does add an additional expense and given that there's not any immediate development within that 10-year horizon, it would in our view be an unnecessary expense to do right now," he said. "There wouldn't actually be any usage of that water. So, it would sort of front-load the cost and effort to get the water service there only to not use it for 10 years."
According to Compton, Green Diamond began working on the process to convert the land from timber production to residential use for about a year and a half to two years, before there was a spike in residential housing.
Though Howard pushed Compton to consider speeding up the project, Compton said he felt it was best to "proceed with the project and application as submitted."
"And if there was continued demand for residential development to revisit that question," he said.
As the project currently stands, in 10 years a developer could submit an application to the county to subdivide the properties, Kunstal said. That developer would have to have a site plan and conduct environmental studies for the project required under the California Environmental Quality Act, which includes notification in the newspaper of record, she said.
"There will be at least two opportunities for folks to be able to comment on that," Kunstal said. "But that doesn't even happen until 10 years…"
---
SHARE →