---
Jessica Cejnar / Friday, Jan. 8, 2021 @ 11:15 a.m. / Ocean
California Crab Fishermen Reduce Asking Price To $3.10; Representative for Processors Says COVID-19 Effects On Dungeness Market Continue
---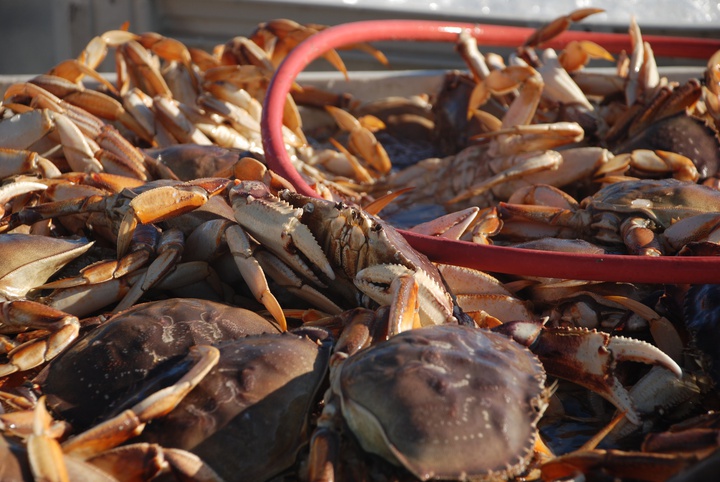 Though they've budged on price a bit, Dungeness crab fishermen and seafood buyers continue to haggle.
However processors are still feeling the effects of the COVID-19 pandemic, according to Lori L. Steele, West Coast Seafood Processors Association executive director. They want the season to start as much as fishermen do, she said, but they're still dealing with a surplus of product from last year.
"When the pandemic hit in March, when the stay at home orders came down across many states, we were at the peak of crab season essentially and we lost about 70 percent of our market with the closure of restaurants," Steele told the Wild Rivers Outpost on Thursday. "The majority of Dungeness crab is sold to markets and restaurants and that market went away overnight. It was a really chaotic blow to the markets at that time."
Fishermen marketing associations in California agreed Thursday to lower their asking price to $3.10 per pound from $3.25, said Rick Shepherd, president of the Crescent City Commercial Fisherman's Marketing Association. They made this offer to processors including Pacific Choice Seafoods, of Eureka, and Oregon processors Bornstein Seafoods and Hallmark Fisheries, Shepherd said.
"This is the offer to seafood processors like Pacific Choice, Bornsteins and Hallmark (to) see if they will come up with their $2.50," said Shepherd, who sat in on a conference call with West Coast fishermen Thursday. "That was a vote for every port in California."
Shepherd said fishermen associations in Oregon are also negotiating over the price, but he didn't know the exact details.
The California Department of Fish and Wildlife opened the commercial Dungeness crab season on Dec. 23. Typically starting Dec. 1, the season in Crescent City and the northern management area was delayed due to poor quality crab. In Central California, the season was delayed due to the potential risk of whales becoming entangled in crab gear.
When the season began, buyers were offering $2.25 per pound to fishermen for their catch, according to Shepherd.
Just before the season in California officially opened last month, Shepherd said he expected the pandemic to have an effect on the demand for crab.
And in a statement to the Outpost, Jon Steinman, Pacific Seafood's vice president of processing, echoed Steele's comments about the pandemic.
"Flipping the page on the calendar unfortunately didn't erase the challenges our industry is facing," he said. "We're talking to the boats we partner with about solutions to the exceptionally difficult market conditions created by continuing restaurant closures, and appreciate their partnership as we collectively navigate this extremely difficult unprecedented time."
According to Steele, because the fishing industry is an essential workforce during the pandemic, processors put in the position of having to pay fishermen to keep fishing, paying their employees and finding somewhere to sell the product.
Challenging these responsibilities are labor shortages and costs associated with adapting to the pandemic, such as employees can maintain a safe social distance in a processing plant, ensuring they have personal protective equipment and putting up plexiglass dividers and other safety measures, Steele said.
Though she couldn't comment on what the "correct price" should be, Steele pointed out that several elements go into getting it right. This includes the cost of processing and packing the product, putting it in cold storage and then getting it to supermarkets, restaurants and elsewhere, she said.
Now, instead of sending out 25-pound packages of fresh crab to restaurants, processors are repackaging it into 5 and 10 pound bags for grocery stores or to sell frozen in Costco, Steele said.
"A lot of stuff is being repackaged and repurposed," she said. "They're looking for every possible avenue for market, but that doesn't come without cost of course. We're moving crab as much as we can while still dealing with surplus from last year. That's part of our problem as well."
To offset challenges from the pandemic, the federal government redirected $300 million to fishermen and processors last year, according to NOAA Fisheries. Many fishing vessels also received payment protection plan loans through the Coronavirus Aid, Relief and Economic Security Act.
About 1,175 independent fishermen and 664 wholesale buyers participate in the commercial Dungeness fishery in California, Oregon and Washington.
Despite the challenges and the surplus in product, Steele said processors are just as eager as fishermen for the season to begin.
"If we can get an agreement between the vessels and the buyers on price, we'll be processing crab tomorrow," she said. "The processors want product. We all want to get our employees, and keep them, working. There's not so much surplus that there's not a need for more crab."


---
SHARE →