---
Jessica Cejnar / Wednesday, Jan. 27, 2021 @ 11:42 a.m. / Outages, Weather
Storm Sparks Outages Due To Wind, Traffic Hazards Due To Snow
---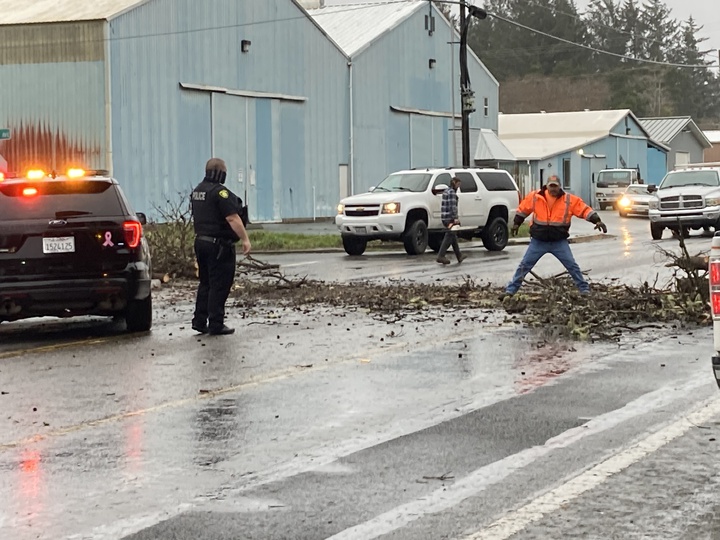 Scattered outages are plaguing residents between Grants Pass and Crescent City, affecting about 8,700 Pacific Power customers as of 10:45 a.m. Wednesday.
Roughly 2,220 Del Norte County customers were without electricity on Wednesday morning, according to the utility's webpage.
Weather is a likelihood, but the actual cause of the outages is under investigation, Pacific Power spokesman, Drew Hanson, told the Wild Rivers Outpost.
"Field crews haven't relayed to the office on what exactly was the cause," he said. "We do have crews actively out and working. Safety is our No. 1 priority in inclement weather conditions. We do appreciate our customers' patience and understanding."
An atmospheric river has brought wind gusts as high as 62 mph Tuesday and between a half an inch to roughly an inch of precipitation in the Crescent City area, according to National Weather Service meteorologist Scott Carroll.
Wind gusts were about 50 mph at the Del Norte County Regional Airport, Carroll said. The NWS has also received a report of more than an inch and a half of moisture in Del Norte County's mountains, he told the Outpost.
Snow levels have also dropped to between 1,000 and 1,500 feet as a result of the storm, Carroll said. Meteorologists have received reports of snow levels below 1,000 feet, but without much accumulation, he said.
The California Highway Patrol Crescent City office reported that U.S. 199 is open, but discouraged travel between California and Oregon due to heavy snowfall. They recommended motorists carry chains, do a thorough check on brakes, tires, windshield wipers and have plenty of fuel, prepare for road closures by bringing blankets and extra snacks and take their time.
An upper trough of low pressure has produced the rain, cool temperatures and wind Northern California and Southern Oregon have seen in the last few days, Carroll said. The large low pressure system off the Oregon coast, along with wind flow in a counterclockwise direction, has brought moisture up from the southwest that's impacting the North Coast, he said.
"An atmospheric river's basically just a long train of moisture that sets up over the same area for an extended period of time," Carrolll said. "That's basically what we've been looking at."
Meteorologists expect inclement weather off and on for the next week roughly with another front coming into the area Friday night into Saturday, according to Carroll. This system is expected to bring showers lingering into Sunday.
Another batch of heavy precipitation is expected for Monday with showers lingering into Tuesday, Carroll said. It may dry out in the middle of next week, he said, but it's too early to tell for sure.
Snow levels, meanwhile, are expected to climb back up to about 3,000 feet or more for the next several days, especially on Saturday and Sunday, Carroll said. Snow levels will drop back down late Monday into Tuesday to about 2,000 feet, though precipitation could be winding down by about that time, he said.
"People traveling through the mountain passes over the next couple of days should keep in mind there's been quite a lot of measurable snow," Carroll said. "There are probably going to continue to be chain requirements and may still be road closures here and there from heavy snow."
For more information on weather conditions, visit www.weather.gov/eka.
---
SHARE →