---
Jessica Cejnar / Friday, Feb. 19, 2021 @ 12:38 p.m. / Roads, Traffic, Weather
Landslide Closes Road To Klamath Glen; Closure At Last Chance Grade Continues
---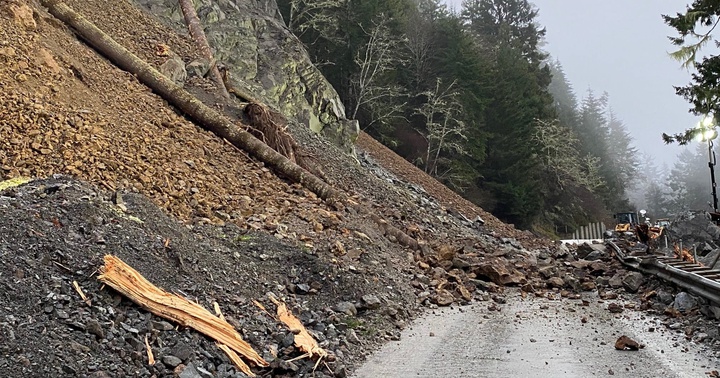 Landslides have blocked both U.S. 101 and State Route 169 on Friday, forcing Caltrans to bring resources from Eureka to reopen the only road into Klamath Glen.
However, the current closure of U.S. 101 at Last Chance Grade and active power lines on Highway 169 is slowing response to the Klamath Glen area, said Caltrans spokesman Myles Cochrane.
"PG&E is responding for Pacific Power because of Last Chance Grade," he told the Wild Rivers Outpost. "They're working together."
Roughly 753 Pacific Power customers in Klamath were without power at about 8:27 a.m. Friday, according to the utility's outage map. As of about 12:30 p.m., 250 were still without power, according to Pacific Power spokesman Drew Hanson.
Highway 169 is closed at the intersection with U.S. 101 in Klamath. Caltrans crews are making their way to the area from Eureka, Cochrane said.
The Del Norte County Office of Emergency Services, Del Norte County Sheriff's Office, the Yurok Tribe Office of Emergency Services, the Yurok Fire Department, Klamath Fire Protection District and the California Highway Patrol, will be meeting to discuss how to respond to the Highway 169 closure, Emergency Services Manager Kymmie Scott told the Outpost.
Meanwhile, the slide at Last Chance Grade began acting up around noon on Thursday, according to Cochrane. Caltrans reopened the road at about 4:45 p.m. and then closed it again at about 6:15 the next morning. According to Cochrane, it's in the same area as a previous slide that shuttered the highway on Saturday.
Geologists continue to monitor slide activity on U.S. 101, Cochrane said. Caltrans also has both crew members and contractors in the area, he said.
Cochrane urged motorists to check Caltrans' Facebook page as well as its Quick Map web page before they travel.
---
SHARE →