---
Jessica Cejnar / Tuesday, Feb. 16, 2021 @ 3:44 p.m. / Community, Local Government, Oregon
Contour Airlines Seeks Input On Potential Destination Change — Sacramento Or Oakland?
---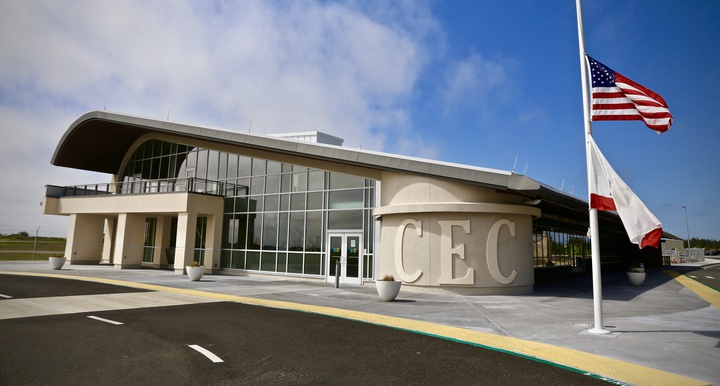 After nearly three years of flying Del Norters to Oakland, Contour Airlines will ask the community its thoughts on changing destinations to Sacramento.
The Smyrna, Tennessee-based airline has entered into a partnership with American Airlines that allows passengers to book a single ticket between both carriers, according to a Dec. 10 email from Contour CEO Matt Chaifetz to Del Norte County Regional Airport Director Randy Hooper.
Noting that American Airlines has no flights out of Oakland International Airport currently, District 3 Supervisor Chris Howard, Del Norte County's representative on the Border Coast Regional Airport Authority, said he hopes people will attend the joint powers authority meeting Thursday to weigh in on the potential change.
"Contour has asked specifically for the move," Howard told the Wild Rivers Outpost last week. "They would basically be good with either decision we make — they wouldn't be in the market without the federal subsidy — so it's our decision, it's the community's decision."
Contour has offered direct flights from Crescent City to Oakland since April 2018 thanks to a subsidy from the U.S. Department of Transportation's Alternate Essential Air Service program. Last year, the department renewed Contour's contract with the Border Coast Regional Airport Authority to provide air service through 2024.
The Alternate Essential Air Service program allows communities eligible for the Essential Air Service subsidy more flexibility in selecting a carrier that meets their needs. The EAS program serves eligible communities that wouldn't receive scheduled air service otherwise.
In a presentation to the BCRAA on Feb. 4, Contour representatives stated that due to its agreement with American Airlines, changing destinations from Oakland to Sacramento would expand its network to five more cities, including Los Angeles and Phoenix.
American Airlines also offers non-stop service to Dallas-Fort Worth, Chicago, Charlotte and San Jose del CAbo, Mexico from Sacramento, according to a Feb. 15 memorandum to the BCRAA.
Contour representatives also state that transitioning Crescent City service from Oakland to Sacramento would generate eight daily passengers that are connecting to an American Airline flight in Sacramento.
"Double-connect itineraries via SMF to an AA hub provides access to nearly all of the CEC-US market," Contour's presentation states.
Daily flights from Crescent City to Sacramento is expected to have a load factor of between 73 percent and 78 percent, according to Contour's presentation.
Speaking before his colleagues on the Board of Supervisors on Feb. 9, Howard said he had hoped Contour's proposed destination change for its Crescent City flights will be deliberated much further.
"Obviously we've been here before," he said. "I think it needs to be well fleshed out before a dramatic decision like this is made. We can't think of it as meeting this county's concerns, but also meeting the needs of people traveling to this county."
The Border Coast Regional Airport Authority is a joint powers authority that includes Del Norte County, Crescent City, the Elk Valley Rancheria, the Tolowa Dee-ni' Nation, Curry County and Brookings. The BCRAA will meet at 2 p.m. Thursday. For more information, visit Fly Crescent City.


---
SHARE →