---
Jessica Cejnar Andrews / Monday, Dec. 13, 2021 @ 9:08 a.m.
Power Still Out for 758 Customers; Hail, Gusty Winds, Large Waves Expected Today
---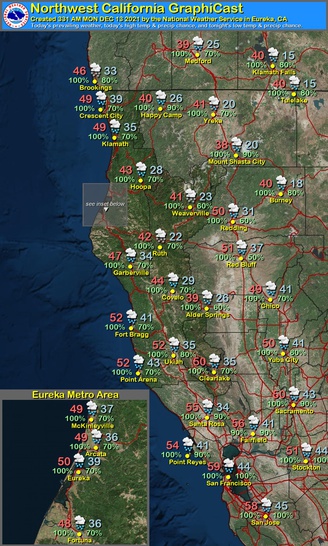 A Pacific Power spokesman said electricity should be restored by about noon to approximately 758 customers who woke up in the dark on Monday morning.
A large storm front caused a transmission outage, cutting power to about 12,374 customers countywide at about 3:30 a.m., according to utility spokesman Tom Gaunt. Power was restored to most customers in Del Norte at about 5:35 a.m., though smaller outages persisted as of about 9:03 a.m. Monday.
"It was a transmission outage. It caused a wider outage, but once we were able to restore the transmission (line) then they could get back to work on whatever local outages there might have been," Gaunt told the Wild Rivers Outpost. "It's like you blew the fuse, but also had a couple lightbulbs out. After fixing the fuse, you still need to fix the lightbulbs."
According to the National Weather Service, numerous showers are moving onto the coast this morning with some small hail. Hail is most likely "beneath dark cloud bases along Highway 101," according to the NWS.
Gusty winds in excess of 40 mph are also anticipated as are large breaking waves 18-21 feet high along the coast. These waves can sweep people into the ocean from rocks, jetties and beaches and move large objects such as logs, crushing anyone underneath, according to the NWS.
---
SHARE →