---
John Ross Ferrara / Tuesday, Aug. 3 @ 2:20 p.m. / Crime
Curry Sheriff's Office Arrests Six While Serving Search Warrant at Alleged Illegal Marijuna Grow South of Brookings, Destroys $15 Million Worth of Weed
---
Curry County Sheriff's Office:
On July 30 at about 8 a.m., a Curry County Sheriff's Deputy confronted two Hispanic males on Peavine Road off the Winchuck River Road south of Brookings carrying bundles of marijuana from a property there.

The Curry County Sheriff's Office has been investigating that same property for the illegal manufacture of marijuana the past few months. The two males were detained and when additional deputies arrived, four more Hispanic males were detained in connection with an illegal marijuana grow.

Deputies learned there were possibly more subjects in the area with guns. With evidence obtained over a period of time, which started with complaints from concerned citizens, a search warrant was requested through the Curry County Circuit Court.

The search warrant was authorized to enter the property to further investigate and deal with the illegal marijuana grow. At about 2:24 p.m., Sheriff's Deputies along with Detectives, Supervisors, and K-9's entered onto the property and searched the entire property for any other subjects that may be located there.

Sheriff's Deputies located nine large structures throughout the steep wooded property that were full of mature marijuana plants. Along with the plants, there were makeshift shelters where people had been staying on the property to work the gardens. Deputies found an abundance of chemicals and other items that would damage the land and nearby water system.

It was determined that due to the number of plants that needed to be destroyed and evidence collected, members of the Sheriff's Search and Rescue team arrived to assist with the process. All the illegal plants that were found were cut down to be hauled away and destroyed.

The six males that were arrested in connection with the illegal grow were transported to the Curry County Jail and lodged on Manufacture of a Controlled Substance. As darkness approached, Sheriff's Reserve Deputies were called out to provide security of the property throughout the night.

On July 31, Deputies and SAR returned to the property and gathered all the plants and additional photo evidence. It is estimated the street value of what was destroyed was just over $15 million.

All information will be provided to the Curry County District Attorney for prosecution. The Curry County Sheriff's Office will continue the investigation.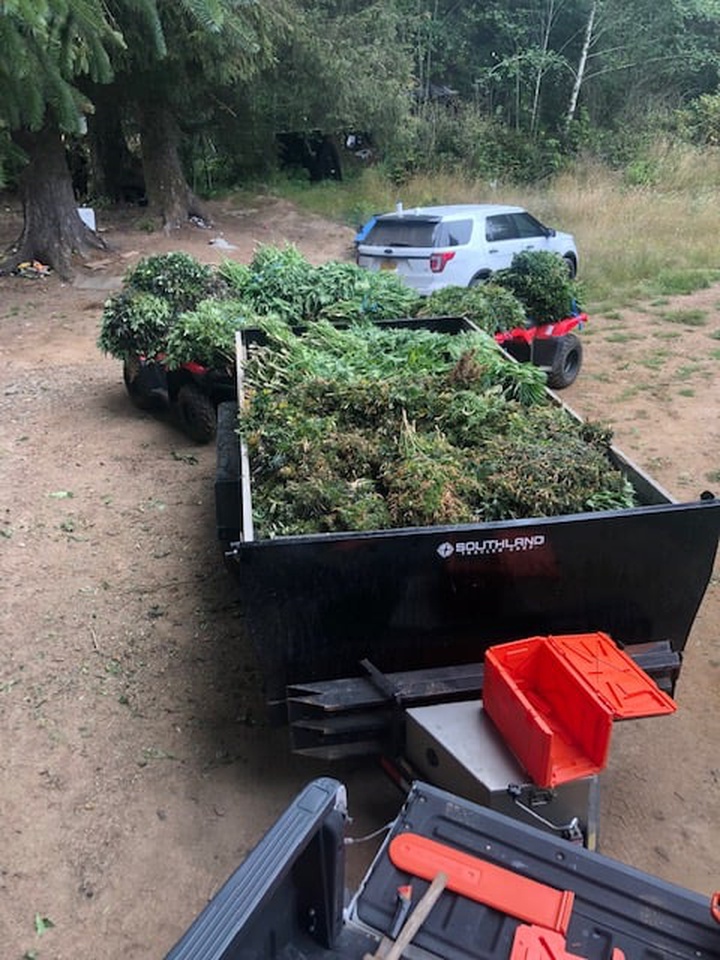 ---
SHARE →