---
Jessica Cejnar / Tuesday, April 6 @ 4:19 p.m. / Homelessness, Local Government
Del Norte Mission Possible Adds Cemetery Area to Winter Shelter-in-Place Rounds
---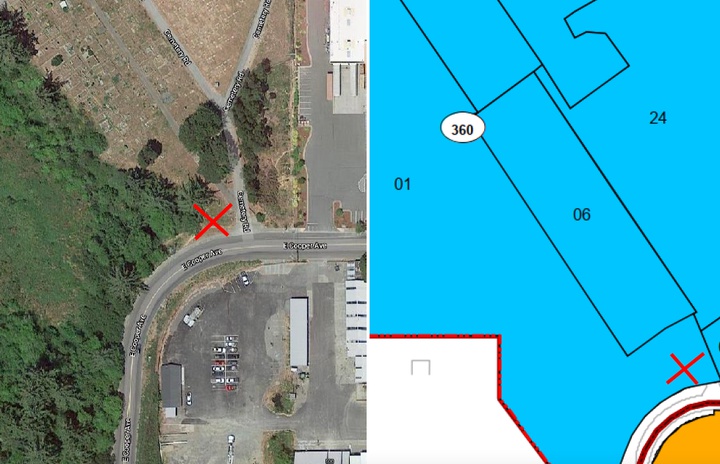 Councilors will allow Daphne Lambert to bring Del Norte Mission Possible's Winter Shelter-in-Place program to the green space near the Crescent City cemetery.
They hope the program will help clean up one of the community's primary concentration of homeless encampments, allaying property owners' complaints about trespassing, illegal dumping and stream diversions.
Lambert says her program helps empower the unhoused to keep their camps clean in exchange for necessities like tarps, hand warmers and socks, food and candles. She also connects them with support services for those who are homeless or at risk of homelessness.
"We all know we can go in and we can clean something up, but it's going to be a mess again, right? That's human nature," she said. "What I am suggesting is that the city allow me, give me the use permit, let me do the outreach there and see what can happen."
Three Crescent City Councilors approved an event permit on Monday for Lambert and her volunteers to use a city-owned access road near the cemetery on Cooper Avenue. Newly-appointed Councilor Ray Altman and his colleague Isaiah Wright recused themselves, saying they have property in the area.
That access road near the cemetery will be the fourth stop on Lambert's rounds, which since January have included the Walmart area, the RHS building on M Street and Park City Superette at Elk Valley and Howland Hill roads every Thursday.
Though it wasn't a major goal when the program began, Lambert has provided contractor bags to those who come to her for necessities and services. They return to their camps, fill those bags with trash and bring it back to Lambert who takes it to the Del Norte Transfer Station. She said the Del Norte Solid Waste Management Authority has waived its fees for her to drop off that garbage.
"If the unhoused do that for four weeks in a row they earn something — electric hand warmers that charge phones or if they need something else I'm there to give them that as well," Lambert said. "That part of the program has exploded. Just last week, they picked up 3,120 pounds of garbage. That was in my truck. That was to the sky where I couldn't see over it."
The Council heard from Lambert following a presentation from Police Chief Richard Griffin, whose officers have investigated the ravine near Breen Street, which connects with Harding and Cooper avenues as well as the cemetery.
Showing them photos of what he and his officers found, Griffin said they've stumbled on encampments on private property that have been excavated and fenced, had graffiti on trees and limbs lopped off.
At one encampment, those living there had built a bridge, diverting the stream, Griffin said. A large Home Depot shopping cart was in the water and he found several burn pits for trash that totaled to about 20 square feet.
"It's extremely easy to drive by and not know what's going on 10 yards from you," he said, adding that since some property in the area is within the county's jurisdiction he'd get in touch with Code Enforcement Officer Dominic Mello. "You can't see it from the roadway. So, if we have other calls for service, even if we drive through that neighborhood, there's no way for us to know what's going on behind the fence line."
The encampments have been vacated, according to City Manager Eric Wier. The owners will be responsible for cleanup on their property. They can also post "no trespassing" signs and contact the police department to deter further encampments, he said.
Griffin said his officers will focus on education first, connecting them to Del Norte Mission Possible, the Winter Shelter-in-Place program and other services rather than arresting transients.
In addition to helping those who are homeless keep their camps clean, Lambert said she has a license with the Homeless Management Information System. She said she hopes to partner with the county Social Services and Behavioral Health branches to get a count of the local homeless population that's more accurate than the most recent Point in Time Count.
This year because of the COVID-19 pandemic, the annual count of Del Norte County's homeless population only included those who were housed at an emergency shelter, a domestic violence shelter, a recovery home or a motel or hotel, Department of Health and Human Services Director Heather Snow told the Wild Rivers Outpost for a Feb. 26 article. Many DHHS staff who would have reached those who were without shelter on Jan. 25 — when the count takes place — were busy with contact tracing and other duties related to the pandemic, according to Snow.
On Monday, Mayor Pro Tem Blake Inscore said he hoped Lambert's program would allow Del Norte County to have a more accurate Point in Time count based upon the relationships she has built with local partners.
"The idea that there's 180 some-odd (homeless people) in our whole area and that's where the number has been for the last several years…." he said. "I think everybody knew that number was more. But now we have a way to quantify that because of this program which really wasn't designed to count heads, but that's what it's accomplishing."
Lambert has been running her Winter Shelter-in-Place program with roughly $22,300 from the Wild Rivers Community Foundation and the Humboldt Area Foundation. She is also receiving private donations for the program.
According to Lambert, funding for her program will last until the end of May.
Inscore said he hopes the city's partnership with the Winter Shelter-in-Place program will help Lambert either receive more funding or have her existing grants extended.


---
SHARE →