---
WRO Staff / Wednesday, April 21, 2021 @ 9:49 p.m.
OBITUARY: Taos Proctor, 1981-2021
---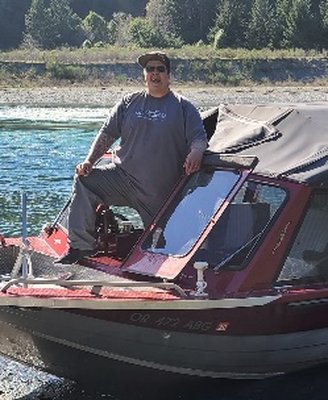 Taos Proctor, a fisherman, logger, builder and artist passed over to the Spirit World on Thursday, April 15, 2021 doing what he loved most. Taos was born in Sacramento on August 6, 1981 and was raised on the Klamath River, where he resided in the beautiful heart of his Yurok people, the Glen. He lived his beautiful and loving life with his family on the water's edge, in the high country, along the mountain ridges and engaging with all of the elements of his homeland and people. He established home on the river, where he spent all of his time eating his ancestral foods and making a beautiful family and beautiful things of redwood, i.e., like his old-growth planked sweathouse, beautifully-detailed stools and many more amazing creations. Taos loved life and loved to fully define himself in being a loving husband, dedicated son, devoted father and giving friend. He lived life in an established and adventurous manner who was always there to give a hand and heart to his community, family and friends. His best of friends were his boat, net and saw. He loved being in the water and on the land. Taos comes from the villages of Waukell, Wautek, Mettah and Pecwan. He will forever be remembered for his big heart and contagious laughter.

He is survived by his loving children Talise, Cheygoon and Candralia and amazing wife Kelly, aka "Musk". His mother Jeannette (and very late father Jack Scott) of Klamath., father Jimbo Proctor, brother James (Stacey) Proctor, Juanita (Joey) of Gustavus, AK , Tony Scott of Clear Lake, Calif., Shasta Scott of Medford, and Jamie Proctor of Klamath. Grandmother Jeannette Eberhardt and favorite auntie Jolleanne (Jeff, Mike, Takota, Phillip) Brittain of Crescent City, and numerous loving family members.
Thursday, April 22, 2021, a wake will begin 6 p.m. at the Riverfront House (26 Riverview Drive) at his home, 41 Laurel Lane in Klamath. On Friday, April 23, 2021. Services will begin at Requa, 11 a.m. for his last boat ride with his family and friends. He will be laid to rest and interned at the Aawok Scott-Gibson Family Plot, 511 Au Minot Creek Road in Klamath, and we will close with a potluck gathering at the newly-built Aawok Ada Charles Memorial (in honor of his late grandmother) Building at Klamath Townsite.
The pallbearers are: Cheygoon Proctor, Jimbo Proctor, Jeff Brittain, James Proctor, Takota Brittain, Mikey Jones, Fred Tuttle, Tim Sterbentz, Jason Ford, Albert Jasso, Brian Hendon, Keith Ray, John Donahue, Tony Scott, Richard Nelson, Dave Santer, Robert Ray Sr., Ryan Ray Sr., Steven Osburne , James Coddington, Mauain Johnson, Tyler Gibson, Micah Gibson, Blake Lopez, John Lien, Benjamin Proctor, John Proctor, Daniel Proctor, Lance Bates, Colin Latulippe, Nantsvn Scott, Trenton Thompson, Richard Sallee, Jay Bates and Joey Harvey.
###
The obituary above was submitted on behalf of Taos Proctor's loved ones. The Lost Coast Outpost runs obituaries of Humboldt County residents at no charge. See guidelines here.
---
SHARE →