---
Jessica Cejnar / Monday, April 19, 2021 @ 5:18 p.m.
Resighini Rancheria Installs Gate On Klamath Beach Road As Part Of Ongoing Battle Against Illegal Dumping
---
(Updated at 8:15 a.m., correcting the size of land assignments and whether non-tribal members can be held accountable for dumping.)
Though they've received funding from the Bureau of Indian Affairs and CalRecycle to clean up their lands, illegal dumping continues to be a problem for the Resighini Rancheria.
The 455-acre rancheria on the south side of the Klamath River in Del Norte County has been a prime location for dumping for more than two decades, Chairwoman Fawn Murphy told the Wild Rivers Outpost on Monday.
People leave behind boats, trailers, RVs, stolen cars, refrigerators and other household appliances, Murphy said.
Last year, the Resighini Rancheria conducted a cleanup of the area only to have 80 tires dumped there about two days later, Executive Director Megan Van Pelt said.
"It gets a little frustrating," she said. "Also, Resighini's a very small tribe, a non-gaming tribe with no economic development. We're very limited in resources. Anything that might seem minor to a large tribe is a huge undertaking for us."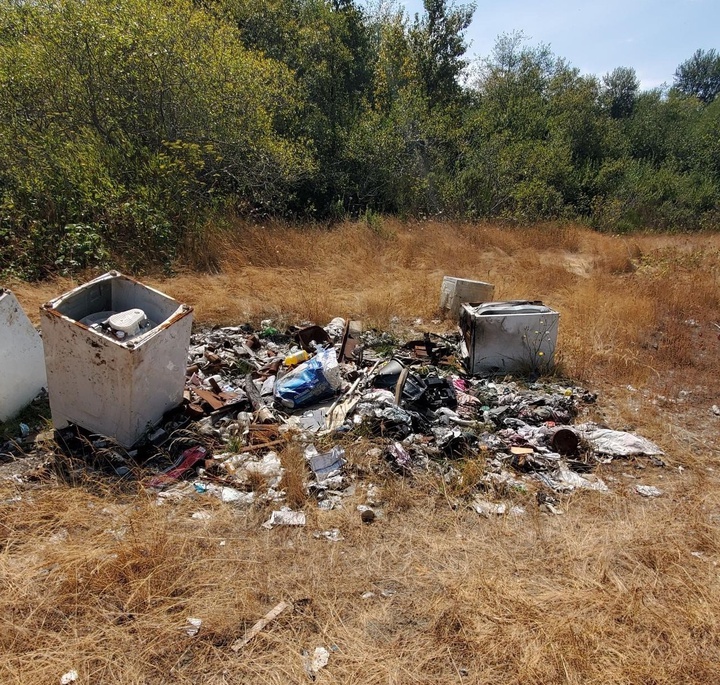 In a Thursday news release, the Resighini Rancheria stated it had installed a gate at the end of Klamath Beach Road, restricting access to Waukell Flat to mitigate illegal dumping. This also restricts access to a family cemetery in the area, though the Rancheria stated the Tribal Council has developed a permit to allow non-tribal members entry into the area.
"We ask any non-Resighini tribal member interested in accessing lands that are gated to fill out a permit to request access," Van Pelt said. "The Council has full regulatory authority to do that and to consider that request, approve it or not. We will continue to assert the tribe's sovereignty to protect our land and our people and that should be respected as a government."
In addition to working with the BIA to restrict access to the end of Klamath Beach Road and the Waukell Flat areas, the Resighini Rancheria has worked with the Del Norte County Sheriff's Office and the Yurok Tribe Environmental Program to clean the area up, Van Pelt said.
The Resighini Rancheria has set up game cameras to try to catch those who leave their trash behind and has posted no dumping signs in the area, Van Pelt said.
This summer, the Resighini Rancheria will use about $50,000 in grant dollars from the BIA to clean up land assignments — home sites roughly 120-by-120 feet — Van Pelt said. About 10 residents live on those land assignments, though most of the tribe's lands are with the Klamath River flood plain, which makes the ability to develop home sites limited, she said.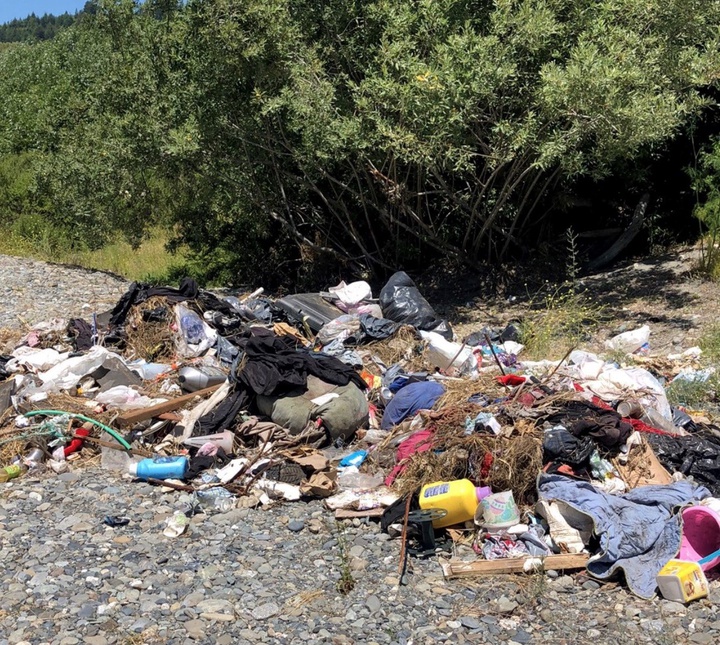 The Resighini Rancheria has also received about $200,000 in grant dollars from CalRecycle in the past, Van Pelt said.
"It's a sizable investment along with staff time and tribal equipment and the other resources that come directly from the tribe," she said.
The Resighini Rancheria is also making an effort to identify and be able to prosecute people who dump illegally on tribal land, said Moonchay Dowd, the tribe's vice chairwoman, who oversees its solid waste program.
The tribe had used a game camera to monitor dumping activity along Klamath Beach Road, but that camera was stolen, Dowd said.
Even if they were able to identify the person dumping trash on the rancheria, if it's not a tribal member it's more difficult to hold them accountable, she said.
"We're rewriting our solid waste ordinance to hopefully have a little bit more teeth, to potentially prosecute people," Dowd said.
Dowd mentioned the cemetery in Waukell Flat. She said the illegal dumping is disrespectful to the family that's associated with the cemetery.
"We really want to protect the land and the people going out there," Dowd said.
Murphy noted that as people of Yurok descent, the Klamath River is important to the Resighini Rancheria. Dumping creates hazards and toxic chemicals that get into the water, she said.
"The land will sustain us if we take care of it," Murphy said. "The salmon will come back if we get the river into a good healthy state…. we're going to do everything we can to make sure it's respected in the way it deserves to be respected."
---
SHARE →