---
Jessica Cejnar / Wednesday, Sept. 9 @ 3:16 p.m. / Emergencies, Fire
(UPDATED) Limited Resources and Multiple Blazes in Region Make Determining Slater Fire Boundaries Difficult
---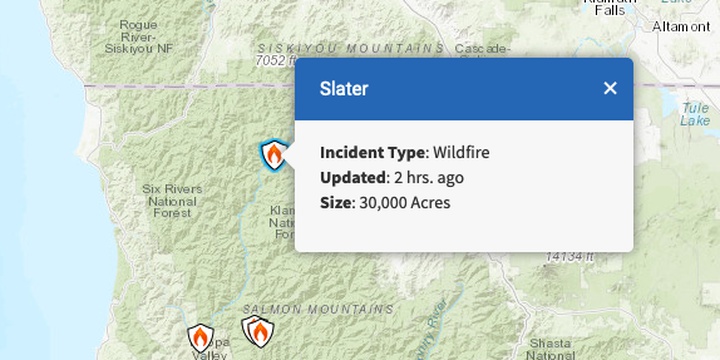 (Story has been updated at 5:45 p.m. Wednesday)
Though the Slater Fire is burning on both sides of U.S. 199 near Oregon Mountain Road south of Collier Tunnel, determining the boundaries of the blaze is difficult for emergency personnel because of how stretched resources are.
However, both the Collier Tunnel Rest Area and the state agriculture station are still standing, the Del Norte Office of Emergency Services reported at about 5:30 p.m. Wednesday.
The Slater Fire started near Happy Camp on Tuesday morning, grew to about 22,000 acres in eight hours and by early Wednesday had prompted evacuation orders for Gasquet residents. According to Steven, because of multiple fires in the region, emergency personnel are struggling.
"Hopefully they have the resources some time this evening to fly the (fire borders) and get the parameters," Steven told the Wild Rivers Outpost at about 5:35 p.m. Wednesday. "But if they don't, we'll have to rely on humans up and down the 199 corridor as to where it's at at any given time."
The Slater Fire, which started near Happy Camp on Tuesday, has spread to an area near Oregon Mountain Road south of Collier Tunnel, Del Norte Office of Emergency Services spokesman Bill Steven reported at about 3 p.m. Wednesday.
The entire community of Gasquet — between 500-1,000 people, roughly — have been evacuated and U.S. 199 is closed at South Fork Road, Steven told the Wild Rivers Outpost.
However, Steven said he was told within the last hour that the state agriculture station at the Oregon border is still standing.
"It's probably going be morning before we get accurate information on how many structures have been lost," he told the Outpost.
There are currently no evacuation orders in place for residents in Hiouchi or Big Flat, though they should have supplies ready in case they are urged to leave their homes, Steven said.
Gasquet residents were evacuated at about 6 a.m. Wednesday. A temporary evacuation center had been established at the Del Norte County Fairgrounds in Crescent City where they could get information, food, water and accommodation for livestock.
Although the fairgrounds couldn't provide shelter due to COVID-19 safety measures, the Tolowa Dee-ni' Nation's Howonquet Village Resort on U.S. 101 said they had spaces available.
The La Joya soccer field at 10700 U.S. 101 in Smith River was also available at no cost to those fleeing the fire, owner David Brambilla posted on Facebook at about 2 p.m. Wednesday.
Fire evacuees needing a meal will be able to eat free at Port o' Pints. The Crescent City brew pub on Northcrest Drive is offering pulled pork sandwiches and chips for Gasquet residents fleeing the fire as well as first responders at the fairgrounds.
Port o' Pints will donate a proceed of its sales to those affected by the wildfire and will also have a cash jug available to patrons who want to give as well.
According to an update on InciWeb, the Slater Fire had grown to about 30,000 acres as of 8 a.m. Wednesday. The fire was moving in a northwesterly direction into Oregon and resulted in the loss of about 150 homes in the Happy Camp area.
---
SHARE →